The Best Dressed Female Celebrities Who Rocked The 2017 Golden Globes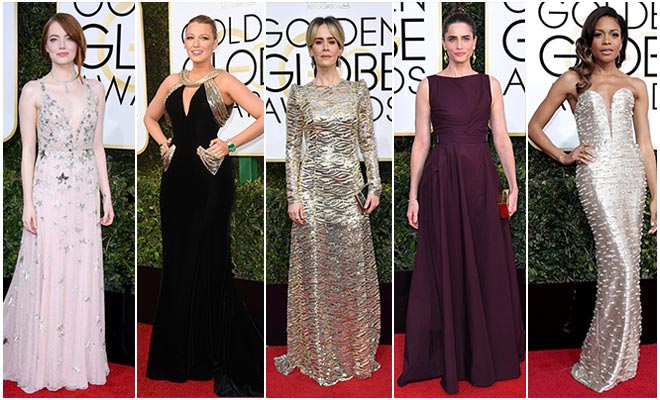 Emma Stone

Who better to start with than the winner for Best Actress in a Musical or Comedy Motion Picture for "La La Land"?

Sarah Paulson

Another big winner of the Best Actress in a Mini Series or Motion Picture for TV for her critically acclaimed role in "The People v. O.J. Simpson",

Amanda Peet

Sarah Paulson's long-time BFF, actress Amanda Peet, was also present to lend her support in no less than a maroon Bottega Veneta dress that gave her overall look a well-tailored impact.

Blake Lively

There to support husband, Ryan Reynolds, who was nominated for Best Performance by an Actor in a Motion Picture, Musical, or Comedy for his role in "Deadpool",

Naomi Harris

The "Moonlight" actress was a knockout in an Armani Privé gown in subtle gold. The top was corset style cut and ran a column

Sofia Vergara

The sexy comedian actress was once again the apple of the red carpet as she sashayed in a standout Zuhair Murad dress that matched

Viola Davis

The winner for Best Supporting Actress in a Motion Picture for her role in "Fences" was a sight to see in an assymetrical
Many entertainment critics are already tagging the 2017 Golden Globes the most tragic awards night in the 74-year history of the prestigious, star-studded ceremony. From a teleprompter that shut down just as the show was getting started to bad ad libs from hosts, down to bad jokes from presenters, the 2017 Golden Globes does seem like the worst ever. Nevertheless, some good things shone through.
Brad Pitt, 53, made his first ever public appearance since splitting with now ex-wife, Angelina Jolie. He presented that Best Motion Picture Drama award which was won by "Moonlight". Meryl Streep, who was bestowed with the Cecil B. DeMille award, had enlightening things to say about entertainment and its role in society. Plus, the best dressed celebs landed on the red carpet as the rest of us were left stunned.
The Stars We Loved On The Golden Globe Red Carpet
Here are our favorite looks:
Emma Stone
Who better to start with than the winner for Best Actress in a Musical or Comedy Motion Picture for "La La Land"? She wore a Valentino dress in sheer, flowy, low neckline garment in nude that was embellished with stars. It aptly complemented her acceptance speech when she said, "This is a film for dreamers and I think hope and creativity are two of the most important things in the world and that's what this film's about".
Sarah Paulson
Another big winner of the Best Actress in a Mini Series or Motion Picture for TV for her critically acclaimed role in "The People v. O.J. Simpson", the actress wore a long-sleeved, full-length glittery gown that had a semi-structured shoulder cap.
Related: AMA 2016: 7 Outfits from American Music Awards to Inspire Your Fashion
Amanda Peet
Sarah Paulson's long-time BFF, actress Amanda Peet, was also present to lend her support in no less than a maroon Bottega Veneta dress that gave her overall look a well-tailored impact.
Blake Lively
There to support husband, Ryan Reynolds, who was nominated for Best Performance by an Actor in a Motion Picture, Musical, or Comedy for his role in "Deadpool", Blake was clad in a queenly, velvet Atelier Versace dress. With gold embellishments and jade green accessories on her wrists, Blake once again owned the glamor on the red carpet.
Naomi Harris
The "Moonlight" actress was a knockout in an Armani Privé gown in subtle gold. The top was corset style cut and ran a column to her ankles with embellishments. She wore it with a pair of Tiffany & Co. earrings.
Sofia Vergara
The sexy comedian actress was once again the apple of the red carpet as she sashayed in a standout Zuhair Murad dress that matched her golden skin tone. At least she stayed gorgeous amidst the lousy jokes thrown around the Golden Globes stage throughout the program.
Viola Davis
The winner for Best Supporting Actress in a Motion Picture for her role in "Fences" was a sight to see in an assymetrical shoulder long gown in sunny yellow from Michael Kors.
Conclusion
The show may have been a major upset but fashionistas weren't disappointed with all the must-sees that happened on the red carpet!
Like this post? There's more. Get tons of beauty tips, tutorials, and news on the thebeautyinsiders Facebook & Twitter page. Like us on Facebook – we'll see you there!