Green Tea Face Pack Can Make Your Skin Look More Refreshed
Green tea has been an ages old favorite in ancient Asian cultures which has sparked a good deal of interest both from the healthcare and skincare industries for their well studied and well documented benefits.
The Health and Skin Benefits of Green Tea
Green tea has been shown to improve overall mental and cardiovascular health. Some studies have shown how incorporating green tea in your diet can improve your memory and ability to analyze and solve complex problems. Others have shown how green tea improves fluid and oxygen circulation which, in turn, facilitates the transport of essential nutrients for use in all parts of your body, including your skin. The more well nourished your skin is, the better it is able to fight off signs of skin aging.
These natural health giving and skin beautifying properties of green tea are largely attributed to polyphenols, a class of flavonoid phytochemicals found in large amounts in green tea. Polyphenols are powerful antioxidants that improves skin's ability to better capture moisture and to lock it in thereby improving the skin cell turnover process while keeping skin hydrated and full of life. These also improves the skin's natural barriers that help shield it from damage caused by free radicals. Polyphenols have also been shown to provide natural sunscreen protection to skin when applied topically.
Studies have also shown that the antioxidant and anti-inflammatory properties of green tea combine to inhibit skin processes that lead to skin aging. That includes inhibiting or slowing the breakdown of collagen and elastin fibers which are necessary to keep skin young looking and vibrant.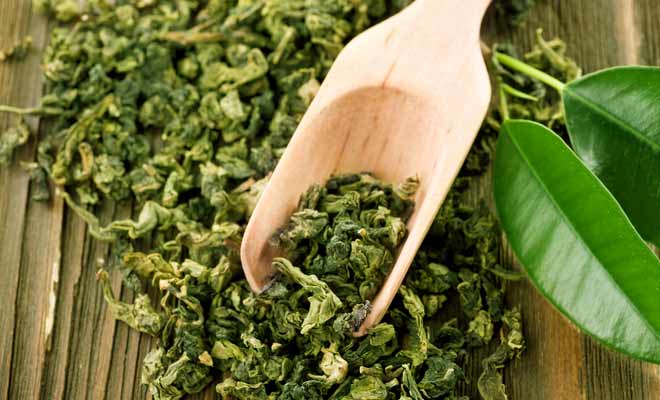 Because of these studies, skincare and cosmetics companies have been incorporating green tea in their formulations. Although green tea is a popular favorite among commercially available products, there is no guarantee that the goodness in green tea is preserved well enough to do your skin any good.
That said, if you're a believer in the skin goodness that green tea can offer to your skin, you should be rather interested on learning ways by which you can incorporate natural green tea in your daily skincare routine rather than which products out there have green tea infused in their formulations. One of the ways by which you can derive skin benefits from green tea is by using it as a face mask.
5 Ways To Use Green Tea as a Face Mask
It may also be useful to incorporate green tea into your skin maintenance routine to possibly slow down skin aging. However, simply buying a green tea cream may not necessarily be the best way to go.
Moisturizing Green Tea, Egg and Baking Soda Face Mask
Teep green tea in warm water just about one-third cup full. Allow it to cool. Add in 1 egg and 3 tablespoons of baking powder. Give the mixture a good stir. You should get a thick paste. Apply the paste on thoroughly cleansed skin using upward, circular motion. Massage lightly then leave on for about 20 minutes before rinsing off completely with lukewarm water. Follow through with cold water to close your pores.
Cleansing Green Tea And Cucumber Face Mask. Using a blender, make a smoothie out of your cut cucumbers. Once it's all blended, empty two bags of green tea into your smoothie and blend well. On cleansed skin, apply the mixture while massaging gently. Make sure you hit those dark under eye circles. Once you've applied to your entire face, leave on for 20 minutes then rinse off.
Exfoliating Green Tea and Granulated Sugar Face Mask. Mix these two ingredients together to form a paste. Apply the mixture on clean face while massaging gently. The coarseness of the granulated sugar is sloughing off dead skin cells floating on your skin as you massage. After a good 3 minute massage, leave on for 20 minutes. Rinse off and pat dry.
Maintenance Green Tea and Banana Face Mask
Bananas are extremely common and widely available. It is packed with Vitamins A, B, C and E — all powerful antioxidants that both protect skin and nourish it deeply. Start by cutting bananas in small slices then blend or mash it well. Add in 2 bags of green tea. Incorporate both ingredients well then apply on skin. Massage gently and leave on for 30 minutes to one hour before rinsing it off.
Green Tea, Milk, Honey And Strawberries For Dry Skin. Dry skin can derive optimum skin moisturizing goodness from this yummy green tea face mask! Milk contains lactic acid, an alpha hydroxy acid, that helps lift and rid skin of dry, dead skin cells to stimulate skin to produce newer, younger skin. Honey has natural antibacterial properties. Strawberries are among the fruits with the highest antioxidant content. Mix all wet ingredients first. Give it a good stir. Empty 2 green tea bags and incorporate well with the wet ingredients. Apply and leave on skin for 1 hour tops before rinsing it off.
You May Also Like: Make Your Facial Mask at Home
Conclusion
You can't ignore green tea. There's just simply too much health and skincare benefits you can derive from it. So drink up and mask it on!