7 DIY Gorgeous Hairstyles That Are Perfect For A Holiday Look
You got the dress. You got the booties and you have all the accessories, including the bag you need. You know you'll put on some highlights in your makeup. But, aren't you still missing something?
No holiday outfit can ever be complete without a properly styled up hair. Don't waste the effort you've put into finding just the right cut, size and trend to help you deliver the fashionable side of you this holidays by neglecting your hair.
Hairstyles that Fit You
Just when you've decided to let your hair hang loose, enter these 7 irresistible hairstyles that will breathe life to your otherwise unexciting tresses:
1. Braids
You got that right! The power and influence of "The Game of Thrones" continues to enthral the world of fashion and style. From the ornate coats made from brocades and suedes, to the embroidered dresses and flowy off-the-shoulder floral dresses, the braids are a classic accent for the crown.
2. Low Bun
There are many ways of getting this done. One way is to take the upper fourth of your hairstrands and tie up to a knot. Set this aside. From the next section down, tie up your hair to form a bun. Then, untie the upper portion you set aside earlier. Halve it into two equal parts. on one side, twist along the sides. Do the same for the other side. Put one side on top of the other. Secure in place with bobby pins.
3. French Twist
Set all of your hair to one side. Use bobby pins to hold and clip the bottom part towards your nape. Pull the end of your hair strands up then twist inward. Use bobby pins to secure the twist then tuck the excess hair to the sides using bobby pins. Add accents if desired.
Also Read: New Hairstyles for Women
4. Soft Curls
Use your hot barrel iron to pull off the trick, using the appropriate barrel size to match your desired curls. Hold in place with a setting spray.
5. Side Twists
Halve your hair into two. Take one side and twist inward. Secure with an elastic. Do the same for the other side. Then, combine both sides.
6. Funky Braid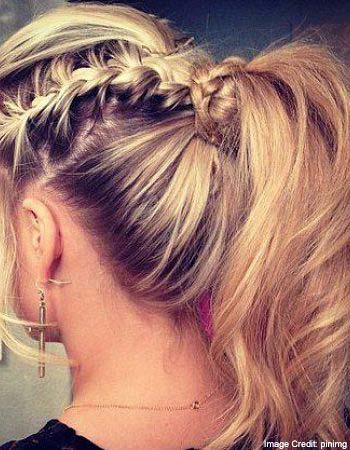 Straight braid your hair. Then loosen up so that a hump forms on the top of your crown. Fix and set with setting spray.
7. Fine curls with One-sided clip
Section hair into two with one side drastically more than the other. Start making your fine curls. Once done, take the side with less hair and clip it with florals.
You May Also Like To Read: Medium Length Hairstyles Ideas for Winter
Conclusion
If you just got yourself a pixie haircut, there really isn't a lot that you can do to your hair, except of course if you put on some accents. In any case, however, there are a thousand ways you can style up your hair extra special to toast to Christmas and New Year.
Like this post? There's more. Get tons of beauty tips, tutorials, and news on the thebeautyinsiders Facebook & Twitter page. Like us on Facebook – we'll see you there!