13 Halloween Hair Color Trends That Will Put You Under The Spotlight
Advertising Disclosure

?
Halloween is probably the only time of the year when edgy and bold hair colors get to take center stage. It's a great excuse to finally try the hair color that you have been wanting to wear all year long and become the star of a Halloween festival or to astound the homeowners in your block when you go trick-or-treating!
Learn more about all sorts of Halloween Hair Color and hairstyles in this article. You will also get bonus tips on how to easily incorporate these with popular Halloween costumes ideas!
13 Halloween Hair Color Ideas
Check out the following Halloween hairstyles and hair color ideas! Some even include concepts for Halloween hair accessories that are sure to take your costume or look to the next level!
1. Steampunk Red and White Hair
Amp up your Victorian Steampunk Cosplay by dyeing your hair a vibrant red with touches of white highlights. Style it in an updo with a giant rose swirl in front for an extra wow factor.
This idea is one of the many Halloween hair ideas by Sparks Color on Pinterest. Users say that it also works for Bride of Frankenstein, Little Red Riding Hood, or Red Queen costumes.
A few highlighting tips: For non-permanent highlights, you can choose from chalk for pastels; gels for mattes, neons, and metallics; or clip-on hair extensions. Gels and chalk wash off with shampoo, but clip-ons require no shampooing to remove.
2. Golden Medusa Locks
This Medusa-inspired look worn by Instagram user @alexandrasrqhair, a hairstylist in Florida, was developed and created by her cosmetology classmates, @nathaliemalkerson and @misscoralineblue.
They first gave her blonde hair large, voluminous curls then arranged golden flowers and plastic snakes in a way to resemble a crown. These types of hair accessories add dimension and concept aesthetic.
They completed the look with jade green scale-like makeup and a darker, bold green lipstick to match.
If you want more textured curls, try running a curl enhancer through your hair and allow it to air dry before adding the props and decorations.
3. Jessica Rabbit's Signature Red Waves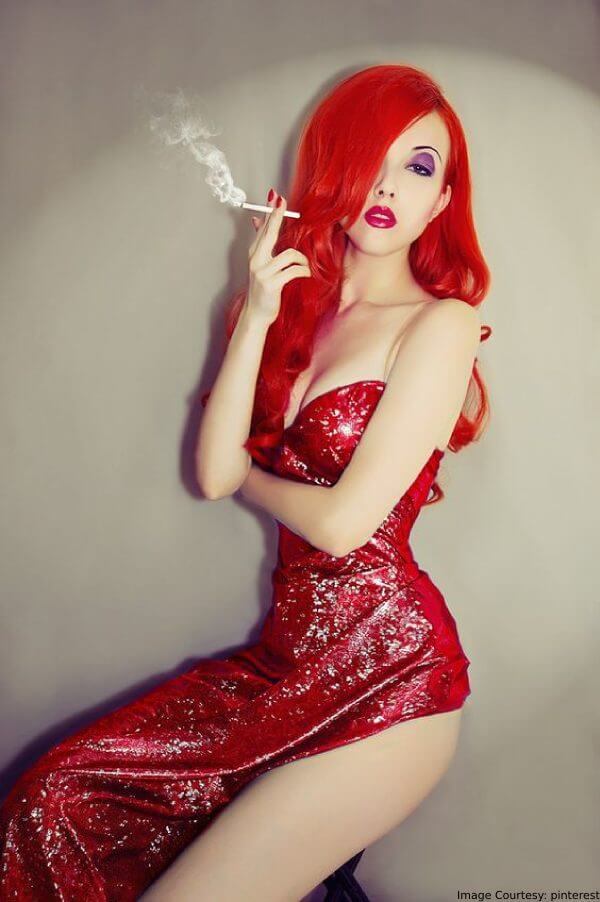 Pair a sultry look with Jessica Rabbit's signature high-slit long gown with an equally seductive look and flaming red hair! The bold color is not very hard to achieve because it is solid and styling is also very simple.
After dyeing your hair, just let it all down, and use a flat or curling iron to create soft, subtle waves. And don't forget the long side swept bangs!
4. Pumpkin Bun or the Bun-kin
If you don't have any particular character to go as this Halloween, this cute yet unusual hair by Erica. Erica, who goes by the Instagram tag @magic.maker, is the hairstylist behind this kid-friendly look.
To create it, she first put all her hair up into a large ballerina bun. Then, she used a temporary spray-on hair color in a bright orange shade to give it the color of a pumpkin.
As for finishing touches, she added leaves and tendrils hair accessories underneath the bun to complete the pumpkin plant ensemble. This particular style was done on straight hair, but it could also work for different hair textures.
Hair spray tips: sprays will likely give you a helmet head but applied correctly, the color and style can stay longer. To avoid hair damage, choose brands of temporary hair sprays with no sulfate or parabens. This will prevent you from looking for a hair loss treatment after.
5. Beetlejuice Green Hair
Another Halloween hair color pin from Sparks color in pinterest shows the green, unruly hair and black-and-white striped overalls to portray Beetlejuice, the main character in the classic Tim Burton's series.
Paired with complimentary makeup, all the colors pop and everyone will surely notice your hair! This hair color and style also works for a joker costume!
6. Cheshire Cat Purple
Everybody knows the Cheshire Cat from the fantasy book and film Alice in Wonderland. Aside from a signature malicious grin and large, beady eyes, the Cheshire Cat also has its characteristic purple striped fur.
To embody this, many posts in social media platforms show people who have dyed their hair purple to represent this iconic character, such as this one from Tumblr. It really completes the look, don't you think?
7. Merida's Red Hair
If you're feeling extra "Brave", try dressing up as the Scottish Disney princess Merida! Of course, her green dress and bow set will not be complete without her long, fiery gingery-red-orange curls.
Even though it can be hard to get your natural hair this long and curly, there is always the option of wearing Halloween hair extensions or several wigs such as what costume blogger Angela Clayton, did this to achieve this look!
https://angelacostumery.com/merida-brave/
8. Galaxy Hair
This intergalactic hairstyle was created by Jeni, a hairstylist based in Hawaii who goes by the tag @jeni_does_ham on Instagram. Like many other people who fell in love with the celestial colors of the universe, Jeni was inspired to dye her own hair a violet, blue, and magenta ombre.
Then, she made two small buns in front, donned on a sparkly hairpiece, and scattered some rhinestones and glitter on her hair to finish the stellar look.
9. Brown Lioness Hair
Instagram user @joyjah and friend @ @zulie_shannin (who is also a Halloween makeup artist)created this lioness look to encourage others to embrace the natural texture and volume of their curly or kinky afro mane.
If you already have auburn or brown hair, then this look is even easier. Just part your mane roughly in the middle, wear simple lioness makeup and a kitty ears headband and you've got yourself an instant Halloween look!
10. Mermaid Hair
Mermaid stuff were all the rage from last year to early this year and are now coming back just in time for All Hallow's Eve. These include pearly colored, iridescent hair with ocean waves like these.
Mermaid hair color is so diverse and can range from a solid red color like Ariel's from The Little Mermaid to other bold colors like blue and black, pastels, ombres, and rainbows. Pair the hairstyle with matching makeup, a headdress, pearls, a seashell bikini top, and a mermaid tail to wrap it all up!
11. The Corpse Bride Blue
Another wild yet hauntingly beautiful hair color is the deep navy blue to midnight blue hair of the Corpse Bride, Emily, from another Tim Burton's classic film. Just look at this hair color by Sparks Color! It's sure to turn the heads of both living and undead!
12. Cruella De Vil Black and White Hair
What's cruel but also undeniably magnificent? Cruella de Vil's hair! Dogs and their owners would cower before these elegant locks. Simply part your hair down the middle and dye one part jet black and the other part white to have anyone second-guessing if you're evil or pure!
13. Unicorn Hair
Still can't decide which color to go for? Wear them all as a unicorn! This mystical creature has captured everyone's heart in the beauty world. Mix and match pastel colors from blues to pinks and purples to ombres and everything in between!
Style your hair with side braids and volumized curls at the center of your head like this look created by @hairbymisskellyo on one of her clients to mimic unicorn mane, and put on your magical horn for a magical Halloween!
Related: Halloween Bloody Winged Eyeliner Makeup which is Beautiful and Haunting
Conclusion
These 13 Halloween hair colors will surely put you under the spotlight! For best results, it is recommended to identify your skin tone first, then decide on hair colors according to skin tone.
Sinister or cute, to borderline neutral yet still out of the normal, you get to choose and enjoy these hairstyles for Halloween for this year and probably even years to follow!
Like this post? There's more. Get tons of beauty tips, tutorials, and news on the thebeautyinsiders Facebook & Twitter page. Like us on Facebook – we'll see you there!