Holiday Hairstyles Inspired by Celebrities
The holidays are approaching, but it is not easy to choose the perfect hairstyle for your holidays that will be able to meet all your needs. After all, we are always searching for something stylish, that should be worthy for a Hollywood diva. But we want it to be extremely easy to make, making this holiday hairstyle "hunting" more than challenging. In case you lack ideas, you need to look at the celebrity inspired hairstyles. These range from the classic French twist to messy buns as well as fishtail braids, which include plenty of elegant and simple styles for you to choose from in order to draw your inspiration.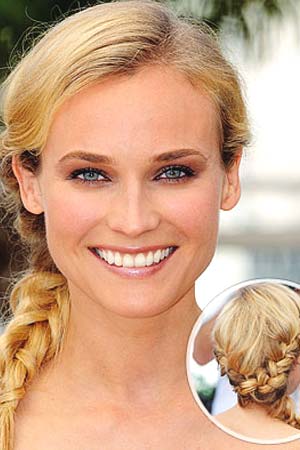 Diane Kruger
Image Source – galaxy-hairstyle.blogspot.com
Blake Lively
Image Source – blog.rm-uk.com
Every woman is well aware that finding the hairstyle for the holiday season that is the most flattering can be a tricky business. This task requires patience, basic styling skills, besides a few styling products as well as tools. Also, various elements are to be taken into consideration, such as face shape, makeup, besides outfit, or even occasion. This only makes our job much more difficult. For looking gorgeous, you can look at a few celebrity hairstyles in order to draw inspiration and get a chic holiday hairstyle.
The chignon will always be the perfect hairstyle for women who are busy as they are always in a hurry. Besides, this is highly versatile and that makes it a great choice for your holidays. The classic French twist is simple, and still extremely chic and elegant. Thus, it works amazingly well for a day at the office, as well as for a formal event since it tends to add refinement irrespective of whether you have medium length or even long hair. You just need to begin brushing your hair as you normally do, and then gather your hair into a low ponytail but do not secure it. Now use your right hand to hold its ends up and twist it, to make a roll, with the help of a few hairpins. As a final step you may apply some hair spray. And in order to get a glam-rock appearance, you may backcomb hair in the front.
Amy Adams
Image Source – elle.com
Rachel McAdams
Image Source – elle.com
Victoria Beckham
Image Source – elle.com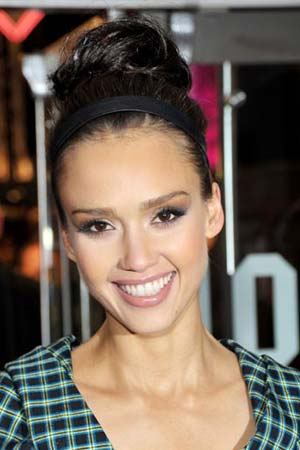 Jessica Alba
Image Source – elle.com
As mentioned before, the chignon refers to an irreplaceable hairstyle since it exudes maximum sophistication as well as elegance. Besides, during times of styling crisis it tends to become a real lifesaver. Thus when you run out of ideas during the holiday season, the legendary chignon can be your savior as it can help you pull things together. You just need an instant to obtain that glamorous, yet a very simple hairstyle.
One of the easiest and quickest ways for shining without putting in too much effort is by choosing a chignon as this hairstyle doesn't require any kind of special styling skills or even products. All that you need is just the curling iron in order to make a few waves or curls. You may set the chignon on one side, and keep it at ear level, by securing it using a few small hairpins. Next, fix everything with hair spray.
Even though a top knot might sound and look rather girly, it can be very sexy too, especially when it is properly worn as well as matched. Since an updo always appears to work, celebrities have been spotted on the red carpet sporting the top knot, at different events. The top knot has various variants that range from the really polished version to one that is messier; in order to suit every taste and style. This can be the perfect hairstyle in case you wish to enhance your beautiful features or even your precious jewelry. Simply pull your hair into a high ponytail and then twirl them around the elastic band. The knot can be secured by using an elastic band or, even a few hairpins in order to offer a more elegant approach. A generous misting of hairspray is to be applied.
Nicole Richie
Image Source – galaxy-hairstyle.blogspot.com
Sarah Michelle Gellar
Image Source – blog.rm-uk.com
Braids appear to be the It-hairstyle of the moment, since it is the one that always delivers. These are as sexy as they are playful, besides being practical or even more glam. The braid is timeless as it allows numerous variations since it tends to reinvent itself season after season. Braided hairstyles can be far away from being the schoolgirl hairstyle as they can be chosen even for a night out. You may opt for the loose, boho style, or even for the braided chignons. But you can dare something different such as a side braid or even a fishtail braid that can be secured with a soft silky ribbon. This can be flirty and girly, besides being feminine and romantic.
The simple braid refers to a chameleonic hairstyle which can be adapted to any situation or occasion, whether during day or night. You may even make a beautiful combination between braids as well as messy buns. In case you want the loose, effortless style, you may try the hairstyle with hair gently curled, and flyaways framing your face. The side braids and hair can be gathered into a messy bun that can be placed at the nape of the neck. In case this hairstyle looks difficult to be done at home, you may try other variations with a simple side bun besides French braids on each side. Another option is to do braiding in ribbons throughout your braids to make them extremely interesting.