3 Holiday Makeup Looks That you Can Try with Ease
The Holidays can be the perfect time to go overboard with your looks but, that doesn't necessarily give you the permit to look ridiculous! So, don't stick with holiday looks that are way back in the past – look fashion forward with these ridiculously easy ways to rock the holidays without looking crazy nor ridiculous.
Look # 1: Edgy, Risk-Taker Look: Give your face that ultimate sparkle with rhinestone crystals. Pick colors that complement your complexion perfectly – and, that doesn't mean you should choose the same colors which would be rather boring for such a trendy look as this.
These glitzy additions to your look are best placed on your eyebrows and around your eyes. The topmost position where it can flatter your look (and not make you look crazy) is a few millimeters on the top of your eyebrows, any further than that and you will start to look funny. Look up styles online to give you ideas how you can make the most out of these stylishly bright and glamorously standout new beauty additions.
Once you're settled with a pattern you want to follow, park your rhinestones for a while and work your makeup. Give your face a nice work up and use a light foundation to give you a smooth, flawless finish. Use gel glitters on select spots of your face, ideally on the apples of your cheeks.
To make your rhinestones even more noticeable, tone down your eye make up. You only have to make sure you have nicely arched eyebrows. Skip the eyeshadow and simply stick with liquid or gel eyeliners in either neutral or metallic shades. Use white or silver eyeliner to drop a dot on either the inner or the outer end of your eyelids or both.
Next, you're ready to glue on your rhinestones! Reach for an eyelash adhesive to glue the rhinestones on your facial skin.
To complement the edgy attitude you're sporting, use metallic or foiled lipstick in dark shades.
Look # 2: Shimmering Innocence Look
Try on an immensely glittered look! When it comes to glitz and shimmer, glitters remain to be the sparkles to beat. To add more holiday cheer to your get up and set your happy holiday mood right, incorporate glitters into your look. Hold your horses! Don't sprinkle the glitters loosely on your face.
Start by prepping your skin and using makeup to even out skin tone. Use thinly formulated foundation or cream as base to keep your face from becoming too oily. Use light makeup to draw more attention on your glitters. Stick to nude, whites and metallics.
On a clean surface, scatter glitters in the color of your choice. You may use several colors or even combine them. Take a double sided tape and cut unevenly. Dip one side and cover the sticky surface completely. Take off the cover on the other side and stick the clean side to areas on and above your eyelids. Repeat the process several times until you are satisfied with the outcome.
Finish your flawless, glitzy complexion look with a glitter gel. Dab glitter gel on strategic areas of your face. Close the deal with a glittery lip shimmer in light pink, light peach or light purple colors. The resulting look is young, fresh and innocent.
Look # 3: The Glitter Goddess Look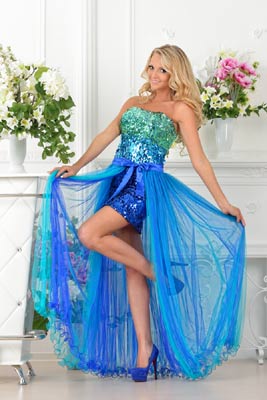 Paillettes are another glitzy glaze these days, and they come in all sorts of shapes, make and sizes. Some look more like rhinestones while others look like sequins – the little things traditionally used on bridal gowns – well, they're used on the face now too!
If you're looking forward to take your look and makeup artistry to a whole new level, the glitter goddess look is for you.
There are many great combinations of makeup and paillettes that you can do. The look that will be discussed here will be using metallic colored paillettes, gold eye makeup, boldly colored eyebrows and extremely long false eyelashes. When it comes to this look, one metallic paillettes will work best but if more is desired, use a maximum of only two.\
Start by finely toning your skin complexion. Next, work your eyes. Use an extremely metallic eyebrow powder in gold and / or metallic blue. Line your lids with a metallic colored eyeliner that complements the metallic color of your eyebrows. Use metallic gold eye shadow.
Settle with a pattern for your paillettes. Once you have decided, take an eyelash glue and glue the paillettes on your skin. Set aside some pieces of paillettes.
Next, put on your false eyelashes. Using again your eyelash glue, stick the remaining paillettes on your eyelashes.
You May Also Like: https://www.thebeautyinsiders.com/holiday-hairstyles-inspired-celebrities.html
Conclusion
There is absolutely no reason to look boring this holiday season. There can only be ways to look bolder and more beautiful to extremely standout from the crowd. As with sporting these three looks, however, it is important to look within yourself if you can dare these because, if you're not prepared to strut these tips then, it will definitely show that your look does not match the attitude. So, get your game on before wearing these newest, glamorous additions to your get up!