7 Best & Easy Ways To Clean Clogged Pores and Have a Blemish-Free Skin
Advertising Disclosure

?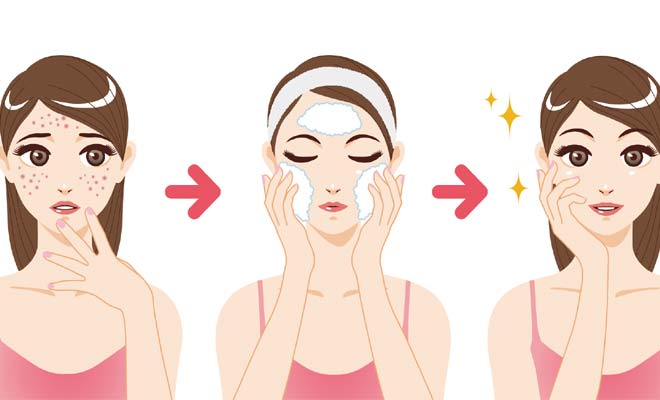 "Why couldn't my pimple be on the side of my head that has hair?" Demi Lovato's acne thoughts reflect how people think about theirs. For those who have acne-challenged skin, it will take more than just a pimple-popping moment to get rid of acne for good.
7 Quick And Easy Ways To Clear Your Acne
Follow these simple tips to see blemish-free skin right now:
1. Steam Your Face
Boil water. Pour it in a basin. Set your face above it where it can catch steam. This opens up your pores and helps eject the impurities hiding in it. Use a facial brush with soft bristles to help draw out impurities.
2. Don't Stress Yourself
Before jumping into treatments, you have to learn to stay calm about your acne and the many things, complicated or mundane, happening in your life. The best solutions to your problems unfold when you're barely contemplating about them, and one of the most effective solutions to your acne is managed how you react to stress.
3. Use Clarifying Or Purifying Face Mask
Soak your face in mask to draw out impurities and leave your pores purified. Leave on for at least 15 minutes before rinsing off.
4. Get Into Antibiotics
This is recommended only for severe cases and only after consulting with your licensed skincare professional. You don't want bacteria on your skin to become immune to treatment so make sure to strictly adhere to the regimen prescribed to you. You should also ask about a drug traditionally used to lower high blood pressure but which has also been shown to lower androgen levels. Spikes in this hormone leads skin to breakout.
Related: 5 Unknown Facts Everyone Should Know About Skin Discoloration
5. Apply Anti-Acne Solution
When you need fast results, you can't go away with salicylic solution. Try Solvaderm's Zeroblem. It removes excess oils, controls oil production and skin shedding, and eliminates dead skin to avoid infecting your pores. You may also opt for a facial wash that contains salicylic acid.
6. Get a Blue Light And Red Light Therapy Treatment
These procedures effectively kills acne-causing bacteria found on the surface of your skin but, you will have to rely on your other medications to clear what lies beneath. Nevertheless, these two procedures will give you a great head start in taming your acne-prone skin.
7. Don't Cover Up
Forget the makeup. In most cases, it will only leave your face more irritated and inflamed. Allow your skin to breathe by leaving it bare. Besides, you need your topical medication to get the job done without the distraction of makeup. When you absolutely need to, wear only light and hypoallergenic. Make sure that your sponges and brushes are clean.
Related: Acne And Its Type: How Does Acne Affect Women And Know Their Types
CONCLUSION
Don't shun your skin because of acne. Keep in mind that it is the only one that you got. Acne is not a fleeting problem to get by though and you need a change in lifestyle too.
Like this post? There's more. Get tons of beauty tips, tutorials, and news on the thebeautyinsiders Facebook & Twitter page. Like us on Facebook – we'll see you there!