Under Eye Wrinkles: How To Get Rid Of These Lines With Skincare
Well, Girlfriend, that depends on how much time you got to vanish those wrinkles because these signs of aging can be pesky and persistent. Nevertheless, there are solutions you can try to make these cracks and burrows practically disappear — believe it!
See It to Believe It !
Some of those lines took decades to form, some years and others just a couple of months time. You know what the biggest culprit is? It's unprotected, prolonged exposure to the sun's damaging UV. That means, it's those days you spent on the beach lying on the beach, soaking in the sand or, doing some water sport activity that caused you to get more sun time than you should. So, before solving your under eye wrinkle, you have to commit to never again get too much sun exposure — with or without sun protection around your eyes.Promise!
Below are at least three ways you can get rid of depending on how much time you got:
Option 1: Instant Solution
A cream can't do it, neither can a clinic-based procedure make it happen too. What can? No other instant remedy can do it better than makeup! Get your beauty stash ready, and this is the four step process you should follow:
Step 1: Treat Skin Around Your Eyes
Make sure to cleanse, tone and exfoliate first. Then, plump skin around your eyes with an eye serum, layer it over antioxidants and a cosmetic grade essential oil whenever you can. The moisture boost will make your skin plump and bulge, pulling the wrinkles and smooths them out.
Step 2: Cover – Stop being confused whether it's your foundation or concealer that should come first. Layer your foundation first, Honey! This gives your skin the illusion of even and refined texture.
Step 3: Conceal – Hide those unwanted lines. Be careful not to pack in too much products or your wrinkles will show even more prominently.
Step 4: Color Correct – Make sure your cover up is evenly applied and toned. The only way you can do that is by using a high quality brush.
Option 2: Medium-term Solution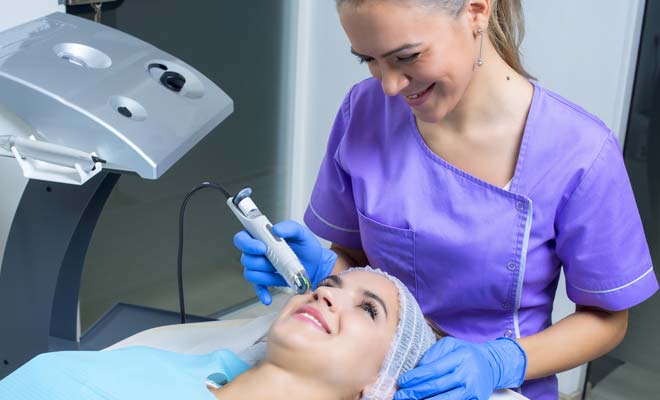 Sign up for a Botox or filler injection. If these are not viable options for you, consider laser surgery, microdermabrasion or microneedling. You don't want to get any of these if you need to see results now or tomorrow! Consider downtime.
Related: Anti Aging Skin – Products for Your Skin Tone
Option 3: Enhance Your Aging Skincare Regimen
Add a Retinol to your routine or obtain prescription for higher grade concentrations. Also consider adding essential oils to both your daytime and nighttime regimens.
Conclusion
An under eye wrinkle here and there shouldn't hurt if you're always looking younger than most people your age, that is! However, if a wrinkle under your eyes bothers you so much, you have at least three courses of action to take to try solve it.
Like this post? There's more. Get tons of beauty tips, tutorials, and news on the thebeautyinsiders Facebook & Twitter page. Like us on Facebook – we'll see you there!
The most common eye area issues are puffiness, dark circles, wrinkles and crow's feet, and loss of hydration. There are countless eye creams available on the market today, making it seem nearly impossible to find the "right one" that meets our specific under eye needs. It is imperative to find a product that has been formulated to address a variety of complex eye area problems.
Below you'll find some of the most effective eye cream formulations on the market today, in our opinion.
Our Top Eye Creams
Also Remember These Dermatologist Recommended Important Tips:
Age has nothing to do with the lines that appear on the corners of your eyes... it's a combination of heredity and careless abuse of the area.
Skin is skin... it all needs to be cared for in one way or another. For my younger readers, this means not pulling on the skin when removing eye makeup.
The eye area is prone to fine lines and wrinkles, so it is really important not over-work the area, squint, and stay away from smokey rooms. Your eyes won't like that either.
One of the best ways to protect this area of your face is to put on a pair of sunglasses every single time you go outside spring, summer, fall and winter.
There are very few oil glands in the eye area, so it can dry out very quickly, especially if you spend a great deal of time out of doors.
When you chose an eye cream, be sure to choose one that is especially formulated for this delicate skin. Don't use a day cream that could be full of ingredients that will irritate this area. Too rich a cream can cause as many problems as ignoring the area.