15 Style Tips On How To Wear Bodycon Dress Casually  
Be fashionable with trending bodycon dresses
Bodycon dresses are always going in and out of style. But, a lot of women can never seem to let go of this style! It is quite easy to understand why, though. Fashionable bodycon dresses are the go-to outfits for women who want to get all dolled up without putting in too much effort. And, why not? They are flattering and highlights the curves just right. So, if you are in for a date with your crush or just about to have a fun night out with your girlfriends, slipping into one will surely amp up your style game.
Related: Latest Fashion Trends You Would Love To Follow in 2018
Bodycon Dress Vs Bandage Dress
However, most women get confused with the difference between bodycon and bandage dress. You skim through pages of the magazine, and you see the name Kim Kardashian always associated with bandage dresses. Then, you flip through another page, and you see another celebrity donning on a similar style, but in the photo, it is now called a bodycon! Just how did that happen?
If you have no idea what the key difference is for both dresses, news on the internet may confuse you. Most lookbooks actually mistakenly address bodycon dresses as bandage dresses. To clarify things, bandage dresses are very tight and durable. They fit the body like a glove, sometimes looking like a second skin and showcases your curves in a shapely manner. While bandage dresses do offer bodycon silhouette, it differs from the standard bodycon. Bodycon dresses do not hug your body like a glove. Instead, they trace your figure like a well-tailored suit. Bodycon dresses have a different fabric in comparison to that used in bandage dresses. In that sense, bodycon dresses have minimal fabric strength and cannot function as shapewear the same way bandage dresses do.
How To Wear Bodycon Dress Casually
But, the good thing about bodycon dresses is that there are plenty of ways how to style bodycon dress. While these are commonly used in dressing up, there are certain style tips that can make them look cool and casual. By just pairing it with the right shoes and low-key accessories, you can look extra fashionable with your bodycon casual outfit. Here are some ways you can do so.
How To Wear Knee Length Bodycon Dress?
Wearing white rubber shoes can make it look more casual. Long bodycon dresses have more tendency to look classier than their shorter counterparts. Toning it down with rubber shoes or a pair of nude flats can tone it down a notch. Grab a sling bag to make it an outfit perfect for errand days.
How To Wear a Bodycon Dress To Work?
Bodycon dresses can be worn at the office with just the right pieces. Wear a sleeveless bodycon dress and grab a coat or blazer to make it a more work-oriented outfit. You can use pointed flats for comfort. For more formal business wear for ladies, a pair of killer heels is necessary. Twist your hair into a bun or in a sleek ponytail. For your accessories, a pair of pearls and a gold necklace will add a minimalist touch to the whole ensemble.
What Type Of Shoes To Wear With Bodycon Dress?
Knowing what type of shoes to wear with the bodycon dress is important. It can really make or break your entire outfit. Plus, your shoe choice will reflect the direction of what look you are going for. Having a few of the essential shoes for your wardrobe, such as like black flats, white rubber shoes, or nude kitten heels, will definitely make shoe selection a tad bit easier.
One other important factor to heed is the length of the dress. For example, for knee-length dresses, it is not really wise to use ankle-high boots. For one, it will make you look shorter than you already are. Not to mention, it might make you look stuffy and boring.
How To Style Striped Bodycon Dress?
Striped bodycon dresses are everywhere. Why? Well, they are a break from the plain ones. Since, these dresses already have prints on them, opting for accessories like shoes and bags in plain colors are more suitable. Look extra stunning in a short striped dress and a black fedora hat.
What Jacket To Wear With Bodycon Dress?
Layering is often the easiest way to dress up a bodycon. You can choose an oversized coat, a blazer, a shrug, or even a vest. In an instant, it will add texture and complete your look. A denim jacket can certainly add a relaxed and laidback feel to your ensemble. An oversized trenchcoat or a leather jacket will make you look edgier in a snap of the fingers.
How To Wear a Bodycon Dress With Flats?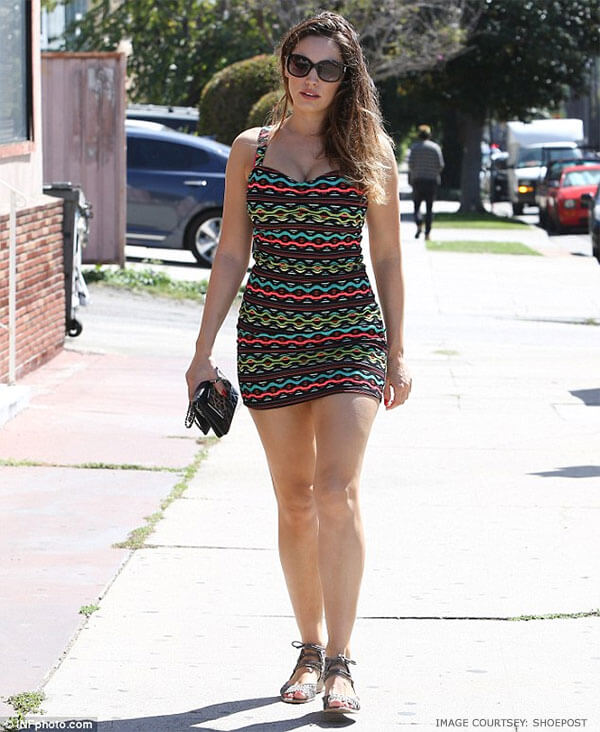 Wearing a bodycon with a pair of flats is probably the easiest way to dress down a bodycon dress. A printed pair can jazz up a plain haltered bodycon, or for a plain pair if your dress is already screaming in design. Just strike a balance between the two, so that they will complement each other.
What To Wear With a Black And White Striped Bodycon Dress?
A simple colored jacket can add character to a black and white striped bodycon dress. You can use it to add a break on your waist area, as well. If it is not sweater weather, however, simple pieces like a lengthy necklace can already serve as your statement piece.
Related: Fashion Trends: Stylish Lacy Outfits
How To Wear a Black Bodycon Dress Casually?
This type looks great with a denim jacket and a pair of white sneakers or black chucks. Just keep things to a minimum by wearing only simple accessories for black bodycon dress outfit. This casual look is a no-fail go-to look for many Hollywood celebrities.
How To Wear a Bodycon Dress Plus Size?
Just because you are more on the heavier end of the scale, does not mean you will not look good in a bodycon dress. For more fun and exciting look, choose fun shades. Although, darker shades have a more slimming effect. Try dark blue or green dresses and pair with a funky pair of heels for a fun ensemble.
How to Crossbody Bags With Bodycon Dress?
Crossbody bags look great with bodycon dresses, be it for fancy or casual occasions. It is actually the most commonly paired bag with this type of dress. Avoid using a bag with a similar color to your shoes to avoid offsetting the balance of the entire look.
How to Wear Wedges With Bodycon Dress?
Going for a brunch? A simple bodycon dress paired with your favorite wedge sandals is the casual look to go for. You can throw in a denim vest if you want. It is simple, but not too basic.
How to Wear Ribbed Halter Neck Bodycon Dress?
Perfect the nineties vibe by pairing your ribbed halterneck bodycon dress with a fun curly hairstyle, a pair of rubber shoes, and a nice sling bag. This look is perfect for strolling around.
How to Style Bodycon Cocktail Dress?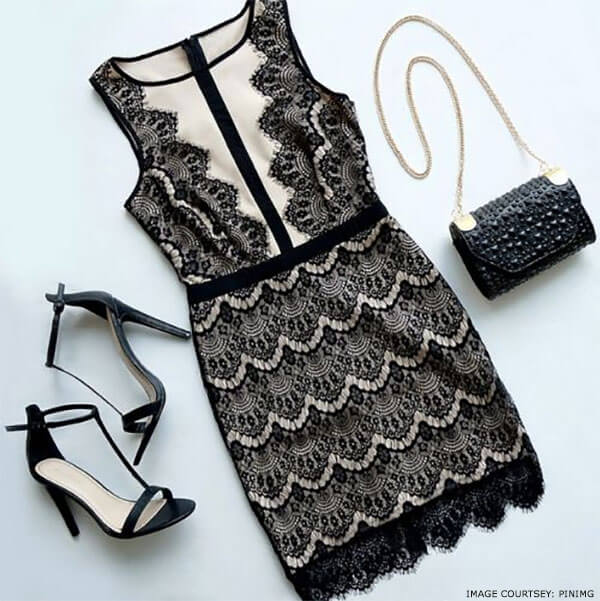 If you are one of the lucky ones where your bust and hips are proportional to one another, you will look super amazing in a bodycon cocktail dress. Just be sure that you can pull it off, before opting to purchase one. This style is not for everyone.
How To Wear Bodycon Dress With Cardigan?
When it comes to outerwear, you will never run out of options. Upcoming Fashion Trends paved the way for that. For a more fun look, a printed cardigan is a great choice. If the weather is too cold, you can opt for some sweater dress outfit ideas.
How to Pair Cropped Tank With Bodycon Dress?
For a more hip and millennial vibe, a bodycon skirt or dress, topped with a copped tank and sneakers will do! You can also try layering a deconstructed top to achieve the same vibe. If you are wondering what is a deconstructed shirt, think undone sewing, burnt hemlines, ragged fringes, and raw-cut edges.
Related: What to Wear With Every Shoe Color: Latest Style Guide On Shoes
Conclusion:
Bodycon dresses are so versatile as seen on all these options. If you feel the need to stock up on some, we will not be stopping you!