Hydroderm Review: Does It Really Work?
By
Hydroderm
Hydroderm Review: know complete information about Hydroderm Review on the beauty insiders
Advertising Disclosure

?
Hydroderm Overview
The Hydroderm System is a line of beauty products that includes an Age-defying Wrinkle Reducer, Age-defying Renewal Moisturizer, Skin Restoring Facial Wash, Bodyshape, and Triple Effects Eye Serum. The Wrinkle Reducer product operates under a patented formula issued in July of 2004. The product line totes itself as "better than Botox."
Hydroderm – Product Description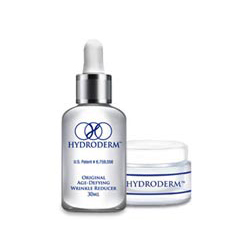 Hydroderm makes four main claims: to decrease the appearance of fine lines and wrinkles, to deliver whole collagen, to boost the natural tone, glow and texture of skin, and to do all of this in 21 days or less. The product Hydroderm features the most is the Wrinkle Reducer, which uses a patented "Collagen Infusion Delivery System" to help the collagen molecules enter the skin. The thinking behind this is that other products' creams or serums are not able to deliver whole molecules of collagen, while Hydroderm does, hence the Botox comparrison. To tighten skin, Hydroderm contains Vyo-serum which contains an ambiguous collection of proteins. Hydroderm's Wrinkle Reducer is shown on its web site as being used in the eye area, and that is where the clinical trials focused their studies, though it can also be used on the whole face and neck area. Hydroderm also strongly recommends that the moisturizer be used in conjunction with the Wrinkle Reducer for best results, and there are special offers that link the two products.In independent research conducted by the Life Extension Foundation (nonprofit organization founded by life-extending and cryonics enthusiast Saul Kent) had positive results in participants who used the the product for 30 days. The web site shows many before and after photos of the product's users.
Hydroderm Advantage
Independent research conducted by seemingly legitimate nonprofit research organization
Mimics the results of Botox without the use of injections
Free trial offered
Positive testimonials and before/after photos
Hydroderm – Drawbacks
No specific information on the ingredients of Wrinkle Reducer
No links to clinical trial information
Hydroderm – The Bottomline
Hydroderm has the appearance of being a unique product in that it is able to deposit collagen into the skin through its Wrinkle Reducer serum. This is good news for people who are afraid to use Botox but want to test the waters. With the free trial, customers can get a 60-day supply of the Wrinkle Reducer along with the moisturizer and only pay for the shipping cost. However, customers should be aware that they will be billed after thirty days if they do not call and return the trial product. In other words, read the "terms and conditions" section. This is standard procedure for "free trial" types of offers. Given the positive results and independent research conducted, Hydroderm's Wrinkle Reducer seems worth a try.
As we age the composition, texture and appearance of our skin changes. Signs of skin aging include wrinkles, fine lines, loss of moisture, uneven tone, and dull, tired-looking skin. There are countless anti-wrinkle creams on the market promising to make skin look and feel younger. Many anti-wrinkle creams promise everything short of a facelift or to provide the much sought after "fountain of youth". In reality most are just moisturizers marketed as anti-aging products.
Below you'll find some of the most effective wrinkle serum/cream formulations on the market today, in our opinion.
Our Top Wrinkle Serums
Dermatologist Recommendations for Maintaining Younger, Healthier, Vibrant Looking Skin:
Be certain to consistently apply the product(s) you choose in accordance with its directions for use;
Pay special attention to your neck and hands while applying the product(s) you choose, as these areas reflect your age;
Always use sunscreen with a Sun Protection Factor (SPF) of at least 15;
Drink at least eight glasses of water a day to stay well hydrated;
Avoid excessive intake of caffeinated and alcoholic beverages, as they may contribute to dehydration and exacerbate the appearance of fine lines and wrinkles; and
Be sure to get adequate rest every day.