Hydroquinone Cream: Does Hydroquinone Cream Work?
By
Hydroquinone Cream
Hydroquinone Cream refers to any skin brightening cream that utilizes hydroquinone as its key active ingredient.
Advertising Disclosure

?
Hydroquinone Cream Overview
Hydroquinone Cream refers to any skin brightening cream that utilizes hydroquinone as its key active ingredient. Hydroquinone is a skin bleaching agent that is used to lighten spots of irregularities in skin coloring. In other words, the skin brightening effects of hydroquinone are presented as a viable option for combating incidences of overproduction of melanin; hydroquinone cream should not be applied to larger areas of skin, however, as it is a very powerful compound. Hydroquinone has been indicated in some cancer research studies, with some indication that using it on skin can increase the risk of cancer.
Ingredients Contained In This Product
Each hydroquinone cream contains different ingredients. However, all of these creams utilize hydroquinone as one of their key active ingredients.
Hydroquinone Cream – Product Description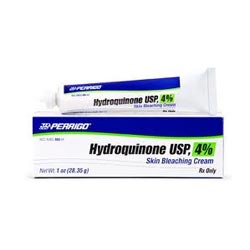 Hydroquinone is a bleaching agent, and like all bleaching agents, it is used to brighten surfaces. In this case, hydroquinone is used in skin creams to provide spot treatment for small patches of irregularly colored skin. Hydroquinone can be very drying and some individuals may have allergic reactions to this compound as well. Additionally, hydroquinone is known to interact with some medicines and should also not be used by women who are pregnant or nursing. In fact, creams contains hydroquinone should not even be used by women who are planning on becoming pregnant or nursing within the time period surrounding their regular application of such creams. The price of hydroquinone creams varies, depending upon the brand of the cream. Most mainstream lightening creams do not contain hydroquinone any more, as this compound has been listed as a suspected carcinogen.
Hydroquinone Cream Advantages
Hydroquinone has been proven to lighten skin.
Hydroquinone Cream Drawbacks
Hydroquinone creams cannot be used by women who are pregnant or nursing.
This compound has been listed as a possible carcinogen.
Hydroquinone creams can be very drying.
Individuals taking certain medications should not use hydroquinone creams.
Hydroquinone Cream – The Bottom Line
Overall, hydroquinone creams are not ideal skin brightening products. Even though hydroquinone has been proven to brighten and lighten skin, the possible side effects of this compound are not worth these minor benefits. Instead of purchasing a product that contains hydroquinone in it, consumers seeking to lighten their skin should find other products that utilize ingredients that have been proven to be both safe and effective for brightening overall skin tone.
Skin Brighteners aid in reducing post-inflammatory hyperpigmentation revealing even skin tone. Skin brighteners also can help revitalize tired and dull skin resulting in a youthful, healthy glow.
Below you'll find some of the most effective skin brightening products on the market today, in our opinion.
Our Top Skin Lightening Choices
**This is a subjective assessment based on the strength of the available information and our estimation of efficacy.
*Results may vary. The information contained in this website is provided for general informational purposes only. No medical claims are implied in this content, and the information herein is not intended be used for self diagnosis or self trealment of any condition.
Disclosure of Material Connection: Some of the links in the post above are "associate sales links." This means if you click on the link and purchase an item, we will receive a commission Regardless, we only recommend products or services which we use personally and/or believe will add value to our readers. We are disclosing this in accordance with the Federal Trade Commission's 16 CFR, Part 255: "Guides Concerning the Use of Endorsements and Testimonials."