Hyperpigmentation – Information about Hyperpigmentation
Many people have an interest in their skin's condition at various stages in their life. Many teenagers experience the woes of acne and hyperpigmentation due in part to normal hormones and oil production. Even adults experience the effects of acne and hyperpigmentation. There are a variety of products available to treat acne and hyperpigmentation symptoms that include and regular cleaning of the face and body. There is a fine balance, though, in the intensity of the cleaning agent used and the level of abrasion that should be used so more acne is not activated. Hyperpigmentation can also result from a variety of other causes that may require other treatment products or a dermatologist's care.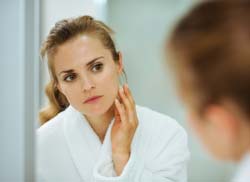 Generally, hyperpigmentation is defined and recognized as an area of skin on the body or on finger and toe nail beds that becomes darker in color. Hyperpigmentation is often caused by the increased production and circulation of melanin in the body. Melanin is associated with increased exposure to the sun and can causes hyperpigmentation on small patches or large areas on the body. Some humans with typically darker skin seem to experience more instances of hyperpigmentation, especially with frequent and increasing sun exposure.
Hyperpigmentation can initially be a cause for alarm because it can worry the individual who has it or those who see the coloration change that hyperpigmentation causes. If you or someone you know seems to have hyperpigmentation as a result of recent or long-term sun exposure, there are methods to treat the condition so it is not necessary to panic. If a condition resembling hyperpigmentation does appear, make an appointment with a dermatologist to make sure you are not at risk for skin cancer. Your dermatologist can also help determine whether your condition is simply related to sun exposure or some other type of condition.
If you think you have a case of hyperpigmentation, your dermatologist can prescribe particular creams that will aid your condition. Your doctor may recommend additional test to confirm that your hyperpigmentation is not caused by other conditions reported to influence hyperpigmentation like Celiac Disease, Nelson's Syndrome, mercury poisoning, Addison's disease, Melasma, and many others. Inflammation of body tissues can also play a role in the formation of hyperpigmentation. The best way to know for sure what is causing the change in your skin condition is to see a doctor as soon as you notice any particular changes in your skin color, and especially if you see freckles or moles that are changing shape and color.
The cosmetic industry currently offers a variety of wrinkle creams from a number of brands. To make the process of selecting a wrinkle cream as simple as possible, we've evaluated each cream on its ability to fulfill our requirements for a quality wrinkle cream. To be specific, we believe that a wrinkle cream should include ingredients that offer antioxidant protection for skin, in order to delay the onset of noticeable aging. At the same time, wrinkle creams should be able to renew skin, typically by containing compounds with collagen-stimulating properties. Additionally, such a cream should improve both the texture and appearance of skin by offering both long term anti-wrinkle benefits and hydrating agents to create smooth, firm skin. Listed below are the top wrinkle creams, according to these important characteristics.
Top Wrinkle Creams
Dermatologist Recommendations for Maintaining Younger, Healthier, Vibrant Looking Skin:
Be certain to consistently apply the product(s) you choose in accordance with its directions for use;
Pay special attention to your neck and hands while applying the product(s) you choose, as these areas reflect your age;
Always use sunscreen with a Sun Protection Factor (SPF) of at least 15;
Drink at least eight glasses of water a day to stay well hydrated;
Avoid excessive intake of caffeinated and alcoholic beverages, as they may contribute to dehydration and exacerbate the appearance of fine lines and wrinkles; and
Be sure to get adequate rest every day.