9 Ways To Incorporate Glitters In Your Holiday Look
This the season to razzle and dazzle! There can be no better time to try a splash of glitz and bling than the holiday season. Pick your choice on how you can wear this sparkly trend this season from the list below on 9 ways to wear glitters.
9 Ways to incorporate glitters in your holiday look
Way 1: Use To Highlight Your Eyeliner: The safest, most fool proof way of using glitters is to put these on top of your regular eyeliner. In which case, the best glitter colors are gold or bronze.
Simply line your eyelids with eyeliner. Let it set and dry. Using an eyelash adhesive, follow the path of your eyeliner. Then, using a slim tipped brush or the slim top of your liquid eyeliner container, pick up a few pieces of glitters by dipping the tool into the container. Carefully place the glitter on the eyelash adhesive. Press down gently to make the glitter stick on your eyelids.
Way 2: Use Glitters With A Metallic Eyeliner and Eye Shadow
Put on your eyeliner and eye shadow. This makeup tip will also work well with a black eyeliner and a metallic eye shadow. Once you're done, let the makeup set while you choose the color of glitter that best complements your metallic eye shadow.
Take an eyelash adhesive and line your eye's natural fold with it. Using a slim edged tool, pick up your glitters and line your eye with it.
Way 3: Use Glitters As An Eye Shadow. This technique works best by choosing an eye shadow and glitter in the same shades. First, put on your eye shadow. Next, spread eyelash adhesive all over your eyes where you have eye shadow. Then, cover the entire area with glitters.
Way 4: Use Glitters In Combination With Rhinestones and Paillettes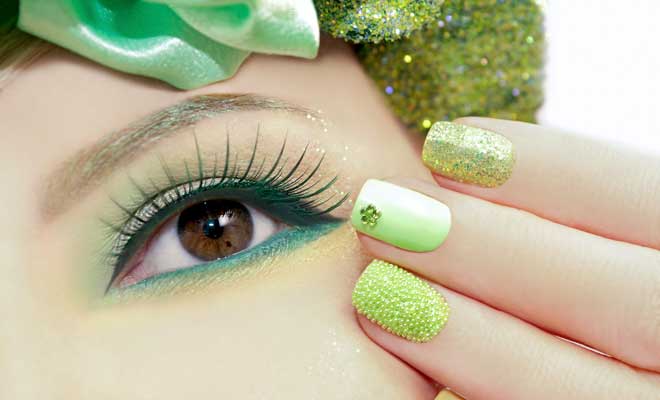 Go for extreme glitz and glam by combining three sparkly additions to your makeup. Carefully choose your color and pattern combinations for putting together your makeup, glitters, rhinestones and paillettes. This is an important step so you don't mess up your look right in the middle of putting it on.
Way 5: Use Glitters To Put Extreme Shine On Your Lips. This technique works best using blush pink glitters combined with pinkish makeup for that innocently glittery look. Another great way to use this technique is by using boldly colored glitters like metallic blue or metallic violet glitters to bring extreme optical focus on your shimmery lips.
Way 6: Use Glitters To Work Your Eyes In Combination With Your Eyeliner. In this technique, you're not only using glitters to highlight your eyeliner but, will be using glitters as if it were a different makeup product altogether. This technique works nicely with bronze and silver colored glitters and eye shadows.
First, put on your black eyeliner. It will be good to have your eyelids prepped with a thicker line than usual. Next, put on your bronze eye shadow. Then, using an eyelash adhesive, fill the area of your eye where glitters are desired. Line your eyes with glitters. For best results, use a bronzer on your face, and add more sparkle and uniqueness by dotting your eye circle area with eyelash adhesive and similarly filling these with the same color of glitters you have on your eyelids.
Way 7: Use Glitters To Frame Your Face
Put on your regular makeup, ideally using gold or bronze shades. Using a similar shade of glitters, line the sides of your face unevenly with glitters with the help of an eyelash adhesive. Use a white eyeliner to draw tear like small dots on the inner corner of both eyes.
Way 8: Use Glitters To Highlight Your Eyelashes. If you don't already have long, thick eyelashes then, the first step in this technique is to glue on false eyelashes. For an even bolder, catwalk ready finish, try extremely long false eyelashes that extend to the sides of your face. Strategically put eyelash adhesive on areas of your eyelashes where you want to put the glitters. Another tip is that in this technique, the glitters look great on the outer tips of your eyelashes. After putting on adhesive, put on glitters with a light press.
Way 9: Use Glitters On Your Eyebrows, And Upper And Lower Eyelids. This technique works best using gold and bronze shades for both eye makeup and glitters to use. Start by patting base makeup all over your eye area and blending it in. This added step protects your makeup from getting dissolved in your skin's natural oils, helps make up glide and stay on, and helps the glitters stay on your face for longer.
Next, give your eyebrows a nice, shapely arch. Then, draw on your upper and lower eyelids. Put glitters on your eyebrows and eyelids. Play down your lips with a nude brown color for maximum eye glitz!
You May Also Like: Finally! The Complete Guide to Remove Our Eye Makeup
Conclusion
Makeup can be more than just a skincare or beauty product when you innovate. Let the artist in you shine by using glitters to complement your holiday makeup.