Innisfree Olive Real Eye Cream Review: Ingredients, Side Effects, Detailed Review & more
Advertising Disclosure

?
What is Innisfree Olive Real Eye Cream?
Love how Korean products have been giving you alternative ways to tackle your most pressing skin issues and concerns lately? If you can't get enough of your Korean beauty stash, Innisfree Oliver Real Eye Cream, which sells for US $19, may just become the newest addition to your Korean beauty collection.
Innisfree Olive Real Eye Cream- Does this product really work?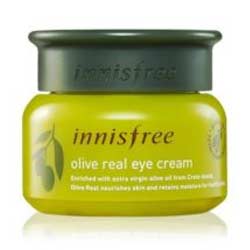 This product is essentially a moisturizer specially formulated for the delicate, damage-prone skin around the eyes. The primary ingredients are extra virgin olive oil grown organically in Crete, Greece. This natural ingredients contains very high concentrations of polyphenol and oleic acid, both support the skin in warding off wrinkles and other signs of skin aging from manifesting too soon.
Needless to say, skin around the eyes deserves more attention and care owing to its naturally thin structure, absence of a fat layer and naturally deep set placement in the skull. Repeated facial expressions also make this area more prone to developing creases and wrinkles compared to any other part of the face.
This product's high antioxidant levels help protect skin while also boosting its natural power to heal itself. Oleic acid, moreover, helps restore the skin's protective outer layers while boosting the skin's moisture levels.
What are the ingredients in Innisfree Olive Real Eye Cream
Key active ingredients are:
extra virgin olive oil: moisturizing, anti-aging, antioxidant; contains polyphenols and oleic acid which significantly support the skin recover from damage and prevent new ones from forming.
glycerin: May help skin retain moisture while reducing inflammation but also can cause skin irritation to sensitive skin.
squalene: skin conditioner.
chamomile: anti-inflammatory and skin brightening.
shea butter: These is for soothing, nourishing and moisturizing skin so that it will return to its natural, healthy state after treatment. It also reduces skin Inflammation.
chamomile: skin brightener and relieves skin from irritation.
How to apply Innisfree Olive Real Eye Cream
Cleanse skin thoroughly with a mild cleanser and lukewarm water before applying this product. Place this product as close to skin around the eyes as close to the skin as possible. It should be applied after a serum, such as a Vitamin C serum, and under a face cream if these products are part of your typical daytime and nighttime routines.
Use this product day and night to see noticeable results much sooner.
Benefits of Innisfree Olive Real Eye Cream
free from parabens which mimic hormones and disrupt the otherwise normal functioning of essential organs.
free from synthetic colorants which can cause extreme irritation and allergic reactions.
free from imidazolidinyl urea, which can produce formaldehyde, a carcinogen, when exposed to warm environments.
contains powerful antioxidants that help protect eye skin from damage and aging
Disadvantages of Innisfree Olive Real Eye Cream
contains silicones which leave product build up on skin.
contains phenoxyethanol, proven to be neurotoxic.
contains fragrance ingredients, among the most irritating ingredients found in almost all personal care products.
some people may have adverse reactions to plant oils and botanical extracts.
contains fragrance which may not make this product suitable for sensitive and problematic skin types.
Final Verdict- Innisfree Olive Real Eye Cream
Skin around the eyes deserves special love and care. Innisfree Olive Real Eye Cream may prove to be the right product for some people but, that does not mean that it is the product that best suits your needs too though it might be worth a try.
FAQ's of Innisfree Olive Real Eye Cream
Frequently Asked Questions About Innisfree Olive Real Eye Cream:
What is the Price of Innisfree Olive Real Eye Cream?
Ans: Innisfree Olive Real Eye Cream can be bought for $19.
Does the Innisfree Olive Real Eye Cream come with the money back guarantee?
Ans: There is no such money back guarantee given by the manufacturers.
What are the directions to apply Innisfree Olive Real Eye Cream? 
Ans: Manufacturer's recommend that you apply this cream under the eye gently every morning and evening.
Does this Innisfree Olive Real Eye Cream contain any animal ingredient or animal fat? Is it alcohol free?
Ans: This product does not include animal derived ingredients or alcohol.
Is Innisfree Olive Real Eye Cream suitable to reduce dark circles? 
Ans: This product is an eye cream that brightens and tones the thin and sensitive area around the eyes which makes it suitable for reducing dark circles.
The most common eye area issues are puffiness, dark circles, wrinkles and crow's feet, and loss of hydration. There are countless eye creams available on the market today, making it seem nearly impossible to find the "right one" that meets our specific under eye needs. It is imperative to find a product that has been formulated to address a variety of complex eye area problems.
Below you'll find some of the most effective eye cream formulations on the market today, in our opinion.
Our Top Eye Creams
Also Remember These Dermatologist Recommended Important Tips:
Age has nothing to do with the lines that appear on the corners of your eyes... it's a combination of heredity and careless abuse of the area.
Skin is skin... it all needs to be cared for in one way or another. For my younger readers, this means not pulling on the skin when removing eye makeup.
The eye area is prone to fine lines and wrinkles, so it is really important not over-work the area, squint, and stay away from smokey rooms. Your eyes won't like that either.
One of the best ways to protect this area of your face is to put on a pair of sunglasses every single time you go outside spring, summer, fall and winter.
There are very few oil glands in the eye area, so it can dry out very quickly, especially if you spend a great deal of time out of doors.
When you chose an eye cream, be sure to choose one that is especially formulated for this delicate skin. Don't use a day cream that could be full of ingredients that will irritate this area. Too rich a cream can cause as many problems as ignoring the area.
**This is a subjective assessment based on the strength of the available information and our estimation of efficacy.
*Results may vary. The information contained in this website is provided for general informational purposes only. No medical claims are implied in this content, and the information herein is not intended be used for self diagnosis or self trealment of any condition.
Disclosure of Material Connection: Some of the links in the post above are "associate sales links." This means if you click on the link and purchase an item, we will receive a commission Regardless, we only recommend products or services which we use personally and/or believe will add value to our readers. We are disclosing this in accordance with the Federal Trade Commission's 16 CFR, Part 255: "Guides Concerning the Use of Endorsements and Testimonials."