5 Interesting Facts about Leo Messi That You Probably Didn't Know
Lionel Andres "Leo" Messi Cuccittini will, no doubt, go down in history as one of the world's best footballers of all time. With 510 career goals scored in 659 games to-date, sporting the same Number 10 jersey which the legendary Barcelona footballer Diego Maradona did (who, by the way, called Messi his successor), and bagging the FIFA World Player of the Year four years in a row, it's hard to imagine anybody questioning Messi's throne in the league's most admired heroes.
Think you love his game, surely you'll love the not-very-well-known facts about Messi more:
1. Messi is Father to 4-year Old Thiago and 1-year Old Mateo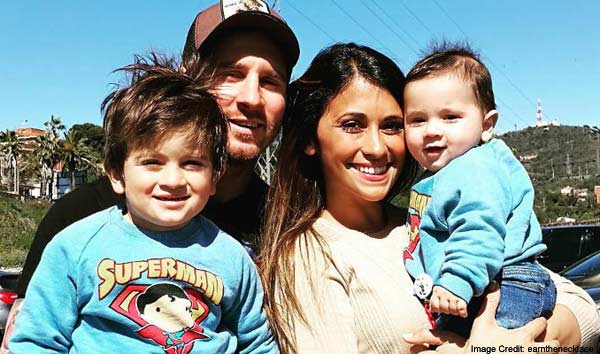 Thiago will be joining a football club for boys under 6 later in 2016. Messi couldn't contain his excitement when Thiago was delivered, praising and thanking God for the blessing in his social media account. Later, Messi got a tattoo of Thiago's name and handprint on his left calf, making Thiago every part of his Papi's winning goals.
2. Messi was Diagnosed with Growth Hormone Deficiency Syndrome at a very young age
His parents, being employed in factories, were unable to afford his treatments. When Messi was signed by Barcelona, the team offered to attend to his special medical needs.
Read Also: Then and Now: How These 7 Singers Have Transformed Over the Past Years
3. Messi's Sons are Born of Long-time Girlfriend, Antonella Roccuzzo:
The two had been a couple since 2008 but they have shared even longer history. Messi and Roccuzzo have known each other since they were 5 years old, and both grew up in Rosario, Argentina.
4. Messi's Affairs are Handled By the Family: His father has been his agent since he was 14. His brother, Rodrigo, takes care of managing his PR and publicity commitments, while his mother, Celia, and brother, Matías, help manage a foundation that he set up, and his personal affairs back in his hometown.
You May Also Like: You will Be Surprised What These YouTubers Did Before They Got Famous
5. Messi is a Wholehearted Philanthropist
He has been named UNICEF ambassador in 2010. Yet, even before that, he has been supportive of the UN's efforts in improving the lives of children worldwide since 2004. He has helped the organization raise public awareness of children's issues and raise funding for their welfare. He was quoted by UNICEF saying, "Every child has the right to grow up healthy, especially handicapped children".
Other than that, he also maintains Fundación Leo Messi. The goal of which is to give children and youth in Argentina and Spain a better shot at life by linking them with institutions, including cultural and medical organizations, that can open up opportunities which could not be possible if the young people were left alone.
Conclusion
Messi matters inside and outside of the football field. There is more to him than his game, and his handsome personality makes him a good role model for generations to come – a trait not exactly shared by many celebrities these days. Despite having the time of his life under the blinding spotlight and constant public eye, this football star knows where his priorities are: God, family, community.
Like this post? There's more. Get tons of beauty tips, tutorials, and news on the thebeautyinsiders Facebook & Twitter page. Like us on Facebook – we'll see you there!