Jan Marini Bioglycolic Facial Lotion Review : Ingredients, Side Effects, Detailed Review And More
By
Advertising Disclosure

?
What Is Jan Marini Bioglycolic Facial Lotion?
The facial treatment being reviewed is, Bioglycolic Facial Lotion, by Jan Marini Skin Research. The product's manufacturer claims that their product will resurface skin to dramatically reduce the appearance of fine lines and wrinkles, while promoting softer and smoother facial texture.
The product can be purchased from online retailers like, Amazon.com, SkinMDshop.com and AskDerm.com. Bioglycolic Facial Lotion can be purchased for $72.00.The product can not be purchased directly from the manufacturer's website. In addition the product's website does not stipulate any type of guarantee.
However there are many other well known brands in the market with similar effects and ingredients and they come in a affordable range.
Jan Marini Bioglycolic Facial Lotion – Does It Really work?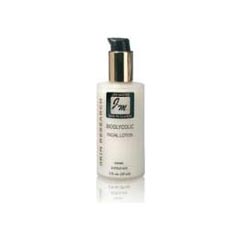 As stated by manufacturer, the active ingredients in the product are glycolic acid, and hyaluronic acid.
Glycolic acid is a sugar derivative. It is a natural acid that can be found in various fruit and food. The manufacturer's decision to use glycolic acid in the formulation of Bioglycolic Facial Lotion, was based on glycolic acids low molecular weight. The lower molecular weight allows the glycolic acid to penetrate deeper in to the epidermis. Studies suggest that glycolic acid is also valuable for its ability to loosen "cellular cement". Simply stated, "cellular cement" is the substance that attaches it's self to the molecules forming unwanted skin conditions like acne, sun damage, and hyper pigmentation. The use of products that contain glycolic acid should be cautioned, as the acid can be erosive to skin.
Hyaluronic Acid leaves the skin hydrated. Unparalleled to any other natural substance, hyaluronic acid increase facial smoothness, and elasticity resulting in a decrease in wrinkles. Hyaluronic acid can be injected to the skin but the treatments are painful and expensive.
What Are The Ingredient In Jan Marini Bioglycolic Facial Lotion
Salicylic Acid 2%: These ingredients work together to clear away pore-clogging impurities.
Glycolic Acid: This plant-derived acid is a proven exfoliator that removes dead skin cells while encouraging the production of new, healthy cells. It also helps unclog pores and by stimulating cellular turnover, it is an effective formula for improving the skin's texture and appearance.
Butylene Glycol: This ingredient is a colorless organic alcohol used as a solvent and as a conditioning agent. This ingredient can cause a rashes and other forms of irritation in individuals with sensitive skin.
Hyaluronic acid: This ingredient keeps collagen synthesis up, as well as retaining skin moisture, contributing to the anti-aging benefits to the skin. Namely, some people complain that their skin dries out after using hyaluronic acid.
Benefits Of Jan Marini Bioglycolic Facial Lotion
The product uses a combination of glycolic and hyaluronic acid.
This product is suitable for all skin types. Although Many user reviews say it isn't very effective.
This product targets Blackheads, Whiteheads, Cystic Acne.
Disadvantages Of Jan Marini Bioglycolic Facial Lotion
The product is comparatively expensive.
The product does not come with a manufacturer's guarantee.
The product can not be purchased directly from the manufacturers website.
This product may cause skin breakouts and skin irritation.
Final Verdict: Jan Marini Bioglycolic Facial Lotion
Bioglycolic Facial Lotion, has two well known ingredients that aid in the combat against aging, free radicals in the environment, sun damage and acne. In conclusion, the product is priced moderately compared to it's competitors and the manufacturer provided enough evidence to make the products benefits plausible. However the manufacturer's neglect to provide the consumer with any guarantee is disappointing.
an Marini Bioglycolic Facial Lotion
Currently the health and beauty industry offers a wide variety of acne treatments. While it is important to choose a product that is formulated to function best with an individual's particular skin type, it is also crucial to consider several other factors before purchasing anti-acne products. More specifically, the best acne treatments should be able to penetrate deeply into skin. At the same time, a quality acne treatment will also contain ingredients that can minimize the appearance of skin's pores, clear up any facial blemishes, and actually remove dead skin cells as well as black and whiteheads. Below are some of our most effective acne treatment products on the market today; each product is evaluated on how well it matches up with the previously explained requirements for a quality acne treatment.


Below you'll find some of the most effective Acne formulations on the market in our opinion:
Our Top Acne Products
**This is a subjective assessment based on the strength of the available information and our estimation of efficacy.
*Results may vary. The information contained in this website is provided for general informational purposes only. No medical claims are implied in this content, and the information herein is not intended be used for self diagnosis or self trealment of any condition.
Disclosure of Material Connection: Some of the links in the post above are "associate sales links." This means if you click on the link and purchase an item, we will receive a commission Regardless, we only recommend products or services which we use personally and/or believe will add value to our readers. We are disclosing this in accordance with the Federal Trade Commission's 16 CFR, Part 255: "Guides Concerning the Use of Endorsements and Testimonials."