Jan Marini Bioglycolic Facial Lotion Review
By
an Marini Bioglycolic Facial Lotion
Exclusive review of Jan Marini Bioglycolic Facial Lotion, Know complete information about Jan Marini Bioglycolic Facial Lotion on the beauty insiders
Advertising Disclosure

?
Jan Marini Bioglycolic Facial Lotion Overview
The facial treatment being reviewed is, Bioglycolic Facial Lotion, by Jan Marini Skin Research .The product's manufacturer claims that their product will resurface skin to dramatically reduce the appearance of fine lines and wrinkles, while promoting softer and smoother facial texture.
Bioglycolic Facial Lotion,  was formulated to be used on all skin types; normal, oily, dry, and combination.  The manufacturer hosts a complete skincare line that features the following products; Facial Cleanser, Oily Skin Cleansing Gel, Bioclean, Facial Lotion, Facial Lotion SPF 15, Lightening Gel, Bioclear Cream and Lotion, Acne Gel I and II, Hand and Body lotion, Resurfacing Body Scrub, and Sunless Self Tanner. The Jan Marini product line focuses on common skin conditions like aging,sun damage, acne, and rosacea. The company's founder, Jan Marini, known as the "Derma Diva". Satisfied clients include celebrities like Cher, Janice Dickenson, and Naomi Campbell.
The product can be purchased from online retailers like, Amazon.com, SkinMDshop.com and AskDerm.com. Bioglycolic Facial Lotion can be purchased for $47 at Amazon.com, $38.40 at SkinMDshop.com and $50 at AskDerm.com. The product can not be purchased directly from the manufacturer's website. In addition the product's website does not stipulate any type of guarantee.
Jan Marini Bioglycolic Facial Lotion – Product Description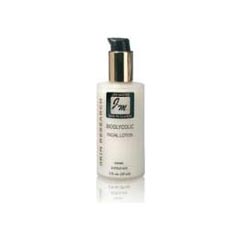 The active ingredients in the product are glycolic acid, and hyaluronic acid.
Glycolic acid is a sugar derivative. It is a natural acid that can be found in various fruit and food. The manufacturer's decision to use glycolic acid in the formulation of Bioglycolic Facial Lotion, was based on glycolic acids low molecular weight. The lower molecular weight allows the glycolic acid to penetrate deeper in to the epidermis. Studies suggest that glycolic acid is also valuable for its ability to loosen "cellular cement". Simply stated, "cellular cement" is the substance that attaches it's self to the molecules forming unwanted skin conditions like acne, sun damage, and hyper pigmentation. The use of products that contain glycolic acid should be cautioned, as the acid can be erosive to skin.
Hyaluronic Acid leaves the skin hydrated. Unparalleled to any other natural substance, hyaluronic acid increase facial smoothness, and elasticity resulting in a decrease in wrinkles. Hyaluronic acid can be injected to the skin but the treatments are painful and expensive.
Jan Marini Bioglycolic Facial Lotion Advantage
The product uses a combination of glycolic and hyaluronic acid.
There is an extensive list of celebrities who endorse the products manufacturer.
The products website was easy to navigate and engaging. The website is very informative.
Jan Marini Bioglycolic Facial Lotion – Drawbacks
The product is expensive and does not come with a manufacturer's guarantee.
The product can not be purchased directly from the manufacturers website.
Jan Marini Bioglycolic Facial Lotion – The Bottom Line
Bioglycolic Facial Lotion, has two well known ingredients that aid in the combat against aging, free radicals in the environment, sun damage and acne. In conclusion, the product is priced moderately compared to it's competitors and the manufacturer provided enough evidence to make the products benefits plausible. However the manufacturer's neglect to provide the consumer with any guarantee is disappointing.
Currently the health and beauty industry offers a wide variety of acne treatments. While it is important to choose a product that is formulated to function best with an individual's particular skin type, it is also crucial to consider several other factors before purchasing anti-acne products. More specifically, the best acne treatments should be able to penetrate deeply into skin. At the same time, a quality acne treatment will also contain ingredients that can minimize the appearance of skin's pores, clear up any facial blemishes, and actually remove dead skin cells as well as black and whiteheads. Below are some of our most effective acne treatment products on the market today; each product is evaluated on how well it matches up with the previously explained requirements for a quality acne treatment.


Below you'll find some of the most effective Acne formulations on the market in our opinion:
Our Top Acne Products