Jan Marini RosaLieve Redness Reducing Complex Reviews – Should You Trust This Product?
Advertising Disclosure

?
Jan Marini Redness Reducing Complex Overview:
Jan Marini RosaLieve Redness Reducing Complex, US $85 for a 1.0 fl. oz. the opaque pump bottle is a skin calming and soothing anti-aging-cream solution that relaxes your skin and clears it of blotchiness and redness to allow clearer, blemish-free skin to show through.
About Jan Marini Redness Reducing Complex — Does It Really Work?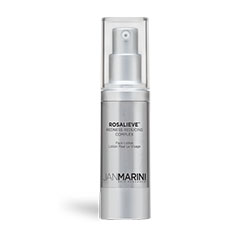 This product is brought to you by Jan Marini, a skin care company based in California, USA. Jan Marini is a direct selling company that boasts of more than 20 years of experience formulating skin care products that are "Complete. Comprehensive. Results Without Compromise."
The company claims that they have formulated this product to protect the skin from signs of aging, restore the skin's hydration, reduce skin inflammation, and boost the skin's complexion. However, this product contains phenoxyethanol and alcohol which can do more harm than good to the skin.
What Are The Ingredients In Jan Marini Redness Reducing Complex?
Azelaic Acid: It relieves inflamed and chronically irritated skin, in effect calming and relaxing your skin to show off a clearer, more even-toned skin.
Tetrapeptide-14: Peptides that help inhibit the enzymatic pathways that cause your skin to feel and appear irritated, effectively alleviating redness, blotchiness, swelling, and other manifestations of inflamed skin. There are no clinical studies that can prove this claim.
Boswellia Serrata Extract: It has anti-aging properties that relieve skin inflammation while simultaneously protecting collagen and elastin fibers from breaking down to preserve the integrity of your skin. However, it may cause irritation to sensitive skin.
Oat Extract (Hydroxyphenyl Propamidobenzoic Acid): It has strong anti-inflammatory properties, calms and soothes as it also promotes improved skin hydration.
Concentrated Green Tea Extract (Epigallocatechin Gallate): Loaded with powerful antioxidants, this ingredient defends your skin from cell-damaging free radical attacks as it revives your skin's livelier and more radiant complexion.
White Tea and Red Tea Extract: Also loaded with antioxidants, these ingredients help defend your skin from stress, pollution, and other environmental factors.
Directions To Use:
Jan Marini Redness Reducing Complex is recommended for twice daily application on freshly and thoroughly cleansed the skin on your face, neck, and chest.
Benefits:
Jan Marini Redness Reducing Complex is not formulated with parabens and fragrances, making it likely suitable for use on sensitive skin types, depending on your history of allergies.
This product contains a complex of ingredients that utilize different means to help calm irritated skin.
Disadvantages:
This product contains several toxic and irritating ingredients.
Jan Marini Redness Reducing Complex reviews indicate that this product may be too expensive for the benefits that it promises to deliver.
The product has phenoxyethanol which can cause cell death.
It also has alcohol that can dry the skin.
product only has few reviews online.
Does Jan Marini Redness Reducing Complex Have Any Side Effects?
Based on the ingredients and reviews, the following side effects may be experienced when using Jan Marini RosaLieve Redness Reducing Complex:
Skin irritation and allergic reactions due to several ingredients, including silicones and butylene glycol
Increased risk for developing various forms of cancers due to sodium benzoate which can form benzene, a carcinogen, when combined with citric acid which this product also lists in the formula
Increased risk for nerve and brain damage due to phenoxyethanol
Final Verdict:
Jan Marini Redness Reducing Complex certainly drew from the latest and the traditional when it created this formula. Just as any other product, however, it's not for everyone, not even when it is a formula intended as a skin calming and inflammation relief
As we age the composition, texture and appearance of our skin changes. Signs of skin aging include wrinkles, fine lines, loss of moisture, uneven tone, and dull, tired-looking skin. There are countless anti-wrinkle creams on the market promising to make skin look and feel younger. Many anti-wrinkle creams promise everything short of a facelift or to provide the much sought after "fountain of youth". In reality most are just moisturizers marketed as anti-aging products.
Below you'll find some of the most effective wrinkle serum formulations on the market today, in our opinion.
Our Top Anti Aging Products
**This is a subjective assessment based on the strength of the available information and our estimation of efficacy.
*Results may vary. The information contained in this website is provided for general informational purposes only. No medical claims are implied in this content, and the information herein is not intended be used for self diagnosis or self trealment of any condition.
Disclosure of Material Connection: Some of the links in the post above are "associate sales links." This means if you click on the link and purchase an item, we will receive a commission Regardless, we only recommend products or services which we use personally and/or believe will add value to our readers. We are disclosing this in accordance with the Federal Trade Commission's 16 CFR, Part 255: "Guides Concerning the Use of Endorsements and Testimonials."