Jason Mineral Sunscreen Broad Spectrum SPF 30 Reviews
Advertising Disclosure

?
Jason Mineral Sunscreen Broad Spectrum SPF 30 Introduction:
Sunscreen is a must but, as it turns out, not everything that has "sunscreen" on its label is good for you. Sunscreen brands that seek to do better than just provide the ultimate sun protection have re-cently been making waves, and these swarms are right exactly where the demand for skincare prod-ucts are at the moment — all natural, organic, non-toxic — the niche which skincare industry ex-perts are projecting will bring the industry to a trillion market size in 10 years.
Jason Mineral Sunscreen Broad Spectrum SPF 30 Description: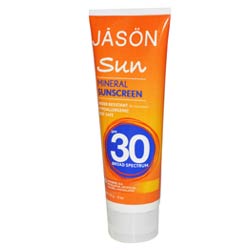 JĀSÖN Sun Care has committed itself to product safety since 1959. The company got its name from Greek, JASON, which means "healer". Even before the clamor for safer products began, the company has stuck to four codes of conduct in developing their products:
No harsh, toxic ingredients
Product testing to ensure both safety and effectiveness
No animal testing
Continuous R&D
It isn't surprising then to know that JĀSÖN Mineral Sunscreen Broadspectrum SPF 30 is one of the first few in its league to be formulated with mineral sunscreens only, a safer alternative to toxic and harsh chemical sunscreen actives that can have lifelong detrimental effects to the health of consumers.
How is it different from chemical sunscreens? This mineral sunscreen works by forming a physical barrier, sort of an added layer of skin, between your skin and the sun's UV rays. Unlike chemical sunscreens that deliberately absorb and react with the radiation, mineral sunscreens deflect the light so it does not touch your skin at all.
Its manufacturer also claims that the product will not leave a white streak on your skin, as most mineral sunscreens do. Since it isn't made of synthetics, fragrance free, and contains botanical ingredients that soothe and calm your skin, you shouldn't have to worry about getting irritated or growing allergic reactions to the product.
A 4 oz. bottle costs US$9.
Jason Mineral Sunscreen Broad Spectrum SPF 30 Ingredients:
Zinc Oxide: This is considered to be a safer sunscreen active and can provide broad spectrum protection against the sun.
Titanium Dioxide: This protects the skin from both UVA and UVB rays.
Tocopheryl Acetate: This conditions and softens the skin. But it may also cause skin irritation.
Silica: This boosts the production of collagen, leaving the skin elastic and firm. However, it may cause inflammation and irritation.
Shea Butter: This nourishes and hydrates the skin from the inside out.
Directions:
Apply a generous amount of this product on face, neck, arms and other exposed areas of your skin at least 15 minutes before sun exposure. Reapply frequently or after excessive sweating, swimming or patting with a towel.
Advantages:
This product is made with mineral sunscreen actives that are safer than sythetic counterparts.
It also does not contain perfume and colorants which can be irritating for sensitive skin types.
Disadvantages:
Formulation contains phenoxyethanol which can be neurotoxic.
It also has alcohol that can dry the skin.
The product leaves white film on the skin upon application.
Some users experienced allergic reaction.
There are also users who complained about the product's smell.
Conclusion
JĀSÖNMineral Sunscreen Broad spectrum SPF 30 comes from a company with a proven track record in manufacturing safe skincare products.
Many creams and serums on the market claim to work fast and effectively but fail to deliver results. For this reason it is essential to check the formula ingredients and make sure that they are included in their optimal amounts. While it is expected that creams of this type may be more expensive, the manufacturer should still be able to offer some proof that they have undergone successful testing and work on a full range of aging symptoms from lines and wrinkles to age spots and sun damage.
The sad part is the company did not offer any studies to prove that it does work. The ingredients list also tells us that the use of this product may cause some side effects so it is best that you opt for a product that does not have the unwanted substances found in this sunscreen.
Below you'll find some of the most effective Sunscreens formulations on the market in our opinion:
Our Top Sunscreens
**This is a subjective assessment based on the strength of the available information and our estimation of efficacy.
*Results may vary. The information contained in this website is provided for general informational purposes only. No medical claims are implied in this content, and the information herein is not intended be used for self diagnosis or self trealment of any condition.
Disclosure of Material Connection: Some of the links in the post above are "associate sales links." This means if you click on the link and purchase an item, we will receive a commission Regardless, we only recommend products or services which we use personally and/or believe will add value to our readers. We are disclosing this in accordance with the Federal Trade Commission's 16 CFR, Part 255: "Guides Concerning the Use of Endorsements and Testimonials."