Jason Mineral Sunscreen Broad Spectrum SPF 30 Review: What does it do?
By
Jason Sunscreen Broad spectrum SPF 30
Click here to read the exclusive and detailed review of Jason Sunscreen Spectrum SPF 30 here. Know the complete in outs, ingredients and other details.
Advertising Disclosure

?
Jason Mineral Sunscreen Broad Spectrum SPF 30 Introduction:
Sunscreen is a must but, as it turns out, not everything that has "sunscreen" on its label is good for you. Sunscreen brands that seek to do better than just provide the ultimate sun protection have re-cently been making waves, and these swarms are right exactly where the demand for skincare prod-ucts are at the moment — all natural, organic, non-toxic — the niche which skincare industry ex-perts are projecting will bring the industry to a trillion market size in 10 years.
Jason Mineral Sunscreen Broad Spectrum SPF 30 Description: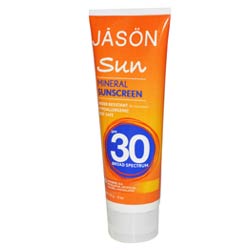 JĀSÖN Sun Care has committed itself to product safety since 1959. The company got its name from Greek, JASON, which means "healer". Even before the clamor for safer products began, the company has stuck to four codes of conduct in developing their products:
No harsh, toxic ingredients
Product testing to ensure both safety and effectiveness
No animal testing
Continuous R&D
It isn't surprising then to know that JĀSÖN Mineral Sunscreen Broadspectrum SPF 30 is one of the first few in its league to be formulated with mineral sunscreens only, a safer alternative to toxic and harsh chemical sunscreen actives that can have lifelong detrimental effects to the health of consumers.
How is it different from chemical sunscreens? This mineral sunscreen works by forming a physical barrier, sort of an added layer of skin, between your skin and the sun's UV rays. Unlike chemical sunscreens that deliberately absorb and react with the radiation, mineral sunscreens deflect the light so it does not touch your skin at all.
Its manufacturer also claims that the product will not leave a white streak on your skin, as most mineral sunscreens do. Since it isn't made of synthetics, fragrance free, and contains botanical ingredients that soothe and calm your skin, you shouldn't have to worry about getting irritated or growing allergic reactions to the product.
A 4 oz. bottle costs US$9.
Jason Mineral Sunscreen Broad Spectrum SPF 30 Ingredients:
This sunscreen is made with Zinc Oxide(14.5%) and Titanium Dioxide (2.0%)
Other ingredients include:Aqua (Water), Caprylic/Capric Triglyceride, Dimethicone, Ethylhexyl Palmitate, SorbitanSesquioleate, Glycerin, Glyceryl Isostearate, ButyrospermumParkii (Shea Butter), Helianthus Annuus (Sunflower) Seed Oil*, SimmondsiaChinensis (Jojoba) Seed Oil*, Polyglyceryl-3 Ricinoleate, VitisVinifera (Grape) Seed Oil, Aloe Barbadensis Leaf Juice*, Calendula Officinalis Flower Extract*, Camellia Sinensis Leaf Extract Magnesium Sulfate, Silica, Sodium, Chloride, Tocopheryl Acetate, Benzyl Alcohol, Phenoxyethanol, Polydroxystearic Acid *Certified Organic Ingredient
Directions:
Apply a generous amount of this product on face, neck, arms and other exposed areas of your skin at least 15 minutes before sun exposure. Reapply frequently or after excessive sweating, swimming or patting with a towel.
Advantages:
This product is made with mineral sunscreen actives that are safer than sythetic counterparts.It also does not contain perfume and colorants which can be irritating for sensitive skin types.
Disadvantages:
Formulation contains phenoxyethanol which can be neurotoxic.
Conclusion
JĀSÖNMineral Sunscreen Broad spectrum SPF 30 comes from a company with a proven track record in manufacturing safe skincare products. It may be high time you replaced that sunscreen you grew up using with a product like this.
Below you'll find some of the most effective Sunscreens formulations on the market in our opinion:
Our Top Sunscreens