Jeffree Star Reveals His New Lip Ammunition Which Includes 10 Shades
Jeffree Star is one of the celebrities who first made a name on social networking sites — no, not Facebook nor Instagram but, all the way back to MySpace where he began to amass a following as early as the mid-2000s. Fast forward today, Star has sold out millions of makeup under Jeffree Star Cosmetics. Guess what the latest release is: lipsticks!
Killer Lip Ammunitions
Packaged in a hot pink container with a gold top and shaped like a bullet, Star announced the release of 10 shades under his cosmetics line come end-September. Each lip ammunition will be sold for US$ 18. Star says that all the products taste like sugar and are purely vegan and cruelty free — just like everything else under this cosmetics brand.
Check out these 9 satin shades and 1 glitter lipstick. All lip ammunitions are heavily pigmented, and are available in the following colors:
1. Ice Cream Boulevard
It is a very light shade that pulls between a neon pink and a lilac.
2. Jeffree's Girl: Turn the neon pink lights on your lips. It's great for your bold fashion statement days.
3. Celebrity Skin
A takeoff from the Jeffree Star Cosmetics' liquid matte lip color in the same shade, this warm nude in skin tone is offered in this new lip ammunition satin finish.
4. Ex Supermodel: A nude pink color that leaves the lips subtly lined with a flattering, toned down shade. Wear this shade any day. Its perfect for any outfit in your extensive wardrobe.
Read Also: 5 Best Hot Pink Lipsticks to Glam up your Pout this Summer and Beyond
5. Grandaddy Purp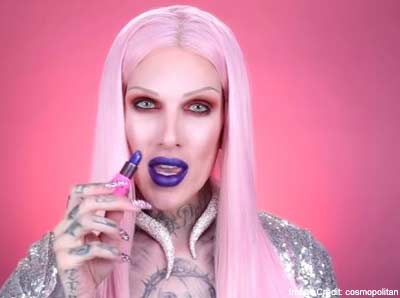 The boldest perhaps of all 10 shades, is this dark blue color. Put it for cosplay or on laid back Sundays where you have basics on but want a little pop of color.
6. Beauty Pageant: It's s sheer, pink glitter that you can wear on its own or, top your lightweight, liquid matte lip color with.
7. Popsicle Dream:
Deeply pigmented lilac that gives your lips a baby orchid color.
8. Baby Spice: A cool toned, bubblegum, medium pink which offers a more sophisticated pinkish shade alternative to the usual baby pinks and the loud, in-your-face tones of hot pink. This is the perfect shade for tea time and party time with your girlfriends or, if you just want a cool blush for a first date.
9. Starfish
This shade described by star as hot coral, is more on the hot pink side and no sign of orangy or peachy tint in there but, nevertheless, it's one of the safer colors in the collection.
You May Also Like: 6 Best Lipsticks Under $8
10. Unicorn Blood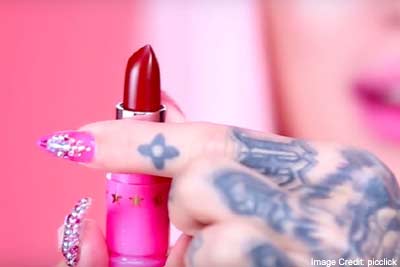 The most bought shade in the brand's liquid matte lip collection, this dark, rusty matte shade now has a satin sister.
Conclusion
Your lips does can become an ammunition too, just don't be afraid to adorn it with colors. Some days, you just need a go-to shade, and some days are meant to be frozen and remembered in bold colors.
Like this post? There's more. Get tons of beauty tips, tutorials, and news on the thebeautyinsiders Facebook & Twitter page. Like us on Facebook – we'll see you there!