5 Best Jennifer Lopez Clothing Style, that are Fabulous & Trend Setter
One of the most watched fashion icons of these past three decades is no other than J Lo. Born in 1969 by Puerto Rican parents, Jenny from the Block was raised in The Bronx, New York. What many may have forgotten is that she first made a name as an actress before she launched her singing career in 1999, with "If you had my love" making it all the way to Billboard No.1
Two, seven year-old twins later and now on her 46th year, J Lo continues to dictate street style, and here are 5 unforgettable J Lo looks you can own anytime:
1. Airport fashion
Off to a vacay in April with her children, this Hollywood A-Lister wore grey, squared denim trousers with a plain white t-shirt and a grey, woven overcoat. Pair it with flat wedges for added height and you're ready to board your aircraft!
2. Hamptons style J Lo was spotted in East Hampton, New York wearing a bra-shaped crop top and A-line skirt ensemble that was printed with floral patterns that were predominantly yellow and baby blue over a white background. J Lo wore the style with a pair of satin blue, three-tiered, ankle strap sandals and a red crocodile leather handbag. Styled with a messy bun, big, round earrings, a leather bracelet, and a pair of sunglasses, J Lo was ready to party Hamptons syle.
3. Street Walk
Somewhere in L.A., J Lo was spotted sporting a pair of dark denims from her own fashion collection. She paired it with a sheer, dark blue turtle neck, long-sleeved top. Her high stilleto, knee-high boots blew off the look, giving the celeb's full bum some more extra boost. With a tassled bag, sunglasses, and hair tied up to a bun, J Lo rocked a perfect model look fit for the streets of L.A!
4. Off and square. J Lo has been spotted several times wearing a body flattering, knockout combo that will look great on any lady — off-the-shoulder top and square pants. Her best combination, by far was an off white, off-the-shoulder top paired with square pants in wool/acrylic material.
5. Haltered Spirits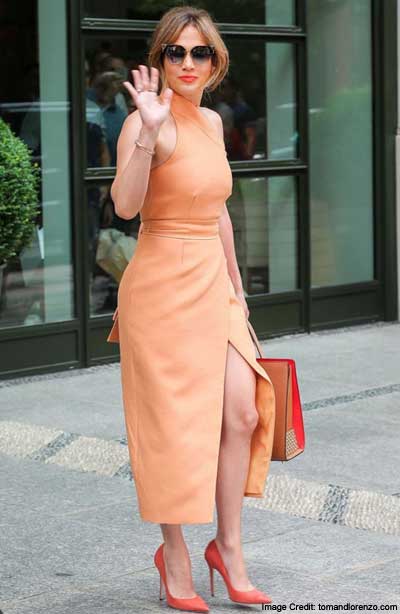 Dressed in a tangerine, haltered dress with front high front slits, J Lo went about daily business in NYC. Paired with a tote bag in nude and 6-inch pumps also in a darker shade of tangerine, J Lo turned heads on the streets in this sophisticated street style.
Conclusion
It is surprising how this best dressed actress of all time stays in sync with her life outside and in the spotlight. With her sunny smile, lively tan and shapely bum always ready to dress her up street smart style, J Lo will always be a style icon people would love to watch get dressed for the streets.
Like this post? There's more. Get tons of beauty tips, tutorials, and news on the thebeautyinsiders Facebook & Twitter page. Like us on Facebook – we'll see you there!