Jurlique Purely Age-Defying Nourishing Cleansing Oil Reviews
Advertising Disclosure

?
Jurlique Age-Defying Oil Overview:
Jurlique Age-Defying Oil, USD 58 for a 1.6 fl oz (50 ml) dropper bottle, is marketed as a firming and antioxidant cleanser that can address different signs of aging like fine lines, wrinkles, uneven skin tone, and poor skin texture. Do you wish to keep signs of aging at bay? You should check out this Jurlique Age-Defying Oil review!
About Jurlique Age-Defying Oil – Does It Really Work?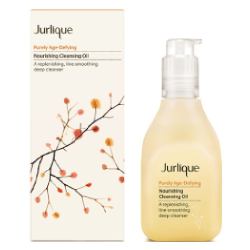 Jurlique is a company founded by Dr. Jurgen Klein and his wife, Ulrike who are biochemist and botanist respectively. With the company, they aim to connect people back into nature and tap the healing benefits that nature has to offer and that's why their product lines contain botanical extracts which they believe are beneficial to the skin.
As per the claims of the manufacturer, they have designed Jurlique Purely Age-Defying Nourishing Cleansing Oil to deliver the following benefits:
Deliver protection against environmental aggressors.
Reduce the look of fine lines and wrinkles.
Improve both skin tone and texture.
Leave the skin more luminous, hydrated and firmer.
Don't stop reading this review because it has more information that you need to know!
What Are The Ingredients In Jurlique Age-Defying Oil?
Some of the active Jurlique Age-Defying Oil ingredients are as follows:
Beech Tree Bud Extract: This smoothens and firms the skin and significantly reduce the appearance of wrinkles and fine lines.
Rock Samphire Extract: This is also called as sea fennel and also has the nickname of "Retinol of the Sea" because it delivers Retinol-like benefits without the side effects. It can firm the skin as well as improve the look of wrinkles and fine lines.
Black Currant Seed Oi: This delivers intense nourishment to the skin, firming it and giving it a youthful glow.
Directions To Use:
For best results, place 2 to 3 drops of Jurlique Purely Age-Defying Nourishing Cleansing Oil in your fingertips. Gently apply to the neck, face, and chest until it has been fully absorbed. Use this in the morning and at night.
Benefits:
Only a small amount of the oil is needed during application.
The oil is 100% natural.
It is paraben-free.
Disadvantages:
According to reviews, the oil leaves a greasy feeling on the skin.
The oil has alcohol.
It also contains fragrance and other fragrant chemicals.
Does Jurlique Age-Defying Oil Have Any Side-effects?
Given its alcohol and fragrance content, there's a chance that you may experience the following Jurlique Age-Defying Oil side-effects:
Redness
Irritation
Dryness
"I've used oils on my face before with great results, but this one is by far the worst I've ever seen. It's a very poor example of a face oil. This is a very thick, dark, almost sticky oil. I used it as directed and it makes my face feel as though it is literally coated in oil! My skin feels smothered. It is not pleasant at all. Even added to moisturiser, it's just too oily! I would massage this into my cuticles, but never again will I put it on my face. I can't think of a single beauty product I have ever hated, until now. If you think this oil is for you, ask for a sample packet first. It reads like it would be really good, but in my opinion – epic fail!" –Lucrecia629 on Amazon
Final Verdict:
Jurlique Age-Defying Oil contains high amounts of antioxidants that can protect, nourish and hydrate the skin. However, it also has a few unwanted substances that may cancel out its beneficial effects.
Below you'll find some of the most effective Facial Cleansers formulations on the market in our opinion:
Our Top Facial Cleansers
**This is a subjective assessment based on the strength of the available information and our estimation of efficacy.
*Results may vary. The information contained in this website is provided for general informational purposes only. No medical claims are implied in this content, and the information herein is not intended be used for self diagnosis or self trealment of any condition.
Disclosure of Material Connection: Some of the links in the post above are "associate sales links." This means if you click on the link and purchase an item, we will receive a commission Regardless, we only recommend products or services which we use personally and/or believe will add value to our readers. We are disclosing this in accordance with the Federal Trade Commission's 16 CFR, Part 255: "Guides Concerning the Use of Endorsements and Testimonials."