Kiehl's Pure Vitality Skin Renewing Cream Review: Is it Effective?
By
Advertising Disclosure

?
Kiehl's Skin Renewing Description
Kiehl's Pure Vitality Skin Renewing Cream, US $60 for 1.7 fl. oz., promises to revive and revitalize worn out skin that gets in the way of your otherwise healthy skin that glows naturally. More specifically, this product delivers the following benefits for your skin:
Improves your skin's moisture levels to nourish and plump your skin.
Energizes your skin cells so as to make renewal, skin regeneration and turnover to happen faster.
Relieves your skin of inflammation and protects it from future damage that can very start off aging skin.
Kiehl's is a brand owned and managed by L'Oreal with humble beginnings of having been run as an apothecary in New York in the 1900s.
Kiehl's Skin Renewing Ingredients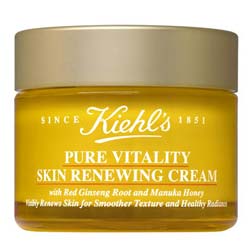 Korean Red Ginseng Root: Re-energizes your skin to relieve it from fatigue and dullness caused by stress, pollution simultaneously as it tones and smoothens your skcellin, and protects your skin from the manifestation of wrinkles, age spots and other signs of skin aging.
New Zealand Manuka Honey: Other than giving your skin a more comfortable, better hydrated feel, this ingredient helps heal damages in your skin's matrix to restore its spongelike properties to improve how your skin captures, retains and releases moisture as it simultaneously minimizes surface water loss.
Shea Butter: Moisturizes your skin deep down while also relieving your skin of inflammation which causes your skin to age.
Adenosine: Provides your skin cells with the energy they need to produce collagen and elastin fibers faster and at higher volumes.
Salicylic Acid: Aids in restoring the proper control and regulation of skin shedding and oil production to improve your skin's anti-inflammatory capabilities that, in turn, improves your skin's defenses against showing signs of damage and aging.
Citric Acid: Aids in lifting and eliminating your skin's damaged surface layer while the exfoliating mechanism also stimulates your collagen production mechanism which turns over your skin to facilitate renewal.
Kiehl's Skin Renewing Directions
Use Kiehl's Pure Vitality Skin Renewing Cream together with your daytime and nighttime skincare regimen, following a thorough cleansing and toning. Layer with your sheerer products first and before applying the thicker products in your regimen
Kiehl's Skin Renewing Advantages
Product is mild enough to be used safely everyday.
Delivers a truly multifunctional formula that combines ingredients to protect, restore, rejuvenate and regenerate your skin.
Infuses several ingredients that have deliver compounding improvements to your skin with regular product use over the long term.
Product is not made with toxic synthetic ingredients that can harm your skin and be possibly detrimental to your overall health and well-being as well.
Kiehl's Skin Renewing Disadvantages
Product contains fragrance ingredients, including the highly irritating, benzyl benzoate, to which people of all skin types may be sensitive too but, is most specially discouraged for use on sensitive and problematic skin.
No other disadvantages have been noted
Final Verdict
Kiehl's Pure Vitality Skin Renewing Cream does seem as if it is the best product addition you can make to your daily regimen. However, expect different people to respond to the product differently.
Facial moisturizing products are in no short supply today, and this large selection might make the process of choosing the best moisturizer for your personal needs to seem a bit overwhelming. Fortunately, we've taken the time to research each of the top facial moisturizers on how they rate in several different key categories. More specifically, we believe that every quality moisturizer should provide the basic benefit of improving overall facial skin appearance, including both skin tone and skin texture. Additionally, a quality moisturizer should contain compounds that are capable of binding to collagen fibres in order to provide the most long term results. Finally, facial moisturizers should ideally be able to deeply cleanse skin at the same time that they moisturize it. Below is a summary of our findings regarding the top facial moisturizers and these key considerations.
Below you'll find some of the most effective Moisturizers formulations on the market in our opinion:
Our Top Moisturizers Products
**This is a subjective assessment based on the strength of the available information and our estimation of efficacy.
*Results may vary. The information contained in this website is provided for general informational purposes only. No medical claims are implied in this content, and the information herein is not intended be used for self diagnosis or self trealment of any condition.
Disclosure of Material Connection: Some of the links in the post above are "associate sales links." This means if you click on the link and purchase an item, we will receive a commission Regardless, we only recommend products or services which we use personally and/or believe will add value to our readers. We are disclosing this in accordance with the Federal Trade Commission's 16 CFR, Part 255: "Guides Concerning the Use of Endorsements and Testimonials."