Korres Wild Rose Instant Brightening Eye Treatment Review: In outs
By
Korres Wild Rose Brightening Eye Cream
Hi, read Korres Wild Rose Brightening Eye Cream Review to know the in outs. Click to know whether Korres Wild Rose Instant Brightening Eye Treatment works.
Advertising Disclosure

?
Korres Wild Rose Eye Cream Description
Korres Wild Rose Instant Brightening Eye Treatment, US $38 for 15 ml, is another one of those products that promise to bring back the youthful glory in your eyes.
More specifically, this product is committed to deliver the following beauty benefits:
Awaken skin around your eyes for a livelier, younger appearance.
Brighten dark under eye circles.
Smoothen and even out fine lines, wrinkles and crow's feet with regular use over the long term.
Instantly make your eyes shine in just a matter of minutes following product application.
Korres is a traditionally Greek company with a beauty philosophy founded on Greek homeopathic medicine, with a strong brand conscience to deliver only products with safe ingredients.
Korres Wild Rose Eye Cream Ingredients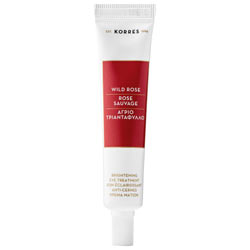 Wild Rose Oil: Gives your skin a moisture boost as it also treats inflammation to improve skin tone and fade wrinkles and other signs of skin aging.
Yeast, Ruscus, and Horse Chestnut: Have natural skin lightening properties that de-pigments darkened skin, most especially acting on pigments that cause your under eye area to darken.
Optical Brighteners: Give this product the power to instantly brighten skin around the eyes, using optical illusion that reflects back light as light strikes skin around your eyes.
Ascorbyl Palmitate: Also Vitamin C, restores the energy and vitality of skin cells to power up skin repair and rejuvenation mechaniss.
Ascorbic Acid: Also Vitamin C, provides mild exfoliation that helps eliminate the darkened and damaged top layer of your skin, as it stimulates higher collagen production.
Directions
Use Korres Wild Rose Instant Brightening Eye Treatment everyday, under your makeup. Since this product does not include sunscreen with clear potency indicated on the labels, it will do you good to layer it with sunscreen on top, a protection so vital to protect your delicate eye area skin from UV damage.
Korres Wild Rose Eye Cream Advantages
Product is formulated with 81.5 per cent all natural ingredients.
Product does not contain silicones, mineral oil, petrolatum, propylene glycol, parabens and ehtanolamines.
Product has not been tested on animals.
Manufacturer shares results of consumer research results, which shows:
97 per cent of test subjects agreed their skin appeared better moisturized within just 10 minutes following product application.
94 per cent said their eye area lightened up in just 1 hour following product application.
Korres Wild Rose Eye Cream Disadvantages
Product contains polyethylene glycols (PEG), toxic chemicals that can easily combine with 1,4 dioxane, a carcinogen.
Product fails to include sun protection which would have been ideal to protect the delicate skin around your eyes during the day.
Product contains alcohol and fragrance ingredients, two of the most irritating, most permanently damaging ingredients that your skin can come in contact with via skin care products.
Final Verdict
Korres Wild Rose Instant Brightening Eye Treatment contains the very basic essentials of an eye cream which, in fact, does not make its formula any more different than what you probably already have in your moisturizer. When you spend another US $38 for beautiful skin, make it count by getting only the products that your skin really needs.
Skin Brighteners aid in reducing post-inflammatory hyperpigmentation revealing even skin tone. Skin brighteners also can help revitalize tired and dull skin resulting in a youthful, healthy glow.
Below you'll find some of the most effective skin brightening products on the market today, in our opinion.
Our Top Skin Lightening Choices