Kotolena Restorative Synergy System Review: Ingredients, Side Effects, Customer Reviews And More.
By
Kotolena Restorative Synergy System
Kotolena Restorative Synergy System: Does this product really work? Is this anti-aging cream safe & effective? Check Customer Reviews, side-effects and more.
Advertising Disclosure

?
Kotolena Restorative Synergy System Overview:
Kotolena Restorative Synergy System is a skincare line that provides a solution to premature signs of aging. This anti-aging cream products contained in this synergy are formulated using natural herbal extracts and certified organic oils.
About Kotolena Restorative Synergy System –Does It Really Work?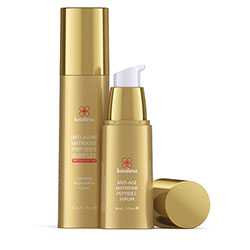 Kotolena Restorative Synergy System is a skincare line that was started five years ago after one member of a group experienced the premature signs of aging and dry skin. This formula contains natural herbal extracts that aid in improving the overall health of the skin.
By using this formula, the user may experience increased hydration and nourishment to the skin. The elements used to formulate these products stimulate an increase in moisture which is essential in promoting healthy and better-looking skin.
This skincare line utilizes benefits of peptides to aid in activating the production of skin proteins. An increase in proteins boosts the overall wellness of the skin. Reviews claim that the skin proteins can stimulate a reduction in sagging skin and wrinkles.
The products that make up this synergy include anti-aging Matrikine Peptides Complex which aids in treating various signs of aging like wrinkles, fine lines, and sagging skin. The other supplement is an Anti-Aging Matrikine Peptides serum which increases hydration and reduces discoloration.
Users can buy this skincare line online at the cost of $198 as a synergy. When purchased separately, the cream is approximately $127, and the serum is $120.According to reviews, it is best to purchase the system as one.
What Are The Ingredients In Kotolena Restorative Synergy System?
This synergy of natural ingredients promotes the overall health of the skin by curbing the aging signs. The Kotolena Restorative Synergy System ingredients are:
Glycerin which helps in retaining moisture for better-looking skin.
Buttylene Glycol which moisturizes the skin.
Willow Bark Extract which eliminates the dead skin cells.
Rosemary Leaf Extract which reduces the appearance of aging signs.
Sodium Hyaluronate which helps in retaining the moisture in the skin.
Directions To Use:
Cleanse the face and use five to seven drops of the serum onto the skin. After the serum has absorbed, use one to two puffs of the cream. For optimal results, reviews suggest using this procedure twice in a day.
Benefits:
Activates collagen production.
Educes the wrinkles.
Prevents skin sagging.
Increases hydration.
Formula used is all natural.
Nourishes the skin.
Prevents onset of early aging signs.
Provides 100% money back guarantee.
Disadvantages:
It requires daily use.
It is only available online.
Prices are higher when buying each product separately.
Does Kotolena Restorative Synergy System Have Any Side Effects?
The formula used to manufacture these supplements is all natural since it consists of herbal extracts and certified organic oils. Therefore, Kotolena Restorative Synergy System side effects are mild to none. In addition, reviews ascertain that to avert the occurrence of allergic reactions, it is best to check on all the elements used.
Kotolena Restorative Synergy System Customer Reviews:
Regular use of this synergy leads to a reduction in the signs of aging like wrinkles and fine lines. Also, using these supplements leads to reduction on the sagging skin due to increased moisture and hydration.
This synergy is available online and is sold as a synergy. Buying these supplements separately is expensive as compared to buying the synergy. Hence, it is advisable to buy these supplements as a synergy.
Final Verdict:
This skin care line aims at preventing the onset of premature aging signs and dry skin. The supplements stimulate delay of aging signs by providing moisture level in the skin and providing nourishment.
The serum in this synergy aids in treating the quality of the skin which might help in reducing discoloration and dryness. Also, it might help in improving the radiance of the skin. Additionally, the serum promotes moisture retention which might assist in providing a protective barrier.
Using these supplements might aid in activating collagen production which might increase the elasticity and firmness of the skin to reduce the appearance of the aging signs. Therefore, it might enhance the appearance of the user by providing a youthful look.
However, the user requires to purchase this skincare line online since it is not offered at the retail stores. Buying the serum on its own is expensive hence the user has to buy the supplements as a synergy. Additionally, to obtain better results daily application is required in the morning and at night to enhance faster results.
As we age the composition, texture and appearance of our skin changes. Signs of skin aging include wrinkles, fine lines, loss of moisture, uneven tone, and dull, tired-looking skin. There are countless anti-wrinkle creams on the market promising to make skin look and feel younger. Many anti-wrinkle creams promise everything short of a facelift or to provide the much sought after "fountain of youth". In reality most are just moisturizers marketed as anti-aging products.
Below you'll find some of the most effective wrinkle serum/cream formulations on the market today, in our opinion.
Our Top Anti Aging Products