Did Kylie Jenner Get Plastic Surgery For PAPER Mag Cover?
'Plastic!' – That's how everyone is describing Kylie, 18, as she appears on the cover of the April 2016 issue of PAPER Magazine. The look makes Kylie seem like she is a live plastic doll with a plastic helmet wig in shocking pink, a pair of navy blue satin gloves, huge eyes, and pumped up lips also tinted in shocking pink.
On-lookers can't help but spot the irony between Kylie's plastic image and the youth-focused theme for the mag issue. Critics are pointing out how badly today's youth and the future of the young is being portrayed. Still, others are saying that print media is just beginning to shift both to embody and to accommodate the popularity of social media – and the young people's love for this media platform.
The controversial cover was shot and directed by Erik Madigan Heck, who is well-known for his artistic and colorful photography. The look and the outfit was styled by Rushka Bergman, who is behind some of the most iconic photoshoots of our time, several images of Michael Jackson included.
Despite the powerhouse artist backing, however, Kylie's cover image was heavily edited. Kylie admits on her Instagram post, "Yes, my eyes and lips are edited to look bigger".
Both the fans and critics of the young star, however, are not thrilled. "This is scary," posted a fan of Kylie's on Instagram. Another said, "Her lips look gigantic…and yes she does kind of look like Pepe," in reference to the famous meme, Pepe the Frog.
Kylie makes more poses on the inside covers, clad in colorful dresses and set against eye candy backgrounds. However, despite the attempts at making her look like a doll, more people seem to have found the shots, "haunting" and even "disturbing".
Kylie's New Revelations
"I don't believe in after 30," Kylie was quoted saying in relation to starting her own family. She says she wants to be raising her kids in a farm by the time she turns a decade older.
Although she has responded previously to rumours about her supposed addiction to plastic surgery, and admitted to getting regular lip fillers and a nose job, the controversy about her getting job done has not quite subsided.
In this issue, she reveals that there's more to her than people's perception of her being too materialistic to think about other things. Then, she discusses the philantrophic causes she has been involved in, including supporting an anti-bullying campaign. Kylie admits to have suffered from bullying when she was younger.
The new magazine issue comes to newsstands on April 12.
Not The First Time
PAPER Magazine, and independent magazine showcasing pop culture, has dealt with similar controversies for their previous covers, and yes, including one that involved another Kardashian, Kim. Jennifer Lopez, Katy Perry and Miley Cyrus are just a handful of the celebrities that have previously rocked the publication's covers too.
It certainly also isn't the first time that the youngest of the Kardashian-Jenner brood is being criticized for her appearance on a magazine. It was only in December 2015 when Kylie and Interview Magazine were heavily bombarded by criticism over Kylie's shocking poses and portrayals. Some even found the photos, particularly the ones where the young star posed half naked in a wheelchair and butt cheeks showing to be politically insensitive.
Kylie Remains Controversial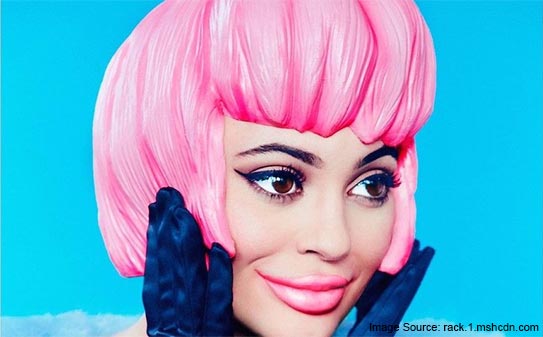 Also just recently, Kylie has been slammed for yet another controversial video released for the launch of her new line of lip gloss.
In the video, Kylie and her posse portrayed gangster, with the teenage business tycoon openly branding herself as 'King Kylie'. There were guns and an actual shooting in the short film, and the posse ended getting lined up for a mugshot at a police station. With the text, 'Like', 'Literally', and 'So Cute' – the three shades of the lip gloss line – appearing, seemed to denote that guns and violence were cool.
The line, released on April 1 under Kylie Cosmetics, was sold in minutes, just like every other Lip Kit previously released in the market by the young Kardashian.
Kylie's first three shades, released in November 2015, sold out in merely 30 seconds. A re-stock including three new colors, was sold out in less than 10 minutes. On both occasions, the $29 matte lipsticks were immediately posted and quickly sold out on eBay for over $200 price tags.
Read Also: 10 Things to Learn About Kylie Jenner's Beauty Routine
Conclusion
With over 57 million followers on Instagram, a bloating entertainment career, and a cosmetic empire on the rise, Kylie Jenner knows just when to draw her aces and what it takes to be the next millennial millionnaire.
Call her plastic and fake. Love or hate Kylie all you want but the truth remains – Kylie will not be ignored.