Kylie Kristen Jenner Mansion: Bought A $2.7 Million In Calabasas
While many adults are struggling to make their first $1 million, Kylie Jenner, 17, has purchased a $2.7 million house! The palatial house is located in The Oaks in Calabasas, CA.
The reality TV star chose the 4900 square foot mansion in an exclusive gated community where her sisters Khloe Kardashian and Kourtney live in. In fact the mansion is only a block away from her sisters'; so you expect to see many epic sister night Instagram pictures in the near future.
The Spanish-style home has a pool, five and a half bathrooms, five bedrooms, an outdoor grilling area, a movie theatre and a massive marble kitchen. It also has a specious yard for her dog called Norman. It is reported that Jenner will move into the home upon her 18th birthday that is coming in August.
This is not such a radical move for the TV star. Calabasas is known as an affluent suburb where most of her family members live; and not so much a short drive to the party lifestyle that offers itself to young stars living nearer to Hollywood
Wondering where the money came from? Kylie Jenner makes enough money to justify such a purchase. She earns from Keeping Up With the Kardashians, she has two clothing collections (with PacSun and TopShop), as well as her own hair line. Her mother, Kris Jenner, is only helping with the technical side of the purchase.
The Kardashian/Kyle clan are not the only celebs living here. Other celebs who live in this part of San Fernando Valley include Jennifer Lopez, Drake and Selena Gomez.
Kyle in an American reality TV star who was thrown into the limelight following her appearance on Keeping Up With Kardashians, the E! TV show. She is the youngest daughter of Bruce and Kris Jenner. She has one older half-brother called Rob, three maternal older half-sisters: Kim, Khloe and Kourtney, three older paternal older half-brothers: Brandon, Burt and Brody and an older half-sister, Casey.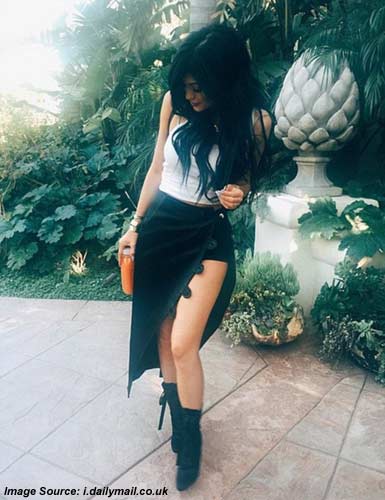 What made Jenner's family to rise to prominence was the leak in 2007 of a sex tape that was made by Kim Kardashian and Ray J, her former boyfriend. It is in that year that Kylie, her father Bruce, her mother Kris, her half siblings Khloe, Rob, Kim and Kourtney, and her sister Kendall were commissioned to star in Keeping Up With Kardashians, a series that proved to be very successful.