La Bella Mystique Review: Should You Really Buy this Cream?
By
La Bella Mystique
La Bella Mystique reverses the signs of skin aging. Read our detailed review to know about its ingredients, Directions to use and others.
Advertising Disclosure

?
La Bella Mystique Cream Description
La Bella Mystique cream promises to be formulated with the top graded ingredients well-established to improve and even reverse multiple signs of skin aging. This product works by stimulating the production of collagen and elastin at higher volumes and at faster rates.
The product website cites a study that shows La Bella mystique improved the appearance of wrinkles on the forehead by as much as 52 per cent with just a month's worth of regular use.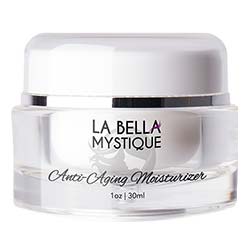 Manufacturer information is not disclosed anywhere.
This product is available for online free trial and subscription offer only. Free trial lasts for 14 days only, counting the days since the order was placed. Trial bottle costs only US$ 4.97 to cover for cost of shipping and handling only. When the product is unreturned before trial period lapses, your credit card will be automatically charged with the sample's actual selling price of US$ 89. You will also be automatically enrolled in an autoship program where you will be sent a replenishment every month and be billed the same amount every month.
La Bella Mystique Cream Ingredients
Aloe: plant extract
Argireline: peptide
Sweet Carrot Extract: plant extract
Sweet Almond Oil: plant extract
Trylagen: peptide
Cucumber: plant extract
La Bella Mystique Cream Directions to Use
After cleaning and clearing your skin of impurities and debris, tone and then apply La Bella Mystique cream evenly and generously.
La Bella Mystique Cream Advantages
This product is made with ingredients that are supported by many studies to make improvements happen in aging skin
Formulation can be hydrating
Presence of peptides may help fill in wrinkles and smoothen it out
Product promises to raise the levels of collagen and elastin production
Leaves skin feeling smooth, silky and supple to the touch
La Bella Mystique Cream Disadvantages
Manufacturer information is not available which poses problems when you might need someone to be accountable for any adverse effects which are potentially risky for these kinds of products
There are bad reviews about the product, most especially with regards to the free trial offer and the auto shipment arrangements.
A study was cited which would have been a highlight but, it is unfortunate that there is no specific reference pointing to the conduct and results of the study
The 14-day free trial offer is too short to be able to really try and evaluate the product's efficacy as per manufacturer claims
Product is only available for purchase over the product's website and via affiliate links.
Conclusion
The product offers ingredients that could potentially work to improve the appearance of fine lines, wrinkles and other visible signs of skin aging. However, most other anti-aging creams are formulated with the ingredients in its lineup. That means, US$89 may be too much of a price to pay for a cream that's as basic a what this product is made of.
Lack of accountability over online transactions is also not an inviting ordering and payment skin.
There are many anti-aging creams available on the market, so please consider all options before making a purchase.
As we age the composition, texture and appearance of our skin changes. Signs of skin aging include wrinkles, fine lines, loss of moisture, uneven tone, and dull, tired-looking skin. There are countless anti-wrinkle creams on the market promising to make skin look and feel younger. Many anti-wrinkle creams promise everything short of a facelift or to provide the much sought after "fountain of youth". In reality most are just moisturizers marketed as anti-aging products.
Below you'll find some of the most effective wrinkle serum/cream formulations on the market today, in our opinion.
Our Top Anti Aging Products