Lancer's Lip Serum Review: Does it Really work?
By
Lancer's Lip Serum
Click to read in detail about Lancer's Lip Serum Review here.The lip plumper promises to give you fuller pout enhancing shade.Read more about Lancer's Serum
Advertising Disclosure

?
Lancer's Lip Serum Description
Lancer Volume Enhancing Lip Serum, US $42 for 15 ml, moisturizes and primes your lips for a fuller pout while also enhancing the shade of even your boldest lip pigments and their staying power.
This product is formulated to bring you the following lip beauty benefits:
Make healthier, dewier, denser looking lips appear noticeable just seconds following product application
Enhance lip contour as it gives your lips a rich 3D effect
Enhances lip hydration and gloss
Fades fine lines and other signs of skin aging that appear on and around your lip area
Makes your lips appear more voluminous with a fuller pucker effect that lasts for hours
Enhances the shade of your lip color
Provides a primer function that helps your lip products cling better to your lips and not slide
This brand was founded by clinical skincare specialist, Dr. Lancer, best known for his daily three-step anti-aging system to achieve the "Lancer glow".
Ingredient Lists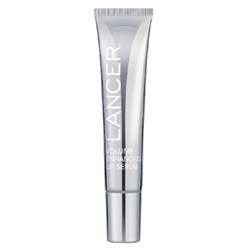 Hyaluronic Acid: Gives your skin a moisture boost by causing water molecules to become attracted to skin on your lips.
Sichaun Pepper Extract: Rich in protective antioxidants, this ingredient also numbs your lips and makes it swell to achieve fullness in appearance.
Pal-GHK Peptide: Facilitates better coordination involving repairs and plumping action that helps you accomplish a better contoured lip line.
Brown Seaweed Extract: Deep hydrates your lips and leaves the surface with a silkier feel.
Antioxidants: Protect your lips from further damage so that repair and rejuvenation functions may be able to cope.
Shea Butter: A powerful humectant, it gives your lips the comforting feel of moisture
Croton Lechleri Sap: Enriched with antioxidants that promote lip health
Directions
Lancer Volume Enhancing Lip Serum must only be applied on lip skin and only when your lips are freshly cleansed. Use product repeatedly throughout the day as desired without risk of side effects.
Lancer's Lip Serum Advantages
Multifunctional product that moisturizes your skin, improves its fullness, and acts as a lip color primer all at the same time.
Does not contain hormone-disrupting parabens and pore-clogging sulfates.
Product serves to improve the appearance of fine lines and wrinkles, as well as to help restore optimal levels of firmness, elasticity and moisture.
Product is laden with the protective power of antioxidants.
Lancer's Lip Serum Disadvantages
Product contains menthol and butylene glycol, ingredients that are well-known to cause moderate to severe skin irritation.
Product contains phenoxyethanol, a neurotoxin that can adversely affect your brain and nerve health.
Product leaves your lips with a bitter taste to it.
Product only brings temporary benefits that promote your lip health and appearance.
Final Verdict
Lancer Volume Enhancing Lip Serum may have a lip plumping effect although, that may be mostly due to highly irritating ingredients infused in the product formulation. Anyhow, even the moisture boost it offers is temporary. Positive results may last for several hours. However, if you want longer-lasting results, you may have to expand your horizons because this product simply won't last.
As lip plumpers grow in popularity, so does the variety of lip plumpers that can be found both online and in stores today. However, some of these products are not as effective as others, and issues such as this must be considered prior to purchasing a lip plumper. The following products are listed on their ability to create fuller lips instantly while also ensuring that these instant results last for a long time. The quality of the ingredients in each lip plumper is also considered, as well as the product's ability to diminish the depth and overall appearance of fine lines both on and around the lips.
Below you'll find some of the most effective Lip Plumpers formulations on the market in our opinion:
Our Top Lip Plumpers