Lancome Absolue Eye Premium BX
By
Advertising Disclosure

?
Lancome Absolue Eye Premium BX Overview
Absolue Eye has been replaced with Absolue Eye Premium BX as it has been discontinued. This product repairs with intense moisture, and added luminosity. Lancome Laboratories sets the new standard in eye care to visible replenish and repair the dehydrated eye area.  This refreshing moisture cream specially formulated for the eye area combines two important ingredients.
Pro-Xylane is a patented scientific breakthrough that helps restore moisture deep into the skin's surface.  It hydrates the eye contour to improve firmness and brightness.  Pro-Xylane is a sugar derivative and this patent-pending molecule copies xylose, a type of sugar found naturally in the skin to dramatically boost the skins moisture content. The second ingredient is Bio-Network which includes Wild Yam, Soy, Sea Algae, and Barley to enhance visible rejuvenation.  Barley inhibits the enzyme that breaks down collagen.
Lancome Absolue Eye Premium BX – Product Description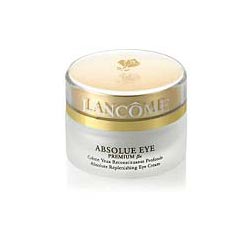 The results with Absolue Eye are immediate and visible.  The eye contour appears smoother and more luminous with light diffusers.  The eye area suddenly feels moisturized and the eyes look bright.  Within four weeks the fine lines and wrinkles are less than before and the skin will feel firmer.  The eye area is visibly rejuvenated and young.  This product can be used around the eye twice a day both morning and night.
Lancome Absolue Eye Premium BX Advantage
Absolue Eye has been Dermatologist  and Ophthalmologist tested and approved for safety.
It intensely moisturizes, and lessens fine lines and wrinkles.
It repairs visible signs of aging by restoring skin's moisture content.
It improves skin's elasticity and firmness.
It increases clarity and smoothness, leaving skin supple.
You could use this both above and below the eye if you desired to.
There would be more benefits to using this product than if you did not use it at all.
They offer free shipping and deluxe samples with a purchase.
Lancome Absolue Eye Premium BX – Drawbacks
This product is expensive at around $78.00.
Lancome does not provide clinical study information, testimonials, or pictures of the results.
The web site information is mostly a magnitude of different products with brief descriptions.
There do not expand on the ingredients except the key ones.
This product could break someone out if they have really sensitive skin.
Lancome Absolue Eye Premium BX – The Bottomline
Lancome Absolue Replenishing Eye Cream Premium is the newest replacement for the old Absolue Eye Cream. It harnesses two important ingredients to conquer moisture and boost collagen. Pro-Xylane is a patent-pending molecule that provides moisture deep into the skin.  Barley is the main ingredient that boosts the collagen level of the skin.
This formula works together to provide maximum moisture and improvement in the skins elasticity and firmness which results in younger looking skin.
Lancome sells an array of quality products, but zoning in on exactly what you need can be challenging. They are busy promoting the newest replacement product before you get a chance to try the first one.  It seems that there may be too many choices and there are too many new formulas offered too quickly.
The most common eye area issues are puffiness, dark circles, wrinkles and crow's feet, and loss of hydration. There are countless eye creams available on the market today, making it seem nearly impossible to find the "right one" that meets our specific under eye needs. It is imperative to find a product that has been formulated to address a variety of complex eye area problems.
Below you'll find some of the most effective eye cream formulations on the market today, in our opinion.
Our Top Eye Creams
Also Remember These Dermatologist Recommended Important Tips:
Age has nothing to do with the lines that appear on the corners of your eyes... it's a combination of heredity and careless abuse of the area.
Skin is skin... it all needs to be cared for in one way or another. For my younger readers, this means not pulling on the skin when removing eye makeup.
The eye area is prone to fine lines and wrinkles, so it is really important not over-work the area, squint, and stay away from smokey rooms. Your eyes won't like that either.
One of the best ways to protect this area of your face is to put on a pair of sunglasses every single time you go outside spring, summer, fall and winter.
There are very few oil glands in the eye area, so it can dry out very quickly, especially if you spend a great deal of time out of doors.
When you chose an eye cream, be sure to choose one that is especially formulated for this delicate skin. Don't use a day cream that could be full of ingredients that will irritate this area. Too rich a cream can cause as many problems as ignoring the area.
**This is a subjective assessment based on the strength of the available information and our estimation of efficacy.
*Results may vary. The information contained in this website is provided for general informational purposes only. No medical claims are implied in this content, and the information herein is not intended be used for self diagnosis or self trealment of any condition.
Disclosure of Material Connection: Some of the links in the post above are "associate sales links." This means if you click on the link and purchase an item, we will receive a commission Regardless, we only recommend products or services which we use personally and/or believe will add value to our readers. We are disclosing this in accordance with the Federal Trade Commission's 16 CFR, Part 255: "Guides Concerning the Use of Endorsements and Testimonials."