Lancome Energie De Vie Exfoliating Mask Review: Ingredients, Side Effects, Detailed Review & more
By
Advertising Disclosure

?
What is Lancome Energie De Vie Exfoliating Mask?
As per product's official site, after launching its first-ever fix-all beauty cream in 1936, Lancôme's climb up to worldwide fame and fortune became unstoppable. Its potential caught the eye of the global skin care giant, the L'Oreal Group, which acquired the brand in 1964, rebranding Lancôme as a luxury brand serving the impeccable taste and highly demanding Class A taste. As a luxury brand, Lancôme has exhibited resilience in its more than 80 years of operations and pursuit of indulgence in personal care.
LANCOME Energie de Vie The Illuminating & Purifying Exfoliating Mask, US $55 for every 2.6 oz. jar, is a dual purpose face mask that moisturizes and exfoliates your skin at the same time.
Lancome Energie De Vie Exfoliating Mask- Does it really work?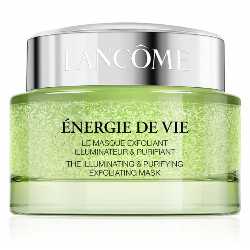 According to manufacturer's claims, this product has been specially formulated to bring you and your skin the following health and beauty benefits:
Restore your skin's moisture content and slough off your skin's damaged top layer in just 5 minutes or under
Refresh, soften and clarify your skin
Tighten your pores, rehydrate your skin, and help keep moisture from evaporating
This product works by delivering a solution that replenishes your skin's lost nutrients and moisture while also revealing newer, lesser damaged skin by exfoliating the dead top layer.
What are the ingredients in Lancome Energie De Vie Exfoliating Mask?
Melissa Officianalis Flower: Has natural toning properties that tightens your pores and has skin calming and soothing properties that evens out your skin tone
Vitamin E: Replenishes your skin's lost nourishment, it also helps strengthen your skin's protective barrier as well as smoothen your skin
Salicylic Acid: Works by helping the skin to shed dead cells from the top layer and by decreasing redness and swelling but incorrect use may lead to dryness and peeling of skin with hives and itchiness on the skin surface.
Cranberry Seed Oil: Contains powerful antioxidants, tocotrienols and tocopherols, that also deliver Vitamin E to help nourish your skin, and it also contains skin soothing fatty acids
Benefits of Lancome Energie De Vie Exfoliating Mask
The formula has a nice consistency that goes on well on skin and feels good during the session.
The manufacturer discloses this product's details, including how it works, and how to apply. But there is no mentioning of the ingredients which could an issue to people with sensitive skin type.
Disadvantages of Lancome Energie De Vie Exfoliating Mask
This product lists Denatured Alcohol as a third ingredient, next to water and glycerin, which indicates that it is present in high concentration in this mask solution.
This product is significantly more expensive than most other multi-functional masks available in the market,
Mask is bit slow and needs to be kept for longer time duration, but may still not be able to give expected results.
Does Lancome Energie De Vie Exfoliating Mask have any Side Effects?
Based on this product's composition, the following side effects may be experienced:
Skin irritation and allergic reactions due to several ingredients, including denatured alcohol and synthetic dyes which are present in this solution in very high concentrations, as well as lower levels of chlorphenesin and fragrance ingredients
Increased risk for developing various forms of cancers due to PEGs
How to apply Lancome Energie De Vie Exfoliating Mask
Cleanse your skin before applying LANCOME Energie de Vie The Illuminating & Purifying Exfoliating Mask.
Leave on for 3 minutes then, massage for another 3. Rinse off with lukewarm water.
Final Verdict- Lancome Energie De Vie Exfoliating Mask
LANCOME Energie de Vie The Illuminating & Purifying Exfoliating Mask can refine your skin surface. As for moisturizing it, it's highly doubtful because of the high concentration of drying alcohol in the formula.
Lancome Energie De Vie Exfoliating Mask