What Is Lancome Tonique Confort?
From Lancome, a subsidiary of the L'Oreal Group of Companies, comes Tonique Confort, US $26 for 200 ml. This product acts like essence and toner, purifying and cleansing your skin, as it moisturizes your skin and keeps it hydrated over long periods of time. The secret lies in the sweet almond extract and honey combined in its moisture-rich complex. However, none of this effectiveness is clinically proven.
Non-comedogenic, this product leaves your skin with the comfortable, silky smooth feel of the surface layer and a dewiness that sinks deep within.
Pros and Cons of Lancome Tonique Confort: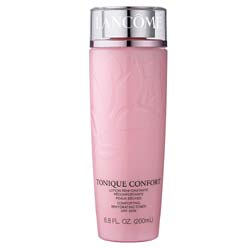 Form:Toner
Skin Type:All Skin Type
Benefit:Provides Perfectly Clean, Soft & Comforted Skin
Ingredients:Sweet Almond, Glycerin, Tocopheryl Acetate, Honey
Brand:Lancome Paris
Weight6.7 Fl. Oz.
Pros
Manufacturer recommends product use on all skin types, including even on sensitive and problematic skin.
Contains ingredients that instantly moisturizes your skin and keep it feeling well hydrated for hours but, a few ingredients may cause irritation.
Leaves skin with a renewed and rejuvenated appearance that makes your skin give off a natural glow.
Cons
Product contains toxic phenoxyethanol and polyethylene glycols which can cause serious and long-term damages to your overall health and well-being.
Product contains parabens, chemicals that affect how your hormones behave, including how it regulates and controls various organ functions.
Product contains butylene glycol, synthetic dyes, and artificial fragrances which are all well-known to be severely skin irritating, and therefore put your skin at high risk of inflammation and damage.
There are no studies presented to support product claims, nor is there ample explanation provided as to how all of the ingredients listed in this product formulation merit a place in its formula roundup.
What Are The Ingredients In Lancome Tonique Confort?
Honey: A powerful natural humectant that attracts water molecules, binds them together, and stores moisture inside your skin for hours, equally making skin feel more comfortable and better hydrated [1].
Sweet Almond: Highly moisturizing to your skin and hair, with high Vitamin E and fatty acid content that gives your skin a moisture boost while your pores tighten and skin, is left with a silkier, softer feel [2].
Hydrogenated Castor Oil: Moisturizes your skin and allows inflammations to heal more rapidly as it also reinforces your skin's protective barriers [3].
Glycerin: Soothes your skin by providing both a deep moisture boost and leaving a silky, soft feeling on the surface. But also can cause skin irritation to sensitive skin [4].
Sodium Hyaluronate: Replenishes the lost hyaluronic acid content of your skin — a natural occurrence in older skin but also when skin feels fatigued. However, it can cause itching or skin irritation [5].
Tocopheryl Acetate: Also Vitamin E, floods your skin with moisture and antioxidants that give skin a powerful shield against free radicals and supports the rebuilding and refortification of your skin's protective layers [6].
How To Apply Lancome Tonique Confort?
For best results and as per manufacturer guidelines:
Lancome Tonique Confort must be applied twice daily as part of your basic skincare routine, that is, a cleanse, tone, and moisturize regimen meant to be followed religiously every day and every night.
Use a cotton pad to apply this product generously but gently across freshly washed skin on your face, neck, and chest to help purify your pores and smoothen your skin's texture.
FAQ's:
Que: Where To Buy Lancome Tonique Confort Toner?
Ans: You can buy the product from its official website and online retailers.
Que: Is Lancome Tonique Confort Toner good for Sensitive Skin?
Ans: Yes, it is good for sensitive skin and it gently purifies and rehydrates dry and sensitive skin.
Que: Does Lancôme Tonique Confort Have Alcohol?
Ans: Yes,it is alcohol-free facial toner that improves skin hydration.
Final Verdict: Lancome Tonique Confort Toner
Lancome Tonique Confort supports your skin's anti-aging goals by helping keep your skin better moisturized round-the-clock by evening your skin tone and tightening your pores. It isn't the only product that does so which makes it imperative for you to check other products in its league too.
Below you'll find some of the most effective Toner formulations on the market in our opinion: