6 Perfect LBD Outfit ideas for your Date Night
The perfect dress for every girl, of every shape and size is no other than the must-love item on any certified fashionista's must-have list — the Little Black Dress. It's that kind of dress that's versatile enough to be taken from a state dinner to a romantic date.
Top 6 LBD outfit ideas you Should try
Still guessing how you might carry an LBD? Listed below are 6 of the most iconic ways the LBD has been worn by some of the most memorable women of today and in the past century. We also give you a low-down on how you can own these looks without the frills.
1. Coco Chanel: Hailed as the designer that popularized LBD, Coco's iconic look is a long-sleeved, knee-length LBD with a knot tied upfront. A v-neck front should also be fine. Play it up with differently sized pearls layered in different lengths. Add class with bangles and a pearl stud.
2. Audrey Hepburn
Who can forget this style icon wore an LBD in 'Breakfast at Tiffany's'? Sleeveless and body hugging, you can update this outfit by choosing an LBD that's knee-length with a bold slit on one or two sides. If it's a formal event you're headed to, a full length LBD should be fine. Accessorize with pearls and a hard cased clutch.
3. Marlyn Monroe: Put your onscreen sex-sational actress drama with a feminine flair in an off-the-shoulder LBD. Wear long or short. For off-the-shoulder cuts, chokers are always a must. Tie your hair up into a bun to show off your shoulders.
4. Rita Hayworth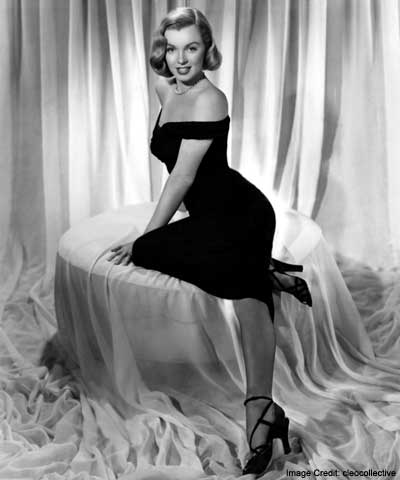 From the 1946 film, 'Gilda', another iconic actress wore the long satin, tube, black dress. Again, perfect as it is for a formal date and, looks just as well if it was shorter, but then it would be more appropriate for a regular dinner date. Put on those vintage curls to get her look.
5. Katy Perry: Even the always-candy colorful Katy Perry puts on the LBD! Hers is a sleeved bodycon with a low collar in a length at least two inches above your knees. If you find cotton and your date is casual, it should be perfectly fine to put on either knee length or ankle high boots. If you go lace, you should stay formal — no boots allowed.
6. Shailene Woodley
This Divergent movie series lead actress likes to show off her perfect bod in LBD too. Our favorite is a lace-sleeved, dangerously short LBD she wore for a tv interview. It's simple, smart and absolutely sensual. You need simple accessories to match the already intricate lace sleeves. Pair with black stiletto heels!
Conclusion
The Little Black Dress is not only known for its rich history but for its unique command of an irony of sorts too. It is the ultra feminine dress that makes a woman command power at the same time. A single dress can range anywhere from as cheap as US$20 to as much as over US$200,000.