L'Envi Anti Aging Moisturizer Review: Is it Really Good Enough?
By
L'Envi Anti Aging Moisturizer
Does This moisturizer really work? Is it really effective? Do Read our detailed review about L'Envi Anti Aging Moisturizer before buying this product.
Advertising Disclosure

?
Product Description
L'Envi Anti Aging Moisturizer is an anti-aging treatment which promises to restore healthy appearance to your skin through a range of methods. While these methods aren't discussed in great detail, the makers do compare it to the "beauty secrets of Hollywood," in other words, how many celebrities appear more healthful than you might expect from their age. It is available from a major online retailer for $24 per one-ounce jar.
Ingredients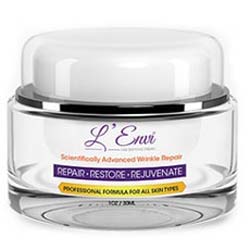 We are told very little about what exactly is in L'Envi Anti Aging Moisturizer. There is reference to a "collagen boost" that will help reduce signs of wrinkling and aging in your skin, and "nourishing" through a "vitamin boost," but what exactly is involved in these isn't revealed in the advertising or the labeling. This is a concern from both the perspective of "Can I trust this product?" and from the perspective of "Can I be sure that any sensitivities I have won't be set off by this product?"
Directions
Apply a pea or dime-sized amount to the face and neck twice per day. Smooth in and allow to absorb fully before you apply makeup. You can also use it more often if you want.
Advantages
Reasonably priced, especially compared to many other products.
Easy to use; just wash and rub it in to absorb into your skin.
Lots of customer feedback is available, indicating both some positive attitudes and that the product's been in use for a while.
Available in many retail outlets, so you can shop around for the best bargain.
Disadvantages
We don't have specific information about the ingredients in this formula.
There is no clinical research (at least, none that gets shown to prospective customers) to back up the claims of this product being effective.
Conclusion
L'Envi Anti Aging Moisturizer is a reasonably priced anti-aging product and doesn't present itself as a single sure-shot solution to every problem with negative skin appearance or a replacement for dermatological treatment. Unfortunately, it lacks real clinical evidence – or indeed, much information – to support its choice of ingredients, making it hard for us to give it our full confidence. There is a wide range of beauty care and anti-aging treatment products in the modern marketplace, and the more expensive products aren't necessarily any better than more reasonably priced options. Shop around and pick out what you feel you can trust.
Facial moisturizing products are in no short supply today, and this large selection might make the process of choosing the best moisturizer for your personal needs to seem a bit overwhelming. Fortunately, we've taken the time to research each of the top facial moisturizers on how they rate in several different key categories. More specifically, we believe that every quality moisturizer should provide the basic benefit of improving overall facial skin appearance, including both skin tone and skin texture. Additionally, a quality moisturizer should contain compounds that are capable of binding to collagen fibres in order to provide the most long term results. Finally, facial moisturizers should ideally be able to deeply cleanse skin at the same time that they moisturize it. Below is a summary of our findings regarding the top facial moisturizers and these key considerations.
Below you'll find some of the most effective Moisturizers formulations on the market in our opinion:
Our Top Moisturizers Products