LiLash: Does LiLash Work?
By
Advertising Disclosure

?
LiLash – Overview
Cosmetic Alchemy, the maker of LiLash Purified Eyelash Stimulator, developed a product concept focused on beautifying the face and hair through the "power or process of transforming something common into something special". Further research revealed that renowned Phoenix, Arizona physician, Scott A. Wasserman with a remarkable reputation in female aesthetics and internal and emergency medicine, is associated with LiLash's 2007 development.
In shades of white, purple and teal and the hues in between, LiLash.com greets visitors with a snapshot of beautiful eyes surrounded with luscious rich lashes and an image of the product responsible for the gorgeous results. The website's home page repetitively provides access to company contact, shopping, product guarantee and product pages. With the promotion of LiBrow, LiLash come free shipping offers and a 90-day money back guarantee. The brand also utilizes the power of social networking with links to the most popular social network websites for its target demographic. The bottom third of the website is dedicated to growing the customer base with product Fan Perks, testimonials with pictures and mailing list sign-up followed by brief product summaries to entice visitors into reading the whole product story.
LiLash – Product Description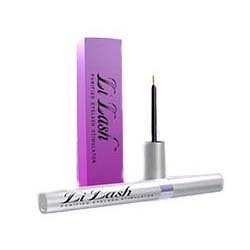 Cosmetic Alchemy is responsible for the stimulation of lashes and eyebrows with its LiLash and LiBrow products. Clicking the LiLash product page delivers the promise of long sassy lashes at a cost of nearly $140. The tube, made to last for 5 months, is developed by a physician and concentrates of stimulating the eyelash follicle with little or no irritation. Its no-salt formula promises results in as little as four weeks and is deemed safe and healthy for delicate eyes. Unlike many conditioners that use botanicals to nourish but contain no active ingredients to stimulate growth, LiLash is a true lash stimulator without the damaging effects of salt ingredients that damage hair and irritating to the eyes. Applied like eyeliner, LiLash's ingredients include Sweet Almond Seed extract. A complete ingredient list is not supplied therefore it is difficult to determine effectiveness. Online reviews stretched from high praises to pure disappointment as many could not prevent the serum from getting into their eyes or experienced an allergic reaction.
LiLash – Advantage
LiLash

appears to be less irritating than many other stimulators.
LiLash comes with a 90-day money back guarantee.
LiLash is an eyelash stimulator with an active ingredient, not just a conditioner.
LiLash avoids the use of salt which is drying and irritating to the eyes.
LiLash – Drawbacks
LiLash.com does not provide a clear list of ingredients.
LiLash is very expensive at approximately $140.00
LiLash.com doesn't provide official scientific research results or pictures to document its claims.
LiLash – The Bottom Line
Designed with active ingredients to stimulate lashes and not just condition them to amazing lengths, LiLash promises all the benefits of a lash enhancer without the irritating side effects. However, as with any product with active ingredients, LiLash can have side effects such as burning, itching and irritation. Lasting results rarely comes without some risks; however, the lack of an ingredient list prior to purchase makes this a risky and expensive proposition.
There are quite a few eyelash enhancing products on the market today, many of which appear to be capable of providing a few key benefits. Specifically, in addition to providing improvements in eyelash length, volume, and texture, an eyelash enhancer should also contain only quality ingredients. Furthermore, these ingredients must be able to nourish lashes so that they stay well conditioned and strengthened against premature breakage. Because of the importance of these characteristics of an ideal eyelash enhancer, along with the large number of eyelash products sold today, we've listed several of our top eyelash enhancers below.
Our Top Eylash Enhancing Products
During our research, the skin care specialists we consulted provided useful tips that contribute to achieving and maintaining beautiful, healthy eyelashes, including the following:
Be certain to consistently apply the product(s) you choose in accordance with its directions for use;
Pay special attention to removing any makeup that you have applied both mascara as well as eye shadow prior to bedtime;
Eating a healthy diet that contains milk and fish can help strenghten eyelashes;
Drink at least eight glasses of water a day to stay well hydrated;
Avoid excessive intake of caffeinated and alcoholic beverages, as they may contribute to dehydration and exacerbate the appearance of fine lines and wrinkles; and
Be sure to get adequate rest every day
**This is a subjective assessment based on the strength of the available information and our estimation of efficacy.
*Results may vary. The information contained in this website is provided for general informational purposes only. No medical claims are implied in this content, and the information herein is not intended be used for self diagnosis or self trealment of any condition.
Disclosure of Material Connection: Some of the links in the post above are "associate sales links." This means if you click on the link and purchase an item, we will receive a commission Regardless, we only recommend products or services which we use personally and/or believe will add value to our readers. We are disclosing this in accordance with the Federal Trade Commission's 16 CFR, Part 255: "Guides Concerning the Use of Endorsements and Testimonials."