Liz Earle Superskin Eye & Lip Treatment Reviews- Should You Trust This Product?
Advertising Disclosure

?
Wisdom grows as we age. Unfortunately, our skin ages too. While defying aging has been a favorite preoccupation of both women and men alike for centuries, never was it even remotely possible to do so – until now. We have years of science and technology, trial and error, inventions and reinventions that we are using to our advantage, bringing us closer each time to keeping our skin young looking way beyond our youth.
Product Description, Manufacturer's Information, and Price Details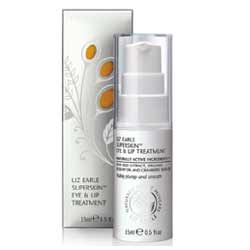 Does Liz Earle Superskin Eye and Lip Treatment have what it takes to make us wave 'bye bye skin aging'?
Carrying a $50 price tag for every 0.5 fl. oz. bottle, the company claims it is formulated with the most active botanical ingredients shown to help both inhibit the signs of skin aging and make them less visible. Mature and aging skin will benefit the most from its formula designed to leave skin better hydrated while simultaneously minimizing moisture loss.
Liz Earle, a celebrated journalist and author in the UK, founded the company in 1995.
Ingredients
Pear seed extract, help improve skin elasticity and leaves skin firmer, thereby making wrinkles appear less visible
Borage oil, carries significant concentration of gamma linoleic acid, which helps rebuild skin's protective outer layers to keep moisture in
West African Shea, deeply moisturizes skin so as to stimulate more efficient skin repair and rejuvenation while also protecting skin from drying out
Pomegranate Extract and Vitamin E, supply this product's formulation with the most powerful types of antioxidants that help protect skin cells from damage caused by free radicals
Rosehip Oil and Cranberry Seed Oil, contain essential fatty acids thus, serve as powerful skin moisturizers and emollients
This product's full ingredients list below:
Aqua (water), Caprylic/capric triglyceride, Vaccinium macrocarpon (cranberry) seed oil, Borago officinalis (borage) seed oil, Rosa canina (rosehip) fruit oil, Butyrospermum parkii (shea butter), Tocopherol (vitamin E), Myristyl myristate, Sodium polyacrylate, Ethylhexylglycerin, Pyrus communis (pear) seed extract, Punica granatum (pomegranate) fruit extract, Xanthan gum, Trisodium ethylenediamine disuccinate, Aspartic Acid, Sodium chloride, Sodium hydroxide, Phenoxyethanol, Benzoic acid, Dehydroacetic acid
Directions
Liz Earle Superskin Eye and Lip Treatment is ideally used twice daily. Apply the product by dotting the skin around your eyes and lips, then gently working a massage to gradually incorporate the product into your skin. Keep massaging gently until the product has been fully absorbed.
Anti-wrinkle creams are often made with ingredients that cause skin to become more prone to sun damage so make sure to apply your sunscreen religiously when you are using this product.
Pros & Cons
Liz Earle Superskin Eye and Lip Treatment contains a decent combination of botanicals providing effective moisturizing and antioxidant properties to your skin. The product also does not contain fragrances that can potentially irritate your skin.
However, Liz Earle Superskin Eye and Lip Treatment is expensive relative to other similarly formulated creams.
Conclusion
Skin's worth or money's worth? Fact is, these two are often inseparable. You have to obtain the real value of the product at a price you are willing to pay for. Question is, will you pay $50 for this product?
The most common eye area issues are puffiness, dark circles, wrinkles and crow's feet, and loss of hydration. There are countless eye creams available on the market today, making it seem nearly impossible to find the "right one" that meets our specific under eye needs. It is imperative to find a product that has been formulated to address a variety of complex eye area problems.
Below you'll find some of the most effective eye cream formulations on the market today, in our opinion.
Our Top Eye Creams
Also Remember These Dermatologist Recommended Important Tips:
Age has nothing to do with the lines that appear on the corners of your eyes... it's a combination of heredity and careless abuse of the area.
Skin is skin... it all needs to be cared for in one way or another. For my younger readers, this means not pulling on the skin when removing eye makeup.
The eye area is prone to fine lines and wrinkles, so it is really important not over-work the area, squint, and stay away from smokey rooms. Your eyes won't like that either.
One of the best ways to protect this area of your face is to put on a pair of sunglasses every single time you go outside spring, summer, fall and winter.
There are very few oil glands in the eye area, so it can dry out very quickly, especially if you spend a great deal of time out of doors.
When you chose an eye cream, be sure to choose one that is especially formulated for this delicate skin. Don't use a day cream that could be full of ingredients that will irritate this area. Too rich a cream can cause as many problems as ignoring the area.
**This is a subjective assessment based on the strength of the available information and our estimation of efficacy.
*Results may vary. The information contained in this website is provided for general informational purposes only. No medical claims are implied in this content, and the information herein is not intended be used for self diagnosis or self trealment of any condition.
Disclosure of Material Connection: Some of the links in the post above are "associate sales links." This means if you click on the link and purchase an item, we will receive a commission Regardless, we only recommend products or services which we use personally and/or believe will add value to our readers. We are disclosing this in accordance with the Federal Trade Commission's 16 CFR, Part 255: "Guides Concerning the Use of Endorsements and Testimonials."