M Asam-Vinolift Gold Neck & Decollete Reviews
Advertising Disclosure

?
M Asam-Vinolift Gold Neck & Decolette Introduction
M Asam-Vinolift Gold Neck & Decolette , US $35 for a 100 ml tube, is an anti-aging cream that has been specially formulated to relieve skin on your neck and chest of fine lines, wrinkles, and other signs of skin aging
What Does M Asam-Vinolift Gold Neck & Decolette Claim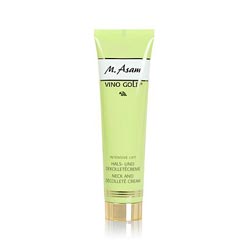 The manufacturer claims that this product has been specially formulated to deliver the following benefits:
Facilitate rapid restoration of your skin's optimal moisture levels
Aid in restoring a functional hydration system that keeps your skin comfortably moisturized for long hours
Enhance cell communication to improve the delivery of cellular level mechanisms necessary for renewal to happen
Improve your skin's structure and elasticity to promote a firmer, better contoured skin
Lighten dark marks, smoothen wrinkles, and promote a brighter overall complexion
M Asam-Vinolift Gold Neck & Decolette Manufacturer's Detail
M Asam is a skincare company established and headquartered in Germany since 1963. The company was and still is a family-run enterprise, with a facility that runs its own R&D and marketing efforts. Most recently, M Asam products have also been made available on home shopping networks.
Working of M Asam-Vinolift Gold Neck & Decolette
All the products under the Vinolift line use encapsulated technology to deliver the beneficial ingredients deep into the skin, giving the product a better leverage at providing visible improvements to your skin. Other than running on this technology, this product also works by addressing key aspects of anti-aging skin care, and that includes speeding up renewal with peptides, revitalizing and protecting with antioxidants, and improving complexion with moisturizers, anti-inflammatories, and skin brightening ingredients.
M Asam-Vinolift Gold Neck & Decolette Ingredients
Grape Oil and Extracts, and Resveratrol: Loaded with fatty acids and antioxidants, these ingredients derived from grapes help revitalize your skin's overall health and appearance, and improves cellular energy
Shea Butter: Lifts your skin's moisture levels to comfort your skin, plump it and make it appear dewier and fuller
Mushroom Extract: Has natural skin brightening properties that help lighten dark marks while simultaneously transforming your dull complexion into something more radiant and naturally glowing
Vitamin E: Improves your skin's nutrient content, it helps soothe and protect your skin, while also building your skin's protective barrier
Peptide Complex: Enhances the delivery of multiple skin rejuvenating and renewal processes
M Asam-Vinolift Gold Neck & Decolette Pros
This product is covered by a 100 per cent money back guarantee which gives you a risk-free way of trying out the product for yourself but, the guarantee is available only via specific sellers so you should check coverage before you place your order.
The manufacturer guarantees that this product is suitable for use on all skin types.
M Asam-Vinolift Gold Neck & Decolette Cons
This product contains denatured alcohol, one of the most harmful and most damaging ingredients that you don't want anywhere near your skin.
M Asam-Vinolift Gold Neck & Decolette reviews reveal that different people respond differently to this product.
This product has a limited availability, commonly available only on Home Shopping Network and on reseller sites.
M Asam-Vinolift Gold Neck & Decolette Side Effects
Based on this product's composition, the following side effects may be experienced:
Skin irritations and allergic reactions due to several ingredients, including drying alcohol and fragrances
Increased risk for cancers due to sodium benzoate which, when combined with Vitamin C, forms benzene, a confirmed carcinogen
Increased risk for neurotoxicity due to phenoxyethanol
Directions
M Asam-Vinolift Gold Neck & Decolette must be applied day and night to your neck and chest skin after cleansing and toning.
Final Verdict
M Asam-Vinolift Gold Neck & Decolette contains fairly impressive ingredients but again, that depends on what you are using this product for. Neck cream may not even be necessary for your routine. Given a well-performing face wrinkle cream, that should be good enough to use on your neck, if there is no compelling reason your neck skin needs more specialized care, that is.
As we age the composition, texture and appearance of our skin changes. Signs of skin aging include wrinkles, fine lines, loss of moisture, uneven tone, and dull, tired-looking skin. There are countless anti-wrinkle creams on the market promising to make skin look and feel younger. Many anti-wrinkle creams promise everything short of a facelift or to provide the much sought after "fountain of youth". In reality most are just moisturizers marketed as anti-aging products.
Below you'll find some of the most effective wrinkle cream formulations on the market today, in our opinion.
Our Top Wrinkle Creams
Dermatologist Recommendations for Maintaining Younger, Healthier, Vibrant Looking Skin:
Be certain to consistently apply the product(s) you choose in accordance with its directions for use;
Pay special attention to your neck and hands while applying the product(s) you choose, as these areas reflect your age;
Always use sunscreen with a Sun Protection Factor (SPF) of at least 15;
Drink at least eight glasses of water a day to stay well hydrated;
Avoid excessive intake of caffeinated and alcoholic beverages, as they may contribute to dehydration and exacerbate the appearance of fine lines and wrinkles; and
Be sure to get adequate rest every day.
**This is a subjective assessment based on the strength of the available information and our estimation of efficacy.
*Results may vary. The information contained in this website is provided for general informational purposes only. No medical claims are implied in this content, and the information herein is not intended be used for self diagnosis or self trealment of any condition.
Disclosure of Material Connection: Some of the links in the post above are "associate sales links." This means if you click on the link and purchase an item, we will receive a commission Regardless, we only recommend products or services which we use personally and/or believe will add value to our readers. We are disclosing this in accordance with the Federal Trade Commission's 16 CFR, Part 255: "Guides Concerning the Use of Endorsements and Testimonials."