NYFW 2017 Latest Trending Manicures And Nail Designs Just For You
"Big girls need big diamonds," so believes Elizabeth Taylor. Not for many of the designer pieces that we've seen on the runways of New York this week. Many have completely taken out accessory bracelets and necklaces from their outfits to concentrate on that one thing that can be easily transformed into a permanent accessory attached to your body: your nails.
Check out these Magical NYFW Manicures, some of which, designers claim, took over 300 or even 600 hours to put together:
1. The Blonds
This fashion label has gained quite a reputation for putting on some of the most exquisite, most complicated nail art on the ramp. In this week's NYFW, it certainly did not disappoint. The designers went for metallic nails in gray, black and bronze bases accentuated at times by clear rhinestones, and in some, painted with a contrasting metallic color. Some of the designs were painstakingly colored to resemble scaly snake skin. Wow!
2. Libertine
On the runway show, the clothes were made from a careful, smart selection of colorful prints and materials that absolutely rock any Barbie girl's sense of style — only better. The nails are just as a sight to see. Unlike the plain generic nails commonly seen on most runways, the nails in this show are just as varied as the outfits were. We've seen nails painted with dog faces complete with attaching ears, nails studded with colorful rhinestones and feathers, and adorned with pearls and furs.
Related: 7 Must Have Top Coats That Will Make Your Manicure Last Longer
3. Novis
Models at this brand's runway wore black nails with silky finish topped with randomly placed geometric shapes drawn in bright pinks, sunshine yellows and true reds. This perfectly fit the retro knits that dominated the collection, mostly in color blocks made with the pastel shades of sky blue, bright yellows and peaches blended with white.
4. Nicole Miller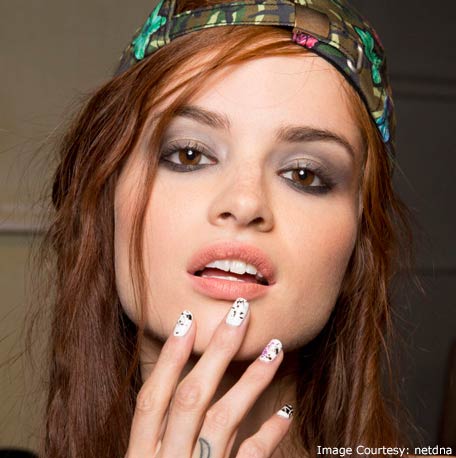 Ladies at the runways were show stopping in their very elegantly cut, well thought out outfits that can literally be taken from the stage to the streets. The girls' nails were adorned with a variety of nail art designs in a variety of shades and designs. Some of the easiest designs that you can DIY include black coats with bases colored in striking colors of bright reds, yellows, and blues, turquoise vertical half moon with the other half colored in a metallic bronze shade, and white painted nails randomly dashed with a variety of shades for a splash of colors.
5. Tadashi Soji
The girls' nails were just as varied as the wonderfully executed outfits in the collection. The overall feel of the nails was a random mix of metallics — bronze, fuchsia, light browns and grays with a grainy texture for the most part. The nails seamlessly blended in with the outfits, many of which were also made with metallic textiles.
Related: Mirrored Manicures Are the Latest Nail Art Craze You Should Try
CONCLUSION
Have you been missing out on nail grooming lately? Try not to. Nails, just like your bag and your trinkets, can make or break your outfit and ruin your sense of style.
Like this post? There's more. Get tons of beauty tips, tutorials, and news on the thebeautyinsiders Facebook and Twitter page. Like us on Facebook – we'll see you there!