Picking the Right Makeup as per Hair Color
Makeup can enhance the beauty of your Hair Color in many ways. Certain colors look better on different color hair. To learn what colors will enhance your overall look read on for some easy tips below!
Blonde Hair
Since Blonde Hair is light it will lighten the area around your face so to compliment that effect you can use light colored makeup such as pastels to enhance your total look. For eyeshadow, light pinks and earth tones work well. For eyeliner and mascara a deep brown shade looks great. For blush a light bronze tone or pale pink or peach will compliment your locks well. Pink and peach will go well on your lips when you have blonde hair.
Red Hair
Red Hair Color is already attention grabbing so enliven your look with dramatic makeup. Black mascara and eyeliner will look gorgeous. Many colors of eyeshadow will look good so experiment with gold, white, brown, grey, and dramatic colors such as greens and purples. Rose and apricot shades look lovely on a red headed person's cheeks. Lastly, line your lips with a nice peach, dark pink or deep red for luscious lips.
Brunette Hair/Black Hair
With dark hair you should look for makeup that will accent your skin tone by brightening it. You can use a wide variety of makeup in both earth and gemstone shades for your eyes, cheeks, and lips.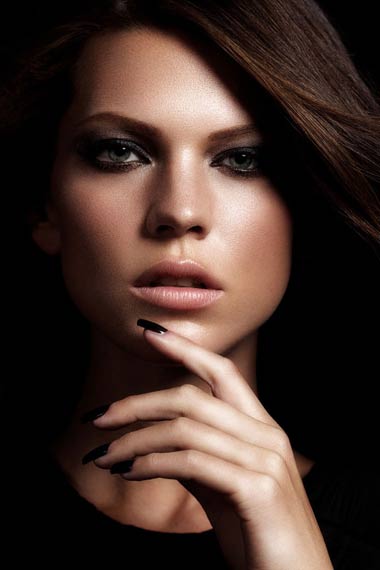 Have fun with your makeup and use it to enhance your look to give you confidence throughout the day. Knowing quick tips like these make it easy to get ready in a hurry in the morning without having to think twice about what shades will look best.
Photos via fashionising.com