Makeup Ideas of Girly Celebrities
Now you can be trendy by having an artsy makeup look that is possible by drawing inspiration from the girly celebrity makeup ideas that are flashed on the red carpet. You need to use shades as well as textures that are able to bring out your spotless complexion besides your unique features. This way you can enter the big league of fashionista who know really well how to rock out the latest makeup trends.
There is no need to stick with only one look. Rather, you may explore the magical effects of the varied as well as chic makeup ideas that are being envisioned by the pro artists from the business. These are those girly celebrity makeup ideas that can help you to break out of the box in order to flaunt your most flattering side. You may highlight your eyes, cheeks as well as lips by using some of the key hues of this season. Ensure that you combine them in order to get a more versatile but natural looking style in order to stand out from the crowd due to your unique as well as mesmerizing look.
Catty Eyes besides Pink Lips
Image source – beauty-hair-styles.com
The feminine and femme fatale style look adopted recently by Drew Barrymore has ensured that she still manages to stay dainty as well as natural even with these varied makeup styles. In case you wish to copy her look, ensure that you define your eye shape by using high class eyeliner. Now crown this look with light pink lips to be a complete makeup and to let your glimpse rule the look. You may tint your lips with this popular hue besides staying well-versed with the latest beauty trends.
Smokey Brown Eyes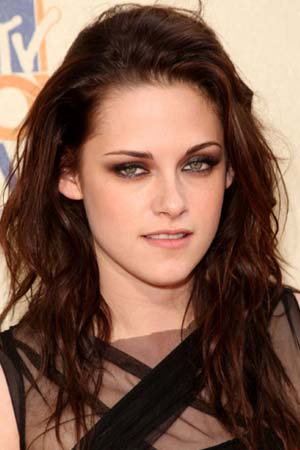 Image source – makeupforlife.com
In case you thought that smokey eyes will always be the most stylish when associated with the visual power of black, it means that you still need to learn about the evolution of makeup trends. The red carpet look of Kristen Stewart depicts that colorful smokey eyes makeup can look equally dazzling. It is the many shades of brown that help to re-create this fabulous makeup. You may tint the lids with this shade but ensure that you apply a thing layer of the eye shadow too to the lower lash line. Besides, top the look with matching brown or even nude lips for that natural and chic look.
Pink Lips
Image source – media.onsugar.com
Lauren Conrad is well-known to be a great fan of the barely there makeup trend. But she too has tried her hand at the pink lips style. In fact, this looks just amazing when it is paired with her blue eyes as well as blonde locks. In case you want to try it, just grab your makeup kit and add on pink lipsticks and glosses to pull off a similar A-list look. You can leave the eyes bare highlighted with mascara or you may even experiment with the cat eye makeup look in order to achieve equal success.