Makeup Setting Spray For Everyday Use: Best Options For Your Skin Type
Know how makeup spray could help you to have the perfect makeup on your skin
We, Ladies, place a big deal on makeup. A little smudge around your eyes and on the corner of your mouth is always an issue. Makeup junkies know that there are better ways to keep that makeup on and keep it in place throughout the day.
It doesn't matter whether your daily makeup routine is characterized as light, no makeup look or, if you like putting heavy pigments to score that smoky eye. What you need is a makeup setting spray that you can trust.
The Best Products to Keep Your Makeup On
Forget about experimenting with hairsprays to lock in your makeup and protect it from smudging. There are products made to match whatever skin you're in. Here are your top choices:
1. MAC Mineralize Charged Water, US$ 25 for 100 ml
From one of the most well-loved cosmetics brands comes this energizing mist. Made with energized water and pure diamond powder, it leaves on a protective layer of makeup as it re-energizes your skin after applying your makeup and while you're on the go.
2. Urban Decay CHILL Cooling and Hydrating Makeup Setting Spray, US$ 31 for 118 ml
Backed by a 7-day clinical study that showed 83% of subjects experienced longer staying makeup that lasted 12 hours, this product is also Vegan. This product is recommended for dry and combination skin type but, since it's oil-free, people with oily skin may benefit just as well from this setting spray.
Related: 7 Super Simple Makeup Remover Recipes
3. Charlotte Tilbury Airbrush Flawless Finish, US$ 41
From the critically acclaimed cosmetics line of one of the most well-loved makeup artists by celebrities comes this multi-functional setting powder. It is recommended for oily skin types, and it can be used as a stand alone coverage or, to set your foundation and concealer without making your skin feel heavy.
4. NYX Matte Finish Makeup Setting Spray, US$ 8 for 50 ml
This product helps keep your makeup from slipping. Simply spray on top of your makeup. To revitalize your skin, spray this product a few inches away from your face up to thrice in a day. Its matte finish makes it an ideal product for women with greasy skin.
5. Supergoop Defense Refresh Setting Mist with Rosemary and SPF 50, US$ 28 for 100 ml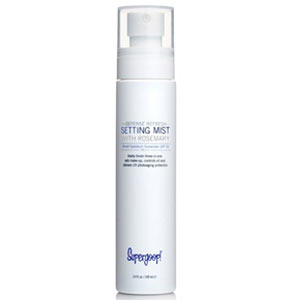 This is a real multi-tasker. It helps regulate oil, keeps your skin invigorated, and protects your skin from harmful UV rays[1] all at the same time. If you haven't been reapplying SPF throughout the day because it ruins your makeup, this product will make you comply.
Conclusion
There are no cons, only benefits on why you should get into the habit of setting your makeup. Whether you have a dry, oily or combination skin type, there is a makeup setting product that won't ruin your masterpiece. Protect, revitalize and make your makeup long-wearing.
Like this post? There's more. Get tons of beauty tips, tutorials, and news on the thebeautyinsiders Facebook & Twitter page. Like us on Facebook – we'll see you there!