Makeup tips for Brown Eyes
Women blessed with brown eyes can achieve various looks with the makeup they wear. Light and dark colored makeup can be used to create various styles for this particular eye color. There are different makeup brown eyes 2012 looks that can be achieved. Dark skin, brown-eyed girls are even luckier as they can achieve a variety of looks.
Flaunt Your Brown Eyes
With the best make up tips, you will definitely be able to draw attention to your eyes. You can either opt for a dramatic or simple look, it is up to you. If you are interested in creating smoky eyes, try using dark matte colors.
With the use of frosted, pastel eye shadow shades, you will be able to achieve springtime eyes. Use colors such as yellow or pink and line them around your eyes.
Women born with brown eyes are very lucky with all the makeup choices available. Wearing eyeliner isn't necessary and looks that normally look too harsh on those with lighter eye colors look amazing on brown-eyed girls.
If you have brown eyes, the color is so unique that you shouldn't miss out on highlighting them. Make sure to experiment with the smoky eye look with using various colors like muted shadow crayons and liners.
When doing makeup you should only stick to emphasizing one part of your face each time. If you are trying to focus on your eyes, try to use subtle makeup on the rest of your face. This way you won't look too made up.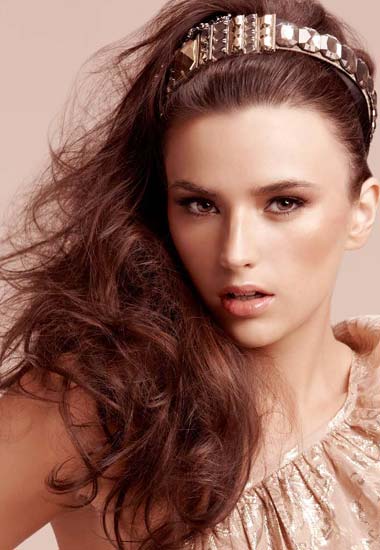 Neutral Brown Eyes MakeUp
Neutral colors are actually the best makeup shades to use for brown eyes. Opt for colors in the shades of brown like peaches and taupes. Try matching colors to achieve a coordinated look by choosing various shades that go well together.
Keep Your Colors Coordinated
An example of achieving a coordinated look is with using brown eye shadow shades along with a peach colored blush. When wearing a colorful eye shadow such as blue or violet, try using a color rose or berry blush. Use colors that go well together by following the rule bright with bright, and muted with muted.
There are very little rules when creating makeup for brown eyes in comparison to women with light colored eyes. When women with light colored eyes force certain looks, they end up looking like raccoons.
If you want to create a natural look, you should opt for dark brown eyeliner shades. For an intense look, go for black eyeliner and frame your eyes with a lot of black mascara. This way you can look both mysterious and innocent, being the envy of every woman. Achieve the look you want by emphasizing your features.
Women with brown eyes don't have any reason not to experiment with this feature. You have the choice to use light shadows, dark shadows, shimmery, and matte shadows. The options are endless; just keep in mind to refrain from putting too much makeup all over your face so that you can achieve a balanced and coordinated look.
Photos via – elle.com