How to Flatter Your Tan with Makeup?
The perfect tan look for this summer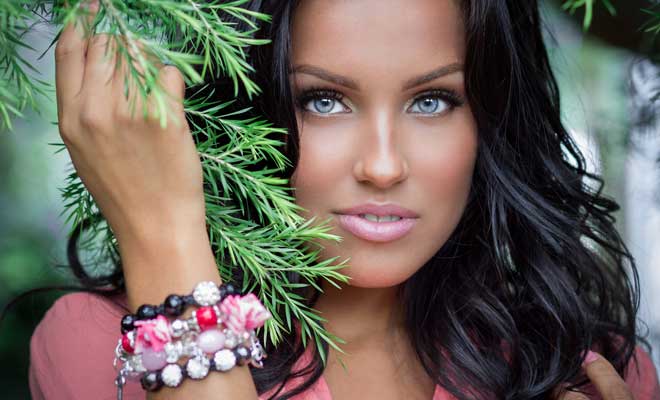 With summer fast approaching, and your eagerness to get a nice, golden brown tan building up rapidly, you should know that there is so much more to summer than bare naked tanned skin! Summer is probably also the best time to wear your skin proud!
Attract attention in person and preserve the moment in your Instagram – looking jaw dropping and absolutely unforgettable in your tanned skin. Below, we explore two ways by which you can wear your tan in perfect glory, making this summer absolutely the season to remember!
Technique 1: Your Tanned Skin with a Natural, No Makeup Looks
A tanned skin, needless to say, leaves your skin patched and unevenly pigmented, no matter how much you try to make everything smoothly toned under the sun. Therefore, the first step to getting a flawless complexion is by correcting your patchy skin – with the aid of makeup of course!
Below, your step-by-step process to flatter your complexion with your tanned skin. Take note that these steps apply for this technique, as well as the other two that succeeds this.
Step 1: Select two shades of foundations. Take a closer look at the lightest and darkest spots on your skin. Then, choose two shades of foundation – one that is in the same tone as your tan and another one that is one shade lighter than your tan.
Step 2: Apply the darker toned foundation first. Take a drop or two of this tone and place the product at the back of your hand. Using a foundation brush, blend in the liquid pigment on your hands before picking up the color with your blush. If you prefer powder-based foundation, do the same technique when using a loose powder, and directly pick up the pigment on your brush if you are using a compact foundation. In either type of powdered foundation, always turn your brush upside down to evenly distribute the powdered product in your brush so as to avoid over applying the product on the first few bounces of the brush on your skin.
Color patches of your face that are tanned in this foundation color. Blend in gently and avoid pressing down the foundation.
Step 3: Apply the foundation in lighter shade on the lighter patches of your skin. Mindfully blend it in with the darker toned foundation on points where these two colors meet.
Step 4: Use the darker toned foundation for fine coverage of your neck and décolleté.
Step 5: Apply concealer on dark spots and on the under eye area. Use a concealer that is one shade lighter than your lighter toned foundation.
Read Also: 10 Concealer Hacks Makeup Artists Think You Should Know
Now, going for a no makeup look, try the following on the rest of your face:
Frame your face with gently carved eyebrows.
Color your lids. If you have very light or fair skin, pinkish and peachy tones will make your skin radiate a soft, natural glow. If you have medium-toned skin, you may go for nude, pink, peach, orange or light brown colors. For those with darker skin, a light orange color in nude will be very natural and yet magical.
Apply blush colors that are in the same shade as your eyelids but, in a single stroke or thinner layer.
Contour your skin. Highlight the crests or high spots of your face with a nice, light / nude shimmer or bronzer to make them stand out. Bring your cheeks in by adding a little bit of dark cheek color under your facial bones.
Choose a nude lipstick.
Set your makeup with a translucent powder.
Technique 2: Your Tanned Skin with Bold Colors
After correcting your complexion with your chosen foundations, proceed with the following steps:
Choose which part of your face you would like to highlight – simply, either your eyes or your lips. Generally, fairer skinned people do better at giving a pop of color to their pout. The medium and darker skinned ones look great either with metallic eyes or deep, red lips.
Take either a brightly colored eye makeup or lip stain. Remember to make the opposite part – that is, either eyes or lips – subtly colored.
Proceed with contouring your face and using a mildly blended blush to color your cheeks.
Best without shimmer but, in case you still prefer a little glitter, use your shimmer sparingly.
Conclusion
Tanned skin can be the best skin you ever wore. Don't just settle for the assets you've received freely from the sun. Turn it into a better version by using makeup to enhance your naturally colored skin. Whether you decide to tread a flawless, no makeup look or, prefer to stun the crowd with bold makeup, you can certainly be rest assured that either technique will bring you stand out skin that could be the first for you and yet the envy of many, your friends, summer party acquaintances and even of people you do not have any relation or connection to.
Tanned skin is great but, makeup turns the ordinary to 'wow-dinary'!
You May Also Like: Top 9 Foundation Mistakes which are Made Quite Often!