The New Trend in Nail Art: Marble Nail Art
Even though many have opined that people have reached their saturation point with nail art and have voiced out their fearless predictions that nail art will soon be gone, nail art does not seem to be fading anywhere. Instead, it keeps springing back, and always teeming with more life and with inspiration that's larger than life. This new trend in nail art is quickly taking the hearts and imaginations of many, and will certainly make your nail art look at its most durable finest ever!
Stone nails or marble nails as it is beginning to be called, this new trend in nail art is taking our most loved precious stones etched semi-permanently on our tips. That's not all! When combined with glitters, crystals and rhinestones, this newest fashion trend is surely on its way to becoming the hottest wear this summer. Be the first to wear it! Leave a breathtaking impression that will keep reminding people they saw you wear it first. Here's how.
Getting into the trend: the Basics
There are many tips and tricks as to how you can dress up your nails with this trendiest art this season. Below are five ways by which you can get your nails all marbled up, all professionally looking, no sweat and no shedding precious dollars.
Way 1: The Plastic Dab
You will need:
Base coat (always, the safest is plain white)
Black lacquer to draw the veins with
Nail color of your choice (remember to take inspiration from a natural rock so you have a picture of it in your mind)
Colorless liquid for top coat
Thin nail art brush (or, you can always substitute with a slim, old makeup brush just make sure to clean it first)
Plastic wrap
How to do it:
Wrinkle a plastic bag. Set aside.
Apply your base coat in two layers on all your nails.
Place a drop or two of your chosen nail lacquer on another plastic bag.
Pick up the wrinkled pastic bag and squeeze a portion between your fingers.
Dab the wrinkled plastic on the colored lacquer, and then dab gently on each finger, alternating between picking up the color and dropping on your nails.
Pick up your slim brush and dip it in the black lacquer.
Draw the veins. Don't be afraid to be creative.
Do Step 5 once again.
Alternate between dabbing the color with the plastic and drawing the veins. Keep repeating until you are happy with the design.
Set the top coat to protect your design.
Way 2: The Hair Spray Design
You will need:
All of the items listed in Way 1, except for the plastic bag
Hair Spray or Isopropyl Alcohol in a spray bottle
Cotton swab
How to do it:
Color all your nails with your base coat.
Drop the color/s of your choice into the water, one drop at a time.
Spray the mixture with hair spray or isopropyl alcohol once so that the mixture becomes lighter on random parts.
Dip your fingers in one hand all at the same time. Keep them soaked for a minute.
Before taking out your fingers from the water, use the cotton swab to clear the film around your fingers by swirling it around. Take out your fingers. Clean the excess lacquers with acetone.
Use your slim brush and black lacquer to draw the veins randomly.
Apply top coat.
Way 3: Sharpie Beauty. (sharpie nail art)
You will need:
All of the items listed in Way 4, except for the black nail polish for drawing the veins
Clean makeup sponge or kitchen sponge
Sharpies or colored pentel pens in your chosen colors, but black, grey, and your chosen dominant shade, at the very least.
How to do it:
Color all your nails with your base coat.
Using your Sharpies, randomly draw patches of color around your nails, putting different colors next to each other. Feel free to leave the patches darkened.
Dip your sponge in isopropyl alcohol. Make sure to drain out any excess.
Dab the sponge on your nails to let the colors spread out a bit. Do Steps 3 and 4 repeatedly until you are happy with the design.
Using your black Sharpie, randomly draw the veins.
Dip your slim brush into the alcohol and trace along the veins to let these spread out differently.
Once you are happy with the design, end with a top coat to seal in your art.
DIY Marble Nail Inspirations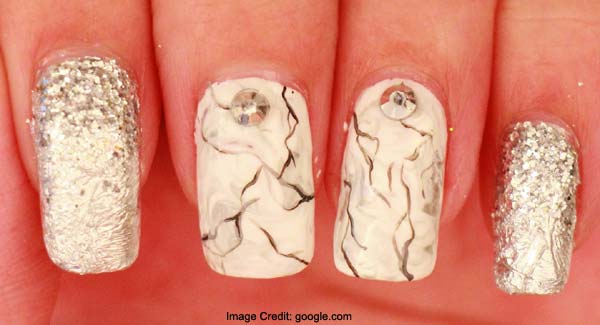 Not quite confident that you can pull off a professionally done stone marble manicure yet? Below are three simple yet glamorous ways to get your mani done in time to wow your friends.
Turquoise Stone Marble Nails. Apply two coats of your go-to turquoise lacquer. Use a sponge to lightly dab on a lighter shade of your chosen turquoise base coat. Draw the veins using a slim brush dipped in black polish. Use an isopropyl alcohol and a slightly thicker brush to trace along your veins. End with a top coat.
Blue Stone Marble Nails. Apply two coats of white polish. Color your nails randomly using black, grey and navy blue Sharpies. Follow the steps under Way 3 above.
Precious Stone Geometric Patterns. Coat nails in white paint. Using a black Sharpie, draw random straight lines all over your nails. Use a variety of glittery lacquers to draw inside each of the geometric spaces. End with a top coat.
To add accent and attract more attention without overdoing it, add glitters, crystals, rhinestones or even pearls to your marble nail art.
You May Also Like: Look Professional by These Easy Floral Nail Arts
Conclusion
Beautiful, nature-inspired marble nails only seem like they're difficult to pull off but, equipped with these professional secrets, you should be able to sport this season's hottest nail trend in a jiffy!