Marini Juveneck Neck Cream Reviews – Should You Trust This Product?
Advertising Disclosure

?
What Is Marini Juveneck Neck Cream?
Marini Juveneck Neck Cream by Jan Marini Skin Research is a promising anti-aging treatment that specifically targets the neck. This cream fights wrinkles, fine lines, and sagging skin caused by aging. The cream is sold and manufactured by Jan Marini Skin Research, Inc., which is based in San Jose California. Jan Marini Skin Research also sells other beauty and anti-aging products. Customers can buy the product locally through authorized vendors or online at an average cost of $90 per unit. The manufacturer offers a 30-day return period and includes detailed instructions for this process on its website.
What Are The Active Ingredients In Marini Juveneck Neck Cream?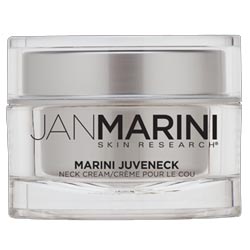 Vitamin E:Used for its antioxidants. Vitamin E boosts the production of elastin and collagen that is lost due to age, sun damage, or pollution. It is used in treatments for side effects experienced by the skin due to medical treatments.
Hyaluronic Acid:Found in nature and in the body, HA is also often used as a lip filler in cosmetic procedures. HA helps heal the skin and is considered an essential product in the anti-aging industry.
Avena Sativa (Oat) Kernel Extract:Lifts and firms the skin. Also an excellent moisturizer, toner, and exfoliant.
Rye Seed Extract:Fights skin deformation and lifts the skin in the long-term.
How To Apply Marini Juveneck Neck Cream?
Wash skin and pat dry. Use only occasionally in the morning and at night. Safe for use by all skin types.
What Are The Advantages Of Marini Juveneck Neck Cream?
Suitable for all skin types and does not clog pores.
Backed by a 30-day refund policy.
Uses ingredients known for their skin benefits and positive health outcomes.
Available online or at local retailers (depending on area).
Specifically formulated to fight wrinkles in the neck area.
Was independently researched using a sample size of 71 people.
The product's manufacturer also includes a section for professionals in the beauty industry.
What Are The Disadvantages Of Marini Juveneck Neck Cream?
Includes only a few before and after pictures in its official website.
Though the manufacturer includes results from a study conducted by an independent physician, 71 subjects may not be enough people to fully comprehend the product's effects on the skin.
The manufacturer does not disclose the amount of product included.
The amounts of all ingredients are not listed.
Final Verdict: Marini Juveneck Neck Cream Review
Marini Juveneck Neck Cream stands out from other creams in that it specifically targets the neck area. Marini Juveneck Neck Cream has also been independently studied, and the results of the study are disclosed in a concise manner. Still, the manufacturer does not disclose how much of the product is enclosed in each container sold, and this is very basic information that is normally in the product's label.The product is also meant to be used sparingly, but this may differ for some people. Customers may prefer a product that is more specific about its directions.
As we age the composition, texture and appearance of our skin changes. Signs of skin aging include wrinkles, fine lines, loss of moisture, uneven tone, and dull, tired-looking skin. There are countless anti-wrinkle creams on the market promising to make skin look and feel younger. Many anti-wrinkle creams promise everything short of a facelift or to provide the much sought after "fountain of youth". In reality most are just moisturizers marketed as anti-aging products.
Below you'll find some of the most effective wrinkle serum formulations on the market today, in our opinion.
Our Top Anti Aging Products
**This is a subjective assessment based on the strength of the available information and our estimation of efficacy.
*Results may vary. The information contained in this website is provided for general informational purposes only. No medical claims are implied in this content, and the information herein is not intended be used for self diagnosis or self trealment of any condition.
Disclosure of Material Connection: Some of the links in the post above are "associate sales links." This means if you click on the link and purchase an item, we will receive a commission Regardless, we only recommend products or services which we use personally and/or believe will add value to our readers. We are disclosing this in accordance with the Federal Trade Commission's 16 CFR, Part 255: "Guides Concerning the Use of Endorsements and Testimonials."