MDSolarSciences Daily Anti-Aging Moisturizer Review 
By
MDSolarSciences Anti-Aging Moisturizer
MDSolarSciences Daily Anti-Aging Moisturizer: Does this product really work? Is this (Product Category) safe & effective? Check Customer Reviews, ingredients, benefits, side-effects and more.
Advertising Disclosure

?
MDSolarSciences Anti-Aging Moisturizer Overview:
MDSolarSciences Anti-Aging Moisturizer, USD 68 for 1.7 fl oz (50 ml) spray bottle, is said to be a broad-spectrum multi-tasking sunscreen that can keep skin moisturized, soft and at the same time, protected from the harmful UV rays.Although it contains alcohol which may lead to skin dryness. Do you wish to know if this is the moisturizer for you? Please do check out this MDSolarSciences Anti-Aging Moisturizer review!
MDSolarSciences Anti-Aging Moisturizer : Does It Really Work?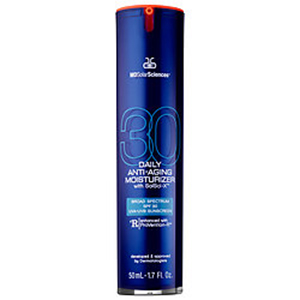 MD Solar Sciences is a skincare company with a mission to protect, prevent and educate. The products of the company are formulated to protect the skin from environmental aggressors and free radicals. They also help in preventing the formation of unwanted skin issues. Lastly, they aim to educate their users on how they can maintain healthy and good looking skin.
As per the manufacturer, they have formulated MDSolarSciences Daily Anti-Aging Moisturizer to:
Restore the skin's vitality.
Provide daily broad-spectrum protection to the skin.
Restore the skin's brightness.
Protect the skin from free radicals.
Reduce the appearance of wrinkles and fine lines.
More know about this product in this review!
MDSolarSciences Anti-Aging Moisturizer Ingredients:
The MDSolarSciences Anti-Aging Moisturizer ingredients are as follows:
3% Avobenzone: This is a common sunscreen ingredient, and it works by protecting the skin from the rays that cause aging signs (UVA) and the one that causes sunburn (UVB).
5% Octisalate: This organic compound can absorb both UVA and YVB rays and keep the skin protected from the damaging effects of the sun.
2.75% Octocrylene: This is a chemical compound that is often used as a sunscreen additive because of its ability not just to protect the skin but also to moisturize and hydrate it as well.
Glycerin: This ingredient helps skin retain moisture while reducing inflammation but also can cause skin irritation to sensitive skin.
How To Apply : MDSolarSciences Anti-Aging Moisturizer?
For best results, apply 1 to 2 pumps of MDSolarSciences Daily Anti-Aging Moisturizer into your face and neck after cleansing it. Use this in the morning 15 minutes before sun exposure. You can also use for the hands and chest or any part of the body that is usually exposed to the sun.
MDSolarSciences Anti-Aging Moisturizer Benefits:
The moisturizer delivers time-released hydration to the skin. Although many customer are not happy with the results.
The moisturizer doesn't clog pores.
It has a calming lavender scent.
MDSolarSciences Anti-Aging Moisturizer Disadvantages:
The moisturizer has alcohol, which may lead to skin dryness.
It is a bit expensive.
There are not much reviews or studies about it.
This product may cause a burning sensation near the eye area.
Does MDSolarSciences Anti-Aging Moisturizer Have Any Side-Effects?
Since the moisturizer contains alcohol, one of the most probable MDSolarSciences Anti-Aging Moisturizer side-effects that you may experience is skin dryness that comes as a result of having alcohol in the formulation.
Final Verdict:
MDSolarSciences Anti-Aging Moisturizer can deliver continuous hydration to the skin due to its advanced delivery system. Because of this, you can experience moisturized skin all day long. However, the product has alcohol. This substance is known for its ability to dry the skin. The inclusion of the alcohol in the formulation may combat the moisturizing effects of the moisturizer.
Facial moisturizing products are in no short supply today, and this large selection might make the process of choosing the best moisturizer for your personal needs to seem a bit overwhelming. Fortunately, we've taken the time to research each of the top facial moisturizers on how they rate in several different key categories. More specifically, we believe that every quality moisturizer should provide the basic benefit of improving overall facial skin appearance, including both skin tone and skin texture. Additionally, a quality moisturizer should contain compounds that are capable of binding to collagen fibres in order to provide the most long term results. Finally, facial moisturizers should ideally be able to deeply cleanse skin at the same time that they moisturize it. Below is a summary of our findings regarding the top facial moisturizers and these key considerations.
Below you'll find some of the most effective Moisturizers formulations on the market in our opinion:
Our Top Moisturizers Products