MH3 Ndulge Extreme Regeneration Moisture Review: In outs
By
Advertising Disclosure

?
MH3 Ndulge Moisture Cream Introduction
Ready to spend on skin aging at all cost? Think again. Just like with any other kind of product, high quality does not always come at a premium price.
When it comes to anti-wrinkle creams, there are certain functional ingredients you want to be on the label of your jar or bottle. You need ingredients that deliver the following benefits:
moisturize to keep skin from drying
regenerate to restore and recover patches of skin lost to wrinkles and other signs of skin aging
protect, to support skin cells better resist damage and aging
Might MH3 Ndulge Extreme Regeneration Moisture deliver this triple function?
MH3 Ndulge Moisture Cream Description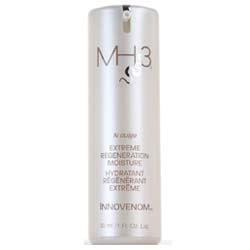 MH3 Ndulge Extreme Regeneration Moisture boasts of being made from three proprietary ingredients: Hyaluronic filling spheres and InnovenomTriPlexiCom. When combined with botanical ingredients well-known to benefit aging skin, this product's formulation allows it to deliver triple skin beneficial action: moisturize, regenerate and protect.
Concept Designer Deborah Flattery and former Cosmetics Brand Executive Brynja McGrady put together MH3, with the goal of bringing high-priced product formulation within reach of more people. According to the brand, MH3 Ndulge Extreme Regeneration Moisture tis founded on the latest and the best of recent skincare science.
The product works by deeply moisturizing skin which causes it to become plumper, fuller and firmer. Simultaneously, Innovenom, which incorporates the venom of the Malaysian Temple Viper Snake, relaxes the muscles underneath the skin to even out and smoothen skin from the surface. At the same time, deep penetrating ingredients in the formulation seep into the deeper layers of the skin to facilitate cellular level processes that set the skin repair and rejuvenation processes in motion.
MH3 Ndulge Extreme Regeneration Moisture is available in a 30 ml bottle for $120.
MH3 Ndulge Moisture Cream Ingredients
This product's main ingredients are:
Hyaluronic filling sphere, restores skin's lost moisture and makes skin better hydrated over longer periods of time
InnovenomTriPlexiCom, relaxes muscles underneath skin which causes expression lines to go back to their expressionless state
This product is also made with the following ingredients: Apple stem cells, Bamboo, Cloves,, Green Peas, Bergamot, Hemp, Jojoba beads, Kombucha Mushroom Extract, Plankton, Pomegranate, and Seaweed extract.
MH3 Ndulge Moisture Cream Directions
MH3 Ndulge Extreme Regeneration Moisture twice daily. Massage product onto cleansed and toned skin. This product is recommended for use with MH3 Nject Elimination Serum.
MH3 Ndulge Moisture Cream Advantages
This product contains Malaysian Temple Viper Snake venom, although the product website does not say it is the actual venom it is more likely that what is infused in the product is a peptide that mimics the Waglerin-1 peptide found in the venom. This is backed up by studies to deliver the wrinkle relaxing impact it is claimed to deliver.
MH3 Ndulge Moisture Cream Disadvantages
This product seems weak on providing ingredients that servere generative and protective functions for your skin.
Conclusion
Beyond evaluating price product price and potential to deliver claims, you must also ensure ingredient safety. That said, vanity should never overrule health and safety.
MH3 Ndulge Extreme Regeneration Moisture
Facial moisturizing products are in no short supply today, and this large selection might make the process of choosing the best moisturizer for your personal needs to seem a bit overwhelming. Fortunately, we've taken the time to research each of the top facial moisturizers on how they rate in several different key categories. More specifically, we believe that every quality moisturizer should provide the basic benefit of improving overall facial skin appearance, including both skin tone and skin texture. Additionally, a quality moisturizer should contain compounds that are capable of binding to collagen fibres in order to provide the most long term results. Finally, facial moisturizers should ideally be able to deeply cleanse skin at the same time that they moisturize it. Below is a summary of our findings regarding the top facial moisturizers and these key considerations.
Below you'll find some of the most effective Moisturizers formulations on the market in our opinion:
Our Top Moisturizers Products
**This is a subjective assessment based on the strength of the available information and our estimation of efficacy.
*Results may vary. The information contained in this website is provided for general informational purposes only. No medical claims are implied in this content, and the information herein is not intended be used for self diagnosis or self trealment of any condition.
Disclosure of Material Connection: Some of the links in the post above are "associate sales links." This means if you click on the link and purchase an item, we will receive a commission Regardless, we only recommend products or services which we use personally and/or believe will add value to our readers. We are disclosing this in accordance with the Federal Trade Commission's 16 CFR, Part 255: "Guides Concerning the Use of Endorsements and Testimonials."