Mirror Nail Art: 6 Easy Steps That will Help you Achieve the Look
Mirror nails were the biggest trending nail art earlier in 2016. Come mid-year, everybody was obsessed with these shiny, eye-catching and eye popping nail colors. These days, people are talking about acrylic, silver powder and LED lights. So, if you're not already converted or at least part of the dialogue, you must be asking, "What are these people talking about?"
Of Gel Nails and LED Lights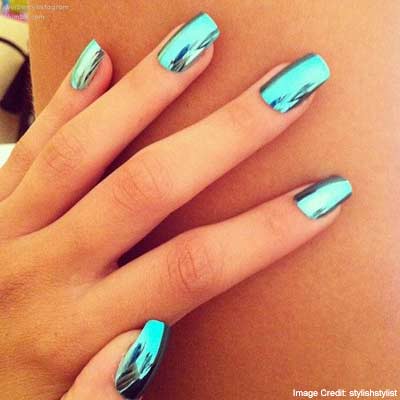 Well, first of all, gel nail color is not the same as your old acrylic lacquers. Gel nails stick on your nails with greater strength so you can enjoy your nail art longer and not worry about chipping nails. These nail colors are much tougher to get off too, if you care about the matter so how you apply it does affect how hard or easy you can get it off. Gel nails harden and dry faster under UV and LED lights.
Alright, now LED lights are the latest way to dry your nail color. If you haven't already used one before, these are inspired by UV light nail curing which are still commonly used in salons. The better alternative though are LED lights. That's because UV light damages skin on your hands. It's comparable to the UV you get from the sun and damages it.
How to get your mirror nail art right with gel nail and LED
If you've been doing mirror nail art before, you'll find this process easy though the steps required are not exactly the same.
Step 1: Cover your nails with two coats of colorless nail gel. Two coats will help you take off the gel more easily later on.
Step 2: Follow through with black nail gel. Get your nails all shiny and black. Apply one coat.
Step 3: Cure with LED lamp. Dry and harden your nails with LED lamp. If you don't have one, an LED flashlight can help you get this nail art technique done but, you may have to do your nails one by one.
Step 4: Apply silver power on each nail using a sponge. Simply dot one tiny end of your sponge into the powder and apply on each nail. Dust off excess every time.
Step 5: Top the powder with one coat of nail gel. You should end up with a silver, foil-like finish by this time.
Step 6: Cure with LED
You can finish the process here or, you can make it even more exciting by adding a pop of color using your permanent markers. End up with marbled finish, shattered glass look or a mosaic.
Conclusion
Nails will always reflect your style and attitude. With stylish mirror nails and ultra versatile and strong gel nails, you can take your nail art to the next level. Combined with the ultra fine and fast finish of a LED lamp, you can enjoy your nails sooner and for a longer period of time.
Like this post? There's more. Get tons of beauty tips, tutorials, and news on the thebeautyinsiders Facebook & Twitter page. Like us on Facebook – we'll see you there!