Murad Wrinkle Reducer Reviews – Should You Trust This Product?
Advertising Disclosure

?
Murad Intensive Wrinkle Reducer Introduction
Murad Intensive Wrinkle Reducer, US $150 for 1.0 fl. oz., is a formula that has been specially formulated to significantly resurface and smoothen the appearance of wrinkles and fine lines.
What Does Murad Intensive Wrinkle Reducer Claim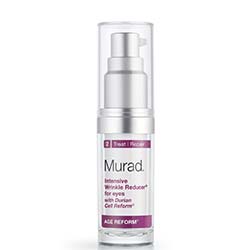 Based on claims made by the manufacturer about this product, you should expect to derive the following benefits from this treatment formula:
Resurface wrinkled skin to more evenly tone and re-texturize skin creases
Smoothen and even out your skin surface
Make wrinkles and fine lines appear less visible
Murad Intensive Wrinkle Reducer Manufacturer's Detail
Developed by Dr. Howard Murad more than 25 years ago, the Murad brand is strongly hinged on a philosophy of delivering beautiful skin by delivering skin health. Credited as one of the first brands to pioneer the professionally formulated skincare lines bandwagon, Murad is also involved in the operation of supplementation and wellness enterprises. Three business interests that stand for what Murad wants to be known for, that is, holistic, synergistic beauty.
Working of Murad Intensive Wrinkle Reducer
This product works by flooding your skin with moisturizers and conditioners that instantly lift the creased portion of your wrinkles and fills it from deep within, effectively raising wrinkled skin to the surface to give you a smoother and more even surface.
Murad Intensive Wrinkle Reducer Ingredients
Durian Cell Reform: Loaded with components beneficial for skin rejuvenation, this ingredient delivers multiple advantages for healing your skin that includes anti-inflammatory, rehydration, healing and regeneration, and antioxidant protection
Glycolic Acid: Well-loved in anti-aging skin care for its exfoliating properties, in this formula, this ingredient is combined with durian fruit extracts to enhance skin repair and regeneration
Glucosamine HCL: Aids in reforming and rebuilding damaged skin tissue particularly following a major damage, injury or trauma, including scars
Sodium Hyaluronate: Also hyaluronic acid, attracts moisture from the surroundings to rest on your skin
Yeast Extract: Delivers amino acids and sugars that causes your skin to experience a surge of moisture that makes it appear plumper, fuller and firmer
Panthenol: Coats your skin and adds a layer of film on the surface that helps condition your skin as well as keep moisture in and prevent environmental damage
Murad Intensive Wrinkle Reducer Pros
Based on the results of a Murad sponsored study, this product improved subjects' skin firmness by up to 40 per cent.
This product is formulated with ingredients that bring you both instant and longer-term benefits.
Murad Intensive Wrinkle Reducer Cons
This product is formulated with benzyl benzoate, a compound that can permanently compromise your skin with regular exposure.
Murad Intensive Wrinkle Reducer reviews posted by users vary greatly — some extremely praising the product while others regret ever using it, which gives you a 50-50 per cent chance you might like this product or not
Murad Intensive Wrinkle Reducer Side Effects
Based on this product's composition, the following side effects may be experienced:
Skin irritations and allergic reactions due to several ingredients, including butylene glycol, fragrance ingredients, and benzyl benzoate, all of which have the potential to cause your skin to become permanently damaged.
Increased risk for reproductive health-related disease due to EDTA
Increased risk for endocrine related dysfunctions and spikes in estrogen levels due to parabens
Increased risk for developing various forms of cancers due to PEGs
Directions
Murad Intensive Wrinkle Reducer must only be applied on skin that has been thoroughly cleansed and toned. Use day and night, and layer with your serums and moisturizers on top. Always layer with sunscreen during the day.
Final Verdict
Murad Intensive Wrinkle Reducer comes with an insanely very, very long list of ingredients, many of which are known to remarkably raise and plump skin and cause it to appear denser. However, judging by the quality of these ingredients, positive results are likely to be short-term only. Youthful skin practically runs out as soon as you stop using this product.
As we age the composition, texture and appearance of our skin changes. Signs of skin aging include wrinkles, fine lines, loss of moisture, uneven tone, and dull, tired-looking skin. There are countless anti-wrinkle creams on the market promising to make skin look and feel younger. Many anti-wrinkle creams promise everything short of a facelift or to provide the much sought after "fountain of youth". In reality most are just moisturizers marketed as anti-aging products.
Below you'll find some of the most effective wrinkle cream formulations on the market today, in our opinion.
Our Top Wrinkle Creams
Dermatologist Recommendations for Maintaining Younger, Healthier, Vibrant Looking Skin:
Be certain to consistently apply the product(s) you choose in accordance with its directions for use;
Pay special attention to your neck and hands while applying the product(s) you choose, as these areas reflect your age;
Always use sunscreen with a Sun Protection Factor (SPF) of at least 15;
Drink at least eight glasses of water a day to stay well hydrated;
Avoid excessive intake of caffeinated and alcoholic beverages, as they may contribute to dehydration and exacerbate the appearance of fine lines and wrinkles; and
Be sure to get adequate rest every day.
**This is a subjective assessment based on the strength of the available information and our estimation of efficacy.
*Results may vary. The information contained in this website is provided for general informational purposes only. No medical claims are implied in this content, and the information herein is not intended be used for self diagnosis or self trealment of any condition.
Disclosure of Material Connection: Some of the links in the post above are "associate sales links." This means if you click on the link and purchase an item, we will receive a commission Regardless, we only recommend products or services which we use personally and/or believe will add value to our readers. We are disclosing this in accordance with the Federal Trade Commission's 16 CFR, Part 255: "Guides Concerning the Use of Endorsements and Testimonials."