The Perfect Nail Designs To Show Off Your Lovely Engagement Ring
Tips and tricks for that perfect nail art
1. Dainty Glittered Tips

2. Silver, Holographic Foils And Beads

3. Metallic Nails With Rhinestones

4. Pastels And Pearls

5. French Tips

6. Matte Rose Design With Rhinestones

7. Geometric Prints On White Matte
Engagements must be celebrated, no question about it. One of the most memorable moments in a woman's life is to become engaged to the man she loves. With that rock on your finger, "People will stare. Make it worth their while (Harry Winston)". Needless to say, you have to dress up your nails to showcase that momentous point of your life — your heart has been won over!
Here are 7 of the best nail designs to pamper your nails with:
1. Dainty Glittered Tips
This nail design puts the spotlight on your beautiful fingers and fingertips. All you need is a base color in nude peachy shade. Seal with top coat. Loosely sprinkle the tips with two shades of glitters, such as silver and red.
2. Silver, Holographic Foils And Beads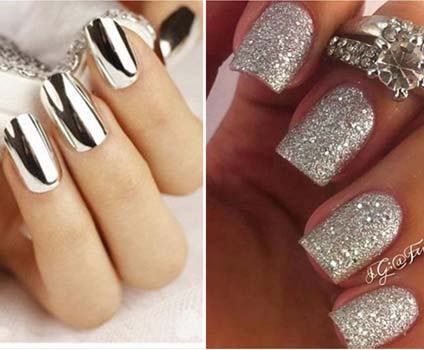 These nail art accessories do not just provide shine to your nails but also plenty of texture. These accents are best used in combination. Alternate foils with grainy and silky finish. This design perfectly complements the brilliance of that diamond on your engagement ring.
3. Metallic Nails With Rhinestones
Use bronze metallics as base. Top and tip with complementary metallic colors of black and grey. To level up your design, alternate nails combining the metallic colors with nails that combine one metallic color with rhinestones. These nail designs will look good whether you use a satin finish or a matte finish.
Related: Mirror Nail Art: 6 Easy Steps That will Help you Achieve the Look
4. Pastels And Pearls
Showcase your engagement ring with pearls glued over your pastel base. For your base, use blush pink or dull peach. Very light shades of purple and blue will also work out great for this design.
5. French Tips
Paint all of your nails in the same base color. Your best choices are pale pink or colorless. Have your tips painted in platinum or taffeta white. Make your ring finger standout by altering the design. You can paint it with white with a silver half moon at the base or, simply sprinkle with silver glitters.
6. Matte Rose Design With Rhinestones
Color your nails in old rose nail polish in matte, except for your ring finger. For your ring finger, use colorless lacquer as base coat. Fill your ring finger with huge, flat rhinestones. Place one rhinestone at the bottom of each of your other fingers and you're done!
Related: Mirrored Manicures Are the Latest Nail Art Craze You Should Try
7. Geometric Prints On White Matte
Paint all of your nails in white matte. Use pastel shades of yellow, blush pink, baby blue, light purple and foamy sea green to randomly draw and fill in your geometric shapes, except for your ring finger. For your ring finger, simply alter your design by changing your pattern or, by making your drawings evidently larger than with your other nails.
CONCLUSION
Keep staring at that ring with your well-groomed nails in the background. Fall in love over and over again with your man when he takes your hand and let that scene sink in.
Like this post? There's more. Get tons of beauty tips, tutorials, and news on the thebeautyinsiders Facebook & Twitter page. Like us on Facebook – we'll see you there!