Neon Sunglasses: Flaunt Your Sunglasses With Neon Colors This Summer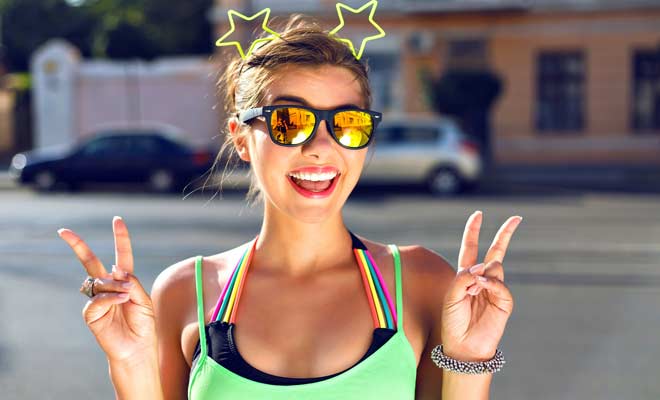 1. Oversized And Over-Styled

2. Larger Aviators

3. Safety Goggle Sunglasses

4. Brightly Tinted Sunglasses

5. Bright Pinks And Bright Reds

6. Razzle Dazzle

7. Oversized And Futuristic
This Summer, do as top fashion creator, Oscar de la Renta has advised, "Walk like you have three men walking behind you." Add to that, don't forget to put on your sunglasses. See, sunglasses are like what booties of any length are to your feet — these pieces instantly take you from your bed to the world's next supermodel to watch.
Eye Watching The Spring/Summer 2019 Fashion Weeks
Withe Spring/Summer fashion season inching to a close, we, fashionistas, got our eyes glued to the trends. This time, we're taking a closer look at eyewear, and here's what we found:
1. Oversized And Over-Styled
There's been so much to watch at the Dolce and Gabbana runways this past year, and we continue to embrace the teeming with life approach that the brand has been bringing to their shows. We didn't just dig the 100 or so looks that were rocked but the entire styling that was done, including the sunglasses.
2. Larger Aviators
The aviators this summer are going to be huge, and they will be best seen in bright shades other than the safe blacks, browns and grays. We loved the giant green aviators worn at the Phillip Lim fashion show.
3. Safety Goggle Sunglasses
The sunglasses will be huge. Flat at the top and bottom or, just flat at the top. We absolutely fell in love with the huge purple sunglasses from the Versace fashion show. The color is pop and yet the shade is elegant. The top only flat cut also made the look so undeniably gorgeous.
Related: Spring Hairstyles: 8 Best Locs Hairstyles for Every Length and Texture
4. Brightly Tinted Sunglasses
Whether you choose to wear these pieces in standard or stylized rims, they rock! Wear the energetic color of summer by getting these accessories in shades off green and blue. Check out the fashion shows of Michael Kors and Mulberry for inspiration.
5. Bright Pinks And Bright Reds
These colors guarantee your Summer will be fun and fab! We loved the chic glam of the oblong rimmed sunglasses with deep pink tinted glasses from Givenchy.
RELATED – Shades Sunglasses for Stylish Woman
6. Razzle Dazzle
We like 'em rubies and rhinestones too! Oversized, bejeweled sunglasses were a feast for the eyes at the Gucci runways. Mix and match with an equally colorful bandana for a vibrant overall feel in your style.
7. Oversized And Futuristic
There are a lot of things Miu Miu that we've all embraced before. This season, we are taking inspiration from Miu Miu when it comes to shading our eyes. The label has done so beautifully by combining different colors on the rim, having a dark tint for the glass and then letting the screw show through. Nice!
Related: Cute Spring Outfits – 11 Perfect Spring Outfit Ideas to Copy Now
CONCLUSION
Can you believe spending the entire summer without a cool pair of sunglasses? We can't. It just automatically becomes a staple when you're outdoors, summer or not. Besides giving you a certain flair and air of glam around you, sunglasses also provide your eyes and your skin that much needed UV protection around this time of the year. So, put them on!
Like this post? There's more. Get tons of beauty tips, tutorials, and news on the thebeautyinsiders Facebook & Twitter page. Like us on Facebook – we'll see you there!